There was only one woman for Shashi Kapoor from the moment, aged only 18, he laid eyes on Jennifer Kendal to his parting breath at 79, despite being lusted after by millions of women. Theirs is a unique love story of true and complete lifelong commitment, one for the ages
By Mahlia Lone
Shashi Kapoor was born in Calcutta (now Kolkata) in 1938 and named Balbir Prithviraj Kapoor, to Prithviraj, the founder of Prithvi Theatres, and Ramsarni Kapoor. He was the youngest son, with Raj fourteen years older and Shammi seven years older than him. Shashi attended the Catholic boys school Don Bosco High School in Matunga, Mumbai. Meanwhile, he also became a child star,  acting in his eldest brother Raj's films in the late 40s under the name of Shashiraj, even playing a childhood version of Raj in Aag and Awara. In his late teens, he worked as an assistant stage manager as well as an actor for his father's theatre group, Prithvi Theatres. When he was 18, he was loaned out to actor-manager Geoffery Kendal's Shakespearana group in Calcutta in 1956 where he first laid his eyes on Jennifer.
Four and a half years older than Shashi, Jennifer was born in England in 1935. For the first eight years of her life, she was raised by a relative while her parents, Geoffery and Laura, toured with Entertainments National Service Association (ENSA), a group of entertainers that sub-contracted with the military to entertain troops overseas.  Geoffrey Kendal along with his troupe performed in the Far East: Hong Kong, Singapore and the backwaters of Malaya and Borneo, finally arriving in India in 1944. Jennifer resented being left behind and held it against her mother for years. Felicity, 13 years younger than Jennifer and a later a famous British TV star, was born when the couple was back in England.
Shashi and Jennifer's eldest son Kunal Kapoor recounted in an interview, "My grandfather came to India during the war (World War II) with the British Army. He fell in love with the country and then returned in the 1950s." Geoffery formed his own repertory company Shakespearana and took it on tour of India in the late 40s early 50s.
This time the couple brought their daughters with them. Because they grew up like nomads with hardly any local friends, shuttling from city to city, the two sisters were incredibly close and became each other's confidantes despite the age gap. Between the two, Jennifer had a gentler, more compassionate spirit but held no religious conviction and would faint as on cue at church meetings her mother would attend so she would be excused.
"My wife thought I was gay"— Shashi Kapoor
Jennifer was growing up to be quite a beauty and started to play the lead in her father's theatrical productions. "The ensemble would perform Shakespeare before royalty one day, and in rough rural villages the next where audiences included many schoolchildren," as penned in Kendal's life story, The Shakespeare Wallah: the Autobiography of Geoffrey Kendal, co-authored by Clare Colvin.
"My maternal grandfather loved India. He spent half his life in India. You should read Shakespeare Wallah, the book he wrote. You will know how my grandparents travelled the whole of India with their plays," added Kunal.
According to the "Shakespeare-Wallahs" (as Geoffery was called), Shashi and Jennifer's romance began in the Empire House in Kolkata. Owing to some confusion, the management company of Empire House allotted the same dates to Shakespearana and to Prithvi Theatres. It was finally decided that both the companies should perform on alternate days. While there Shashi was loaned to Geoffery for five months because the latter was short of actors to stage his plays.
The fair 5'11" 18-year-old Shashi spied 23-year-old blonde Jennifer backstage and it was love at first sight. In her autobiography, White Cargo, Felicity Kendal recalled, "Shashi was backstage and happened to look through the curtains; that's when he caught a glimpse of Jennifer. There she was dressed in a black and white polka-dotted summer dress with a halter neckline—daring—and she was pretty, fanning herself with her programme. Shashi fell instantly in love."
Shashi worked in several shows along with Jennifer. They finally declared their love to each other when she was playing the character of Miranda in Shakespeare's The Tempest at the Royal Opera House in Mumbai. Geoffery was not pleased. He didn't want to lose his leading lady, so he would often insult Shashi for his accent and pick fights over Jennifer. She secretly mentored her Indian boyfriend on the finer points of English drama.
Aseem Chhabra, the author of Shashi Kapoor's biography – Shashi Kapoor The Householder, The Star, quoted their daughter Sanjana saying , "When they (Shashi and Jennifer) were doing theatre, they were poor. They were sleep deprived and underfed and my father would tell me how they would be tormented by hunger while strolling down the streets—both my parents trying to decide if they could get half a paratha. Then, they would walk past a restaurant and there would be my grandfather, Geoffrey Kendal, having a huge meal with a beer. My father couldn't walk in. He was his employee and he was also stealing his daughter. So there was no way he could march into the storm." Despite belonging to different countries and different cultures, Shashi and Jennifer shared an affinity and love for the theatre, both literally had acting in their blood.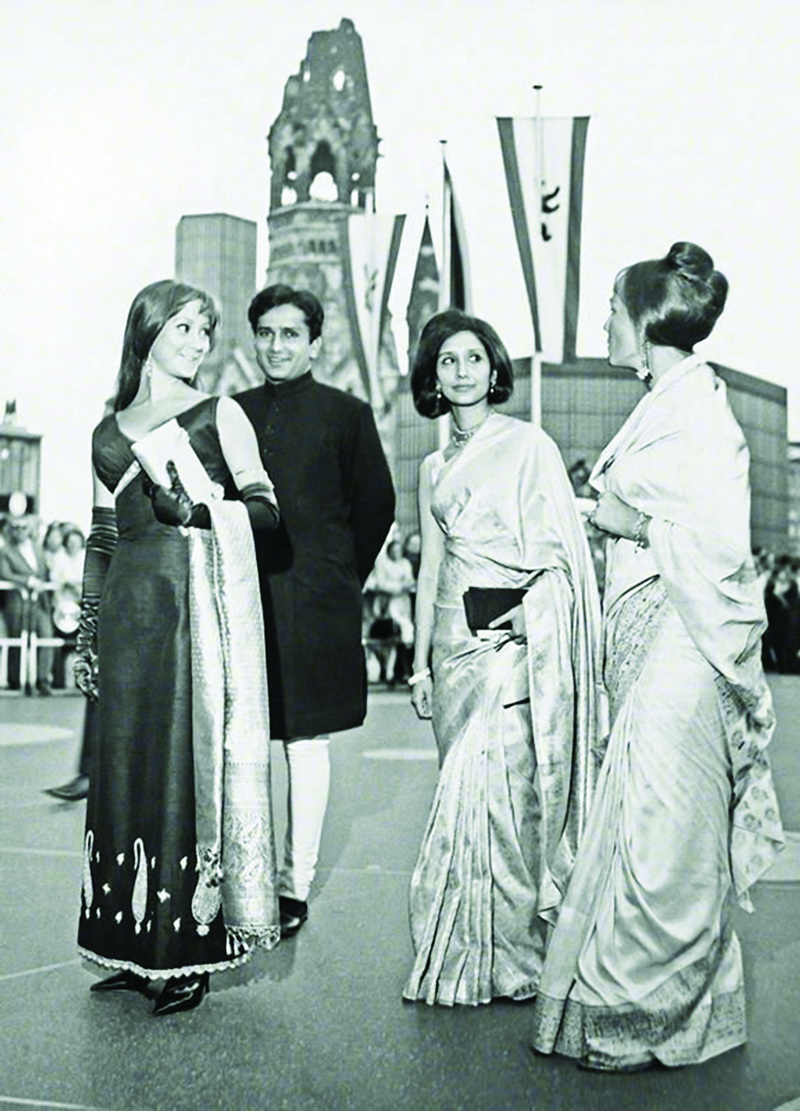 Good friends with Ismail Merchant, Shashi Kapoor starred in many Merchant Ivory films over the span of his career
Shashi recalled in an interview in his later life, "We never discussed theatre when we dated: While a Bengali man would recite Tagore while dating, a North Indian like me will be more obsessed with my fiancée's beauty. But we were uncomfortable sharing the stage with each other. We expected too much from each other. She was well-read about Hindu philosophy and was more experienced about theatre when I met her."
Raj was not in on the secret love affair, but Shammi was. Geeta Bali, his wife, was the first member of the Kapoor family to meet Jennifer and gifted her dupatta as a token of her acceptance during a show in Ooty.
Shashi and Jennifer decided to marry and leave her father's repertory company to start their own theatre acting company. "The two ran off to Singapore and Malaysia to stage a play, but the shows got cancelled and they were broke. They wanted to get married so Raj (Kapoor) Uncle sent them money for their tickets and they came to Mumbai and got married (in 1958)," Kunal recounted the tale decades later. Jennifer's own family boycotted her wedding.
"It is not true that my maternal grandfather (Geoffrey Kendal) did not want my parents to marry," Kunal defended. "My grandfather was concerned about losing his leading lady. My mother played all the lead roles in the Shakespeareana theatre company run by my grandfather. It would be hard to find better grandparents than my mother's parents. They were the most amazing people."
Shashi said, "I was born in Kolkata: I had taken my wife, Jennifer, to the yellow coloured house in Kalighat where we used to live. I hardly remember my one-year stay in the city then. But my father would often talk about how he would cycle from Hazra Road to New Theatres. Even Raj Kapoor had spent eight to nine years here. He spoke Bangla, played football on the Maidan and was in charge of the first-aid box of injured players. I had also started doing a Bangla film called Sriparna starring Madhabi Mukherjee and Anjana Bhowmick. But the film got stuck. Manikda was a real hero for me: Yet I was petrified of him. He was so tall and had a rich baritone. Sometimes, we would meet at film festivals.
It's been 10 years since I came to Kolkata: I love chorchori and chingri maach. The Fairlawn Hotel makes me nostalgic. Some of the old members of the staff still call me Shashi Baba. They remember the 18-year-old Shashi Kapoor who met Jennifer in Kolkata." In fact, the newlyweds spent the initial days of their marriage in Room No 17 of Fairlawn Hotel, on 33-A Sudder Street in Calcutta, which is now known as The Shashi Kapoor Room. Fans check in as a tribute to their idol.
"I first saw her when she came to watch a Prithvi Theatres production in Kolkata. But I was too nervous to converse when we got introduced. Initially, she thought I was gay. It's customary in India for young men to move around in groups and often hold hands as a gesture of their friendship. However, this simple gesture seems odd to the Westerners. Since she came from an English theatre background, which had a lot of gays, she thought I too had such preferences," he chuckled.
"After the wedding, Shashi Kapoor continued working in theatre," wrote Chhabra. "In 1959 Jennifer gave birth to their first child (Kunal) and took a hiatus from acting. Gradually Shashi felt the earning from theatre was not enough to give his family a good life. So he followed in the footsteps of his brothers and joined the Hindi film industry." They had two more children Karan and daughter, Sanjana.
 "Nanda till date remains my most favourite heroine. She was like a fairy"— Shashi Kapoor
However, it was not as an actor but as an assistant director in the film Post Box 999, the debut film of Sunil Dutt, that Kapoor started his adult career in films. This was followed by assisting Ravindra Dave in Guest House (1959), and movies such as Dulha Dulhan and Shriman Satyawadi, where Raj Kapoor was the lead hero.
Shashi finally made his debut as a leading man in the 1961 film Dharmputra, but his early Hindi films did not fare well commercially. Meeting Ismail Merchant and James Ivory through Jennifer and having an appreciation for meaningful and sensitive cinema, he starred in their third film The Householder (1963)  opposite his sister-in-law Felicity Kendal and followed this up with Shakespeare-Wallah (1965), acting alongside all the Kendals. He was one of the first Indian actors to do crossover films, which have since become classics.
But Indian actresses were wary of being cast opposite this struggling newbie. Then, established actress Nanda gave him a break by signing one after another eight Hindi films opposite him because she believed in his talent. Their first films as a pair were the critically acclaimed romantic film Char Diwari (1961) and Mehndi Lagi Mere Haath (1962). The "good looking, cultured Kapoor," endeared himself to all his co-stars. And Nanda found him "culturally different" from the other actors at the time. Other romantic films they did together included  Jab Jab Phool Khile (1965), Neend Hamari Khwab Tumhare (1966), Raja Saab (1969) and Rootha Na Karo (1970), etc.
In an interview in the 90s, Kapoor declared that Nanda was his favourite actress and that he regarded her as one of his mentors, "Nanda till date remains my most favourite heroine. Do you know the likes of Sridevi have blatantly imitated her Yeh Shama song sequence from Jab Jab Phool Khile in their films? She was like a fairy in an awesome film industry, which has no respect for genuine talent. Very few could match Nanda in her transparency and emotional abilities."
Nanda too stated that Shashi Kapoor was her favorite actor. Theirs was a platonic and professional friendship that was too last the rest of their lives because he was a thorough gentleman who had a strong work ethic, never reporting late on set, nor throwing any starry tantrums. Speaking on the subject of the casting couch in the 60s, he candidly remarked, "You've no idea how Dharmendra and Sanjay Khan were blackmailed by senior actresses when they were newcomers. I'm very grateful to Nanda that she was extremely gracious and decent with me."
Shashi Kapoor said gratefully, "It is Bimalda who taught me how to face the camera and never be conscious of it. In Prem Patra (1962), he asked me to use the silent language of my eyes without speaking. My heroine Sadhana, who was initially hesitant to work with me, complimented me after the shot. Hrishikesh Mukherjee and Gulzar, in all fairness, rank nowhere compared to Bimalda."
"Shashi Kapoor never spoke ill about anybody even if he was hurt," Amitabh Bachchan wrote after his friend's death in a tribute.
Based on Noel Coward's short story, the movie Pretty Polly: A Matter of Innocence (1967) starred popular British actress Hayley Mills opposite Shashi Kapoor and was set in Singapore. Bombay Talkie (1970) another Merchant Ivory film in which he plays against type and stars as an adulterous Indian actor opposite Jennifer who portrays a promiscuous novelist having a fling with him. Despite these international projects, at home Kapoor's career was facing a lull.
"In the late '60s, he did not have any work. We saw a lot of him then," said Kunal. "That was also the time we discovered Goa. He sold his sports car. Mum also started selling things because we didn't have money. After Sharmilee (1971), things changed again. There have been many ups and downs, but it never bothered us. My parents were in love with each other; they took care of each other."
Shashi went on to appear in 116 Hindi films, including 61 films as the solo lead hero and 55 multi star-cast films, 21 films as supporting actor and special appearances in 7 films. He was one of the most popular actor in Bollywood during the 60s, 70s and until the mid-80s and was the second highest paid after Rajesh Khanna, whom he considered a very versatile actor, and tied in the early 70s with Dev Anand and in the late 70s with Sanjeev Kumar and Dharmendra. Playing the part of the handsome, personable and affable romantic hero, Shashi Kapoor formed on screen pairs with all the top actresses of the day: Raakhee, Sharmila Tagore, Hema Malini, Zeenat Aman, Parveen Babi and Moushumi Chatterjee from the late sixties to the mid-eighties.
After their first movie together Sharmilee became a blockbuster, Raakhee was frequently paired with him, and they acted in hit films such as Kabhi Kabhie (1976), Baseraa (1981), and the critically acclaimed Trishna (1978) amongst others. He said he enjoyed working with her the most. He starred with Sharmila Tagore in hits like Aamne Samne (1967), Suhana Safar (1970), Aa Gale Lag Jaa (1973) that created a storm with its theme of premarital sex and pregnancy, and the critically acclaimed New Delhi Times (1985), winning him a National Film Award for Best Actor in 1986. With Zeenat Aman, he worked in hit films like Chori Mera Kaam (1975), Deewaangee (1976), Roti Kapda Aur Makan (1974), Heeralal Pannalal (1978), Bhavani Junction (1985), Satyam Shivam Sundaram (1978). In SSS, as it was known, Shashi Kapoor portrays an evolved, non-judgmental male unconcerned by his wife's romantic past and it was thought that his relationship of two equals with Jennifer helped him understand and relate to this character. The songs of most of these films were set in stunning holiday resorts like Kashmir and Simla and the tunes are timeless. When he passed away, fans shared video clips from these songs online to relive their childhood memories of the star.
Because he was so much in love with Jennifer throughout their marriage and because he actually was a romantic gentlemanly non-sleazy guy in real life as well, there was not even a whiff of a rumor about Shashi Kapoor despite working with such beautiful and sexy women on a daily basis and going on location shoots with them. Quite remarkable an achievement!
Kapoor also made a popular pairing with Amitabh Bachchan and the two co-starred in a total of 12 films: Roti Kapda Aur Makaan (1974), Kabhi Kabhie (1976),  Kaala Patthar (1979), Suhaag (1979), Namak Halaal (1982) Silsila (1981), Namak Halaal (1982), and Akayla (1991). He made a great foil for Bachchan's "Angry Young Man" persona. The two actors are particularly famous for Deewaar (1975), a film written by Salim-Javed about two brothers on opposing sides of the law, with Shashi playing a cop and Amitabh a thug. In the climactic confrontation scene, Shashi spouts the line, "Mere paas maa hai" (I have Mother) so effectively that the phrase became a part of Indian pop culture and his style is still emulated by actors today.
Similarly, in Yash Chopra directed film Silsila the two actors effortlessly play fun-loving brothers having a blast. They had over time developed a perfect understanding of the other's acting style and timing. Interestingly, due to his boyish looks and effervescent, youthful personality, Kapoor who was six to seven years older always played the younger brother to Bachchan in many of the bromance films they acted in.
Amitabh Bachchan has often said that the reason why he and Shashi could do so many films together was because "Shashiji was absolutely hassle-free as a co-star and was only interested in his work."
Shashi Kapoor was regularly cast with his real life buddy Sanjeev Kumar also in films like Mukti (1977), Muqaddar (1978), and Pakhandi (1984), etc. He was also close friends with Pran, Dharmendra, Dev Anand, Ismail Merchant and Rajesh Khanna. Though friendly with Bachchan, it was not until they were much older that Shashi and he became close.
"My father was very professional and easy to work with. He had no tantrums, no starry airs, he never misbehaved on the sets, he was punctual and everybody liked working with him," said Kunal.
Shashi also made time for meanigngful projects, like Conrad Rooks' directed Siddhartha (1972) based on the novel of the same name by Hermann Hesse. Set in north India, the film relates the story of the young Siddhartha born to a rich family, searching for a meaningful way of life. On his voyage of self-discovery, he goes through a cycle of asceticism, sensual pleasure and material wealth, followed by self-revulsion. Eventually he achieves oneness with a higher self and harmony within himself. Siddhartha learns that the secret of life cannot be learnt from another, but must be achieved through inner experience.
Kunal described their family life as being completely normal and non-starry. "We knew he was an actor. Everybody in my mother and my father's family were actors. We were aware that going to public places with him in Mumbai was a problem. If we went to the zoo, it would have to be at 6:30 in the morning. And we would have to run away as soon as a crowd gathered. Dad never worked on Sundays. He spent the whole day with the family. We would have all three meals together. He never invited his friends over on Sunday. In the late 1970s and early 1980s, he used to work in many films. He used to do six shifts. We would sit for breakfast at 7.30 am. No matter what time he came in the previous night, he would be at the breakfast table at 7.30. Our father was an integral part of our life. He was not strict. Very few fathers in our culture have a close relationship with their children. Fortunately, we had a great one-to-one relationship with him. I am hands on with my kids; I have washed my son's bottom. I have changed his nappies…that is the kind of relationship I had with my father. My father didn't have such a relationship with his father.
My father would try and schedule his outdoor shootings to coincide with our school holidays so that we would be together. But we were not taken on the sets of the film. Nowadays, we shoot early in the morning, but in those days, the shooting would start at 9:30 am or 10 am and end by 4 pm, so there was plenty of time to be together. For five or six years we went to Kashmir every summer during the shooting, but we would do our own thing with our mother. At home in Mumbai, we would go swimming; you could say we grew up in the Breach Candy club pool (a well known club in South Mumbai). We would also go to Juhu beach and spend the whole day there."
Then, Shashi started getting restless. 1978 turned to be a turning point in Shashi's career. The death of one's parents brings home one's own sense of mortality. After he lost his parents, Shashi felt he had to change his life; he wasn't happy; he complained that he "didn't quite enjoy running around trees." Additionally, he felt that the film industry was being run by loan sharks interested in making a quick buck via commercial potboilers or "masala films" rather than meaningful and artistic cinema.
Shashi said about Jennifer, "She was my worst critic too and disliked 75 per cent of my films." Jennifer wanted more for her husband; she wanted his artistic fulfillment and suggested he should do something he really loved.
Both husband and wife put their heads together and came up with a well thought out three pronged plan. First, he decided to make and act in films, which he believed in. In 1978, he set up his production house Film Valas, under which he would produce thought provoking but commercially viable movies starting with Junoon.
Next, they decided it was time they returned to their first love: theatre. "My father bought the land and built Prithvi Theatres for plays (in Juhu, north-western Mumbai). He did it in memory of his father Prithviraj Kapoor and his father's travelling theatre. My father was producing Junoon (1978) and doing six shifts a day, so my mother looked after the theatre completely," explained Kunal. "Now it's being run by Sanjana."  The Prithvi Theatres also functions as an acting school where Shakespeare is taught to and enjoyed by all those who wish to do so.
With her kids growing up, this was a new beginning for Jennifer too. She was actively involved in all stages of theatre productions, and started acting again in their home produced films. Kapoor roped in avant-garde directors like Shyam Benegal, Govind Nihalani, Aparna Sen and Girish Karnad to create such great films as Junoon (1978) and 36 Chowringee Lane (1981), in which Shashi cast Jennifer. For this film, she was nominated for the BAFTA (British Academy of Film and Television Arts) Award for Best Actress in a Leading Role. Other critically acclaimed films that he produced and starred in versatile roles include Kalyug (1981), Vijeta (1982) and Utsav (1984) based on a Sanskrit drama, in which he is virtually unrecognisable.   Shashi said, "Jennifer felt Utsav was too dark a film. My performance there, she had said, was 'okay'. But her 'okay' meant good!" Her opinion was the most important to him. Although the films were well received by critics and a discerning audience, they were not big hits at the box office. The Kapoors went through a financial crunch but they were happy.
Third, Shashi made more time for British as well as American films, such as starring in another Merchant Ivory classic period movie, Heat and Dust (1982), which co-starred Jennifer and Julie Christie and was set in the Raj.
Tragedy struck the Kapoors' happy household. "It was 1983. Cannes. Jennifer—who, until then, was thought to be suffering from amoebic dysentery—was diagnosed with cancer. Geoffrey Kendal writes in his autobiography that when he learnt of his daughter's malady, he could not utter the word 'cancer' for the longest time; he called it 'the illness' or 'this thing,'" wrote Chhabra. Jennifer had terminal colon cancer.
"In the meantime, Jennifer, in her own way, slowly came to terms with the diagnosis, and began informing those close to her, including friends like Anil Dharker. 'She started telling me about how they had tried to brighten up a room with wallpaper at the Tata Memorial Hospital in Bombay,' Anil says. 'And I asked, well, why did you go there? And she replied, 'Anil, don't you see? I've got the Big C.' That was it. That was how I came to know.'
"Towards the end, Jennifer's only concern was for her children," recalled her sister, Felicity.
After her diagnosis, Jennifer had surgery in India and seemed to be recovering. But later, during a trip to London and after more check-ups, it appeared that the cancer had spread. Jennifer spent her last months in the British capital in the hospital and at her parents' home."
"My mother died when she was just 50. My dad was 46 then," Kunal added. "Our mother's death caused us and our father a lot of grief; we had our own way of dealing with it."
Chhabra described Shashi's heartbreak and subsequent life after Jennifer succumbed to cancer: "The family, as a whole, found itself teetering, without a mainstay. 'My parents used to spend half the year in India with my sister,' Felicity states, 'but when she died, they felt going back was too painful, so they lost their home as well as Jennifer.' And then, there was Shashi. After Jennifer's demise, Dev Benegal says that he met Kunal Kapoor at a memorial at Prithvi Theatres: 'The family had just come back from Goa and Kunal said to me, "Dad took this boat out in the middle of the sea. When he got there, that was the first time he cried. Really, he wept."' Like Dev, I'm stunned by the rawness of that moment—of Shashi, alone in the vast open seas, sorrowing. 'He was really shaken by her death.'
Condolences poured in and there were press reports about Jennifer, the fine actress and grand woman.
Shashi Kapoor continued to work after Jennifer Kendal Kapoor's passing, and some of his best work emerged during a time of loss. But something inside him did break. 'I think the death of Jennifer was a big blow to him,' (British Playwright)  Hanif Kureishi says, who worked with Shashi on Sammy and Rosie Get Laid (1987) two years after his wife's demise. 'It really destroyed him.'
Jennifer had been the love of Shashi's life, his true anchor. With her death, he became rudderless. Simi Garewal tells me, 'Jennifer occupied—or Shashi surrendered to her—a large part of his personality. And they merged. With Jennifer gone, Shashi struggled, but couldn't find himself. That vast area of his personality that was Jennifer—now it lay empty.  A void. I met him in London over dinner with Ismail Merchant and could see that he was floundering. He was different—not himself.'
In a televised interview shortly after her death,

Shashi spoke lovingly about his relationship with

Jennifer from their previous births, which will go on in

the next birth—their "Janam janam ka saath"
Anil Dharker, always a friend, bore witness to Shashi's emotional collapse. Sometimes, the actor would depend on him—the way he must have, once, on Jennifer—to help him muddle through awkward social situations—such as, when the Ministry of Information and Broadcasting would request him to invite a foreign dignitary to dinner. 'And then he would ring me up,' Anil says, 'and implore: "Look, I have this very boring dinner guest, do you mind keeping me company?" And I would do that. But when the dignitary would leave, Shashi would actually push me out.'
Then, Anil, and those close to Shashi, bore witness to the actor's physical breakdown. Without the strict discipline Jennifer imposed on his existence, the star began indulging in his two chief weaknesses—food and drink". Chhabra narrated what Shashi's Deewaar co-star (who later became a niece-in-law) Neetu Singh Kapoor told him about how Jennifer had taken care of Shashi's health while she was alive. 'I would look at his food and say, 'What's wrong with you, Shashi Uncle? One orange he would have and thoda sa dahi (a little bit of yogurt).' That was his lunch. And he would say, 'My wife will kill me if I eat anything more!' Neetu had told the biographer. "While Jennifer Kendal Kapoor was alive, she maintained a strict watch over her husband's diet. This is the reason why, unlike the other Kapoor men, Shashi Kapoor stayed slim for the longest time. It was also why a lot of those around Shashi would feel sorry for him.
After her death Anil remembers dropping by for lunch on occasion, and asking for a glass of beer, only to learn that Shashi had been drinking vodka since the morning. 'His domestic staff would bring refills as soon as his glass emptied out,' Anil says. 'He wouldn't even have to ask. They knew exactly how long it took him to finish his drink and they would be ready with the next. By the end of lunch, he would be quite sozzled.'
'I tried, quite often, to talk him out of it,' Anil continues. 'In fact, Sanjana and Kunal would say, "Come on, do something, he listens to you!" And I would respond, "This is one area where he doesn't listen to me at all." Then, they would say, "Visit more often because when you are here, at least he walks around. Otherwise, he just sits." So I did.'
As Shashi found himself caught in a loop of grief and consumption, he fell victim to that infamous Kapoor syndrome— of putting on too much weight, too soon.
A family friend remembered, "When I asked him, 'Please tell me about Jennifer aunty.' He sighed, flashed his legendary toothy smile and said, 'See how life is static for me without her. Not only was she my inspiration but also my real mentor during good, medium and bad days. She really was the greatest influence on me. As a Hindu I believe in the immortal soul. She is always with me. I sense her presence often. And the house and everything in it is just as it was when she was alive."
In a televised interview shortly after her death, Shashi spoke lovingly about his relationship with Jennifer from their previous births, which will go on in the next birth— their "Janam janam ka saath."
Asked about remarrying, he said there was no question of it, as there was no one else like Jennifer, nor would there ever be anyone like her. She was 'The One" for him and he recognized that the first time he laid eyes on her.
Shashi's friends rallied around him. Rajesh Khanna gave him his comeback role as character in Alag Alag (1985). Kapoor also starred alongside Pierce Brosnan and Saeed Jaffrey in the period film The Deceivers (1988). Amitabh Bachchan and nephew Rishi Kapoor agreed to star in Kapoor's directorial debut movie Ajooba (1991), an awful fantasy superhero dud. Kunal said, "My father directed only one film, Ajooba. The film was a big party on the sets. Everybody had a blast. I don't think he was interested in direction. He is an actor. Likewise, he is not a businessman to produce a film. He made great films because he gave his cast and crew whatever they wanted." The movie sank without a trace and Shashi decided he couldn't afford to produce movies anymore.
"His health rapidly deteriorated. He was forced to leave Atlas Apartments and moved to Juhu, where he could be looked after by his son, Kunal. 'With that, his whole life changed,' Madhu Jain tells me. 'He was a South Bombay person,' and the move, she claims, added to the star's loneliness, his growing depression. 'I went to Juhu a few times,' Anil adds, 'but really, he stopped saying very much.' Simi, with characteristic insight, tells me, 'It's as though Shashi had given up the inner struggle. He almost became a recluse,'" wrote Chhobra. "It was as if he had lost the will to live."
Shashi's lifelong friend Ismail Merchant cast him in In Custody (1993), based on Anita Desai's 1984 Booker Prize nominated novel that tells the story of a college professor of Hindi who interviews a great Urdu poet (Shashi Kapoor) as a metaphor for "the clash between modernization and tradition." Kapoor won a National (Special Jury) Award for his stellar and nuanced performance. He followed up this success with playing a grand Raja in the British-American miniseries produced by Jim Henson Productions of the TV adaptation of Gulliver's Travels (1996). The miniseries had an international ensemble cast led by Ted Danson and won 5 Emmy Awards. In Jinnah (1998), Kapoor was the narrator. His last movie was fittingly a Merchant Ivory one called Side Streets (1998) in which he co-starred with Shabana Azmi. After this, he gracefully retired from acting.
Kapoor had the spotlight on him once again at the Shashi Kapoor Film Festival held in Muscat, Oman (September 2007). At the 55th Annual Filmfare Awards in 2010, Shashi Kapoor received the Filmfare Lifetime Achievement Award. In 2011, he was honoured with the Padma Bhushan by the Government of India for his contributions to Art-Cinema. And, in 2015, he was awarded the 2014 Dadasaheb Phalke Award, becoming the third member of his family to receive the highest award in Indian Cinema after Prithviraj Kapoor and Raj Kapoor.
"Nobody in the Kapoor family except Sanjna, Kunal and I are passionate about theatre now: That may be because Mr Raj Kapoor transferred all his energy to films. Shammi Kapoor used theatre as a springboard for films. I would never have joined films had Prithvi Theatre not closed down," said Shashi in an interview after receiving  the DP Award.
Shashi remained faithful to Jennifer's memory till his last breath.
"My father dreamt of having a Prithvi Theatre in every town: That's why he named his company Prithvi Theatres. It would be a good idea to have a Prithvi Theatre in Kolkata. Wish I can watch some Bangla plays during this visit. I used to watch Shombhu Mitra and Utpal Dutt's plays. We have a Little Prithvi Player where adults stage productions for children.
I don't want to act any longer: My five grandchildren are the love of my life. The eldest one, who is a teenager, has already started eyeing girls. Is he following me? Well, my first love was Jennifer. When I was three, I wanted to marry my mother. When I was six, I wanted to marry my aunt and subsequently my cousin too!
Kareena is adorable: I watch her films but she still has to do my favourite film."
Kapoor's children, for a short while, became Hindi film actors but their Anglo Saxon looks and accented Hindi prevented them from having successful careers. Kunal married director Ramesh Sippy's daughter, Sheena and had two children together, Shaira and Zahan, before getting divorced. Nowadays, Kunal has an extremely successful ad film direction company called appropriately Adfilm-Valas that makes big budget commercials. Karan, an accomplished photographer, lives in Chelsea, London, with his British wife, Lorna, and their kids, Aliya and Zach. Sanjana married wildlife conservationist and Tiger crusader Valmik Thapar, has a son named Hamir and runs the Junoon foundation to promote arts, culture and drama.
"My father had a good family, a good life, he made good films, and he doesn't care about anything now. He has not been well for some time; he has a lot of complications and has dialysis three times a week," said Kunal last year. By this time, Shashi had suffered a loss of partial memory, a stroke that left him partially paralyzed, and a heart attack and had been rendered virtually immobile. He used a wheelchair for his rare excursions.
Kapoor was admitted at the Kokilaben Hospital, Versova, Mumbai,  in December 2017 for a chest infection. He died at the age of 79 due to complications from advanced liver cirrhosis. Eldest surviving male relative, nephew Randhir Kapoor told waiting reporters, "Yes, he has passed away. He had kidney problem for several years. He was on dialysis for several years."
Shashi and Jennifer shared an indelible bond of understanding and complete commitment, even after her death after 26 years of marriage. He remained faithful to her memory till his last breath. He neither remarried nor had an affair or even an emotional friendship because the world began and ended with Jennifer for him. With his charming dimpled smile, infectious mischievous banter and romantic spirit, he made woman swoon and believe in true love. And he embodied that spirit not just on screen but in his real life as well. He was a man who so deeply loved his wife and was so committed to her that he chose to spend the rest of his life cherishing her memory. Just as she had loyal and faithful, so did he love her till his last breath.