Anam shares her love of baking & her new cake business, The Artisan, with Aimen Khan
How did your love for baking start? Have you been baking since a young age?
I actually haven't been baking since a young age. I started very recently. I've always been a big foodie. I've watched MasterChef Australia my whole life. You watch such TV shows and you wonder how to do these things. I was actually working at the LUMS Suleman School of Business for two years. My supervisor, Dr. Mohsin Bashir, told me now that you've been working here, you have to start your own business, because you can't keep doing this forever. So I thought and I thought and I thought, what kind of business am I going to start? And then I decided. I love food, I'm obsessed with food. I research and write more about food than I do about boring academic stuff. I got into the kitchen and my knowledge really helped me. I created my own recipes. I started experimenting, I started to see what chefs were doing around the world and lo and behold, before I knew it I had a business!
When did you start?
Honestly, the first time I got into the kitchen was 6 months ago. Before that, I couldn't even boil an egg!
What kind of dessert did you make when you were starting out?
At first, I was very confused. I knew I wanted to be a baker. I love desserts. I love plating. I love making things beautiful and although you can do that with savoury foods, desserts always attracted me more since I have a huge sweet tooth. So I started making desserts but I didn't really know where to start. I made a lot of different things but when I started doing my cakes, I realised there is so much you can do with a cake. I focused in on that and that's where it all started.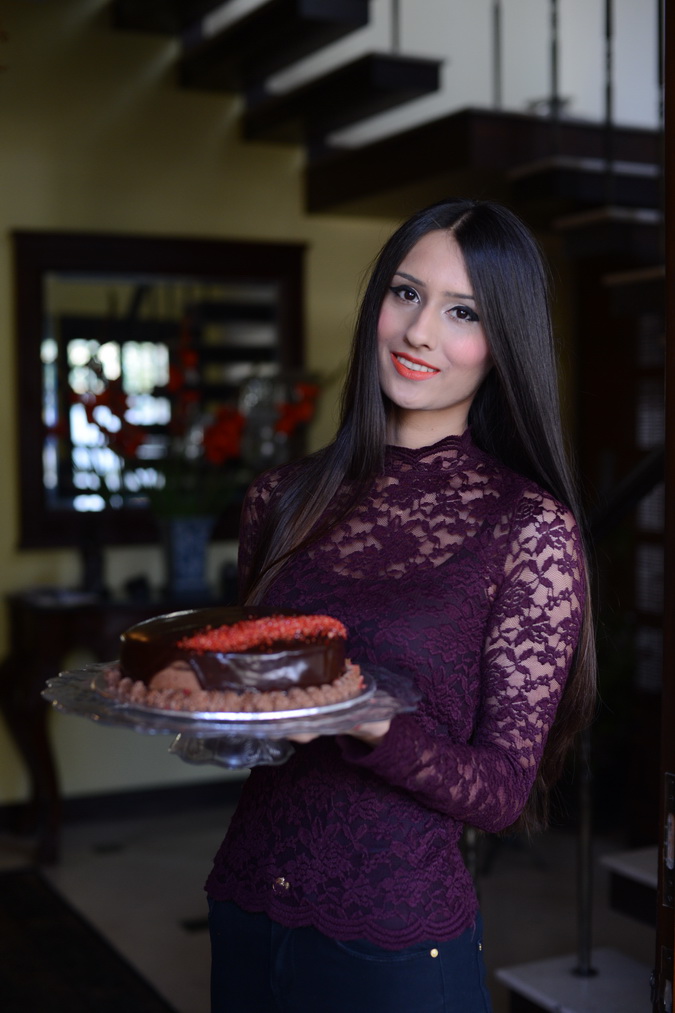 I have the Specialty Artisan Cakes that are rich, decadent creations. The idea is that you cut into a cake and get different layers and elements of textures, flavours and crunch. They're very interesting. The Signature Surprise-Inside Cakes are more fun, whimsical and flirty in nature. I bake an edible surprise into the cake, like a heart or a daisy
What would you say is your biggest influence as a baker?
MasterChef! I watch all kinds of MasterChef. Apart from that, there's a bakery in Australia called Burch & Purchese and they make the most beautiful cakes. These cakes aren't covered in fondant. They don't make minions out of cakes. They don't make designs. They don't do topsy turvy cakes. They make beautiful, simple cakes and the idea is when you cut open a cake, there are different elements and layers and flavours inside it. I started looking at all this stuff that they were doing and I thought, I need to do this. I need to create my own cakes where people will cut into it and they will get different flavours. They'll get a mousse, maybe they'll get a cheesecake. I took inspiration from that and started creating my desserts.
What is your favourite flavour?
I love Nutella! That is why my Nutella cake is all over my instagram as well. It's the one I'm most proud of. The cool thing about Nutella is that Nutella itself has a very strong taste but when mixed with cream or in a sponge or something else, it develops a very subtle chocolate flavour. That to me is just amazing. I like my cakes and my flavours to be deep. I don't like them to be too sweet or sugary. With Nutella, you don't need to add sugar so it's like an original flavour.
What is the hardest thing about being a baker?
The hardest thing is that people assume that since I'm working from home, she's probably in her pyjamas all day, probably watching Hell's Kitchen or Top Chef and eating a lot while making her orders. But it's not like that at all. It's very difficult because you are on call 24/7. You could be in the middle of a dinner with your friends and suddenly, you realise that somebody has called you for an order. You need to leave and you need to abandon what you're doing so you can make the cake! The business always comes first. It's like being a doctor. You don't get a break from it so you must be ready for that.
Are you going to branch out into giving baking classes or opening your own bakery?
I'm definitely not going to branch out into giving baking classes. I do want my own little bakery though. I want a shop somewhere in Lahore where people can come and enjoy the most delicious treats, try different goodies and get unexpected surprises along the way since the whole idea of The Artisan is the element of surprise.
Have you had any formal training?
Absolutely not. All my recipes are original and not taken from the internet, which is something I'm very proud of because it saves you from replication. I don't take other people's intellectual property. I make my own recipes. I tweak them. I experiment with them so what you get is totally original.
What is your working process?
I turn on some music. I set out all my ingredients and I just go. There are many different processes to baking. A lot of my cakes have five recipes to make the cake. Each recipe has another recipe, so it's like a recipe inside a recipe. I have to be very organised and do a lot of things beforehand. The idea is to organise yourself, to have everything laid out, know what step to take next and go from there.
How do you come up with the ideas for different desserts? 
It's all about experimentation. If you're sitting down and you get an idea, say you decide you want to bring together coconut, mango and vanilla, the only way you're going to be able to do that is by trying different things. Try to make a mousse, try to make a cheesecake, put everything together. It's a lot of investment of time, resources and energy.
What's your biggest pet peeve in the kitchen? 
My biggest pet peeve is power outages, which is the biggest issue of living in Pakistan. I hate it when I'm in the middle of baking a cake and the power goes off. Having to wait for the generator to turn on just kills the mood for me. If the cake is in the oven and the power goes off, the oven resets even if it's just by ten seconds. That is why it's important to be very precise with timing your cakes.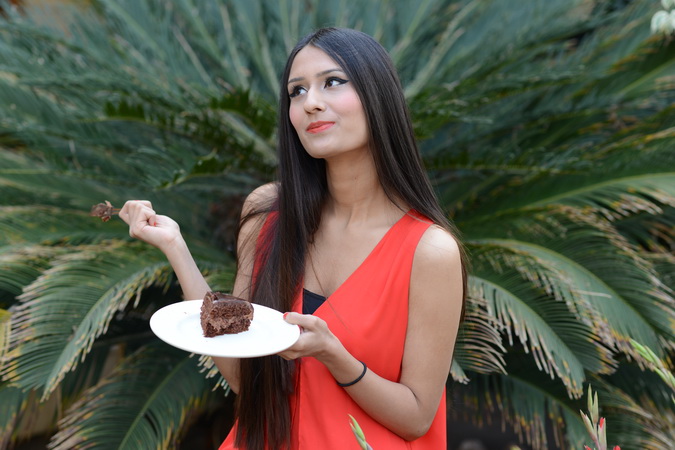 What ingredient are you obsessed with?
Sugar. Sugar for decoration. I love doing sugar work. You can do so much with sugar. You can bake it and make shards of glass. You can melt it and make caramel. You can set it. I love playing with sugar because you can do so many things with it.
most memorable meal
At Mount Holyoke College, we had a day called Dessert Dilemma where all the dining halls would serve dessert for dinner. They had this creation where they took fried dough, put a cookie on top of it, put a brownie on top of that, covered it in sauce and put it in the oven. It would come out to be this decadent mess of gooey flavours which was topped off with ice cream. I would wait for months and months and months for Dessert Dilemma. I'd mark it on my calendar. It was probably 5000 calories but the yummiest thing in the world. So delicious, so gooey, so scrumptious!
What are some essential baking tips?
Everything should be room temperature. You should be organised and you should plan ahead. Try to have fun with it. Even if something goes wrong, keep trying and experimenting. Sometimes the best recipes are the ones made out of mistakes. Don't lose heart and just be creative. Yes, baking is kind of like a science, so you must follow orders but when it comes to adding on to your cake or changing your recipe, don't be scared to do it. It will be different than what the recipe is but it might just be better.
What do you think the most important things are for home baking success?
Be prepared. It's not easy. It's not 9 to 5, it's 9 to 9. It's 24/7. Be true to yourself. Don't be scared and don't compromise on the quality of your ingredients. People in Lahore really appreciate quality and flavour. This is a very educated city when it comes to food. They'll know when it's not up to par. All my ingredients are imported. I use only the best chocolate. Right now, I don't have a milk chocolate recipe because I haven't found the perfect chocolate. From the cocoa to the butter to the chocolates, everything is the best. I taste everything and I make sure I choose the flavour I want to add to my cake.
What are your favourite desserts?
I love fortune cookies, lemon tarts and anything with Nutella in it! I love rainbow cookies too. Rainbow cookies are an Italian dessert with a minty flavour. It's a cookie but it looks like a cake. It's to die for. I also love kheer and this cake from the Lahore Social called the Napolean Cake.
Tell us about the two lines of your cakes.
First of all, I have the Specialty Artisan Cakes that are rich, decadent creations. The idea is that you cut into a cake and get different layers and elements of textures, flavours and crunch. They're very interesting. These are available in different sizes, the smallest being two pounds. We currently have five Artisan cakes on the menu. The Signature Surprise-Inside Cakes are more fun, whimsical and flirty in nature. I bake an edible surprise into the cake, like a heart or a daisy. These are all 6 pounds. They can't be bigger or smaller because making them is a very complicated process. The Artisan Cakes are for people who like flavour. They're beautiful. I like to decorate all my cakes like planets. There's a mirror glaze so you can see your face in it and it catches the light, but there's no surprise inside and there's no fondant on them. It's all about the flavour.
How did you find the patience to experiment and find the perfect recipe? How did you not give up?
There were many days when I almost did give up. I would pull my hair out. I would cry because when you're doing something constantly and it's not working, it's very frustrating. The only thing to do in such a situation is to take a break from it. You recuperate, you let yourself relax and then you go back to it and when you do, chances are you're doing to be able to do a better job. You get stuck in the loop because with baking, everything is so temperamental. Everything has to be refrigerated because of the weather in Pakistan, but when it comes to baking, everything has to be room temperate. You spend hours and hours just watching eggs get to room temperature! It's a lot about loving what you do. When you go through a lot of mistakes and you finally hit the mark, it's the best feeling in the world.