The notion of privacy for Pakistani women is an interesting concept to dissect, given the constraints of traditional patriarchal structures. Both admired and lambasted for her sexuality, a woman's perception of self is expected to be a malleable, fluctuant entity. Artist Natasha Malik explores all of these ideas brilliantly in her series entitled A cage elusive as a shadow. Here, through the metaphor of seashells, the enclosing space of home and a woman's immersion in dreamscape, Malik paints an elemental, floating panoply. Natasha speaks to Afshan Shafi about her inspirations and all the finer aspects of her craft
Please tell us about your background as an artist and your education in this regard.
Art is a subject I took throughout my education. I finished my BFA at the National College of Arts in Lahore, specializing in Indian miniature painting. I completed my MFA in painting at the Slade School of Fine Arts, London. During this time I also learnt gilding, the art of applying gold leaf on different surfaces, at the Prince's School of Traditional Arts. I've recently become very interested in printmaking as well.
What was the theme for your latest exhibit?
My first solo show titled  A cage elusive as a shadow took place at the Sanat Gallery, Karachi, in 2016. Through painting, printmaking, photography, film and installation, I explored thematic concerns such as female identity developed within the constraints of patriarchy. I also use references to my home in Lahore, and drawings of imagined architectural structures as metaphors for a state of mind. Wider tensions between intimacy and societal surveillance, the imposition of control versus the desire for independence are also significant themes.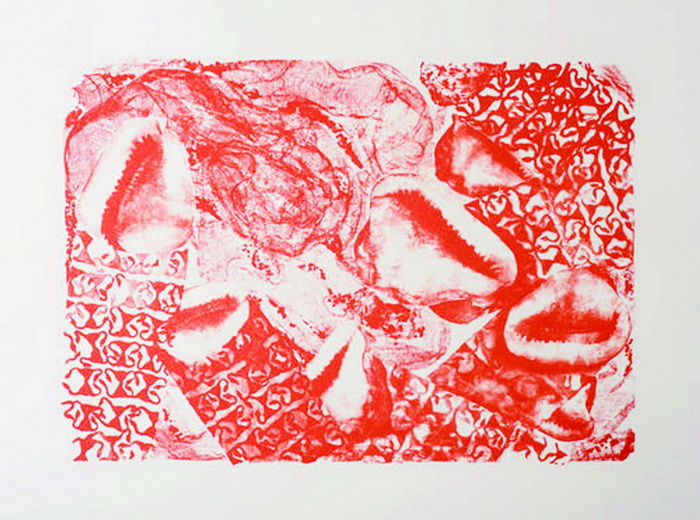 Which artists, local or international, have influenced or informed your point of view the most?
I have looked at several artists over time including Naiza Khan, Hamra Abbas, Ruby Chishti, Shahzia Sikander, Fahd Burki, A.R Chughtai, Mona Hatoum, Louise Bourgeois, Kara Walker, Agnes Martin, Vija Celmins, William Kentridge, Roy Lichenstein and Anselm Kiefer. Indian miniature painting has been a wonderful source of inspiration. Each artist has played a role in informing my point of view, but it would be wrong to single any one out. I've been very lucky to have amazing tutors both at the NCA and the Slade, and I gain a lot of insights through conversations with fellow artists, colleagues and friends.
What has been a seminal, life changing experience in terms of your art?
Art has always been a steady presence in my life, and a constant source of ideas and inspiration whenever I encounter it. A collection of several experiences over my life have influenced me deeply.
Which of your creations are you most attached to and why?
My diary. It contains a record of my ideas in their very early stages, and I'm able to express them with far less pressure than when making a final piece.
What themes do you find yourself drawn towards most often in your art?
In more biographical work, memory, nostalgia, displacement and grief often become subject matter when dealing with the idea of home. I'm also interested in the conflict between personal desires and societal expectations, something I believe all of us face at one point or another. The struggle, which this generates and how it is reflective of our time, is definitely a source of interest. Female identity in relation to this context is what I try to explore.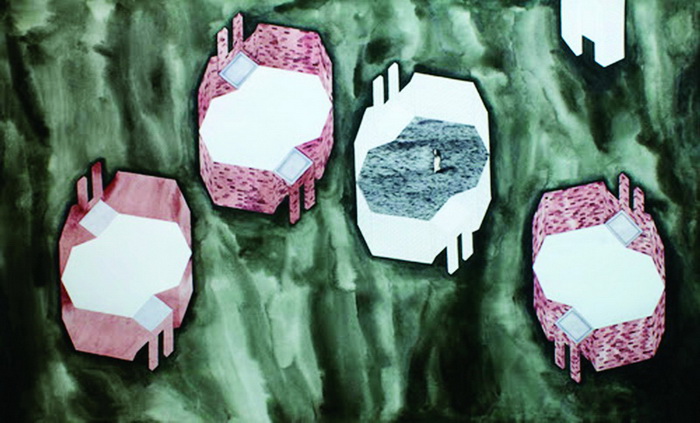 Name something you love. why?
Animals, because they are so beautiful and fun to be around.
Name something you don't love. why?
Big egos. I dislike it when people think they're too good to be true, and treat others like they're lesser beings!
If you could travel back in time to an era in art history, which period would you choose and why?
Even though there is no likeness between my work and Pop Art, I find it to be an extremely inspiring movement in its playfulness, accessibility and how it makes the everyday objects beautiful.
What is your dream project?
I would love to do a series of large-scale sculptures using fabric such as muslin.
What work of art do you wish you owned?
These days I often recall of Apple Tree in the Garden (1932-42) by Edvard Munch, a very haunting and vivid painting which I saw at a Royal Academy exhibition.
Whose portrait would you love to make?
I can't single out one person; sometimes I'll come across a very interesting face while wandering around on the street, or sitting in the tube, that I would want to sketch. I like the idea of capturing portraits in the moment.
Which artists living or dead would you have loved to collaborate with?
I might have had a fruitful collaboration with Artemesia Gentileschi, an Italian painter who was born in 1593. She was an extremely accomplished painter in the Baroque age at a time when women were not accepted into academies.
What is an artistic outlook on life?
I've often mixed paintbrushes in my tea. Keep your mug far away from your turpentine and watercolour containers! That's a crucial studio survival skill.
On a more serious note, it's important to have faith in your ideas, and while accepting critique as it comes, to not cave in to external pressures and compromise your work. These pressures can come from anywhere, such as trying to be accepted into the 'art market.' I would also add that it's really good for you to be prepared for failure and ideas not working out the way you imagined, because you learn a great deal from that process.
"I've often mixed paintbrushes in my tea"
What memorable responses have you had to your work?
In the past, I've had quite mixed responses to my work, especially to paintings of the female form. People have been uncomfortable and have questioned my decision to paint the body, which has lead to a variety of discussions. On the other hand, many have also appreciated the approach.
What are you working on as a future project?
At the moment, I'm interested in making an installation involving sculpture and painting, which is an extension of Not Eye, a film installation I did at Sanat Gallery.
All clothing provided by Beenish Rana of Beenish designs
Coordination: Afshan Shafi
Photography: Raza Ali