To be a supportive partner, or worse a second fiddle, is not something most men can sustain given the size and fragility of their egos, especially if the wife happens to be as big a star as Cate Blanchett. For two decades now theatre director, playwright and screenwriter, Andrew Upton has successfully remained in his wife's shadow without any resentment on his part, making this one of the most solid of any showbiz marriages
With skin as fine as porcelain, an aristocratic carriage combined with self deprecating wit, uber stylish, impossibly intelligent and talented, Cate Blanchett effortlessly counts as the actress' of her generation. At the same time, she's the mother to four children and has been married to Andrew Upton since 1997. This is their story.
Born Catherine Elise Blanchett in 1969 in Melbourne, Cate is the middle of three children of a U.S Naval officer and a teacher, who met when his ship broke down while berthed in the city. Texan Robert DeWitt Blanchett Jr. fell in love with June Gamble, quit the Navy and settled down in Australia, working as an advertising executive. Tragically, he died of a heart attack when Cate was only 10. After the death of her husband, June gave up her job as a teacher and got her property developer certification to earn more money and be able to afford her children's private school fees.
"She was very resilient," Blanchett said in an interview to Xan Brooks of The Guardian, "and my grandmother lived with us so I grew up in a matriarchal household. As a child, you incorporate those losses, those hurdles, those moments of grief or challenge or whatever it is. We all have them. My life has been relatively privileged, but I think perhaps I developed enormous empathetic connection with my mother because I could see the hurdles – financial and emotional – that she had to get over. But she was determined that we would have a good education, for which I'm incredibly grateful. Not that I did massively well at school, but I had a lot of fantastic experiences there."
"Part extrovert, part wallflower" during childhood by her own admission, Cate liked to dress as a boy at the Ivanhoe Girls' Grammar School and went through goth and punk phases during her teenage years, even shaving her head. "It was deeply uncool to be white, particularly in Australia," she told a journalist at The Huffington Post. "I was 10 or 11, and I was desperate to have a tan. I would put baby oil on my skin then go out on a tin roof. I would think it was a great day if I came down looking the color of beetroot. One day my mother came up, took the baby oil away, said come down and gave me a talk. She was a big Oil of Olay, moisturise your neck, moisturise your hands type of woman. She said, 'don't do it.' So I became a goth instead. That was the downside of her advice, but I had to find some kind of expression for it."
As a tomboyish little girl
Cate was a student at NIDA, Sydney
Andrew and Cate got married in their twenties
At the Methodist Ladies' College, Melbourne, she channeled her creativity into the performing arts, quickly developing a passion. "Our school plays were all devised by the students, and if we were doing Macbeth, then the girls took turns in playing Macbeth as well as Lady Macbeth because they wanted us to have that Shakespearean experience."
Dropping out of the University of Melbourne after only a year to travel abroad, Cate was by chance offered an extra's role of an American cheerleader in a boxing movie, Kaboria, while in Egypt, but she said she got so bored on the set that she quit despite needing the money to pay rent and wanting the free falafel that they were serving on set.
Upon her return to Australia, she moved to Sydney and enrolled in the National Institute of Dramatic Art (NIDA) from which she graduated in 1992. "Acting had become like this terrible addiction. I felt I needed to give it five years and see where it took me," she told Brooks. She played the difficult role of Clytemnestra in the classical Greek tragedy Sophocles' Electra while still a student at NIDA and her performance became one of the most acclaimed at the institute. Right after graduation, she starred opposite the thespian Geoffrey Rush in David Mamet's play Oleanna for the Sydney Theatre Company for which in 1993 she won the Best Actress award. She also received the Sydney Theatre Critics' Best Newcomer Award for her performance in Timothy Daly's Kafka Dances, making her the first actor to win both categories in the same year. Then, she played another challenging role successfully that of Ophelia in a production of Hamlet. Soon she started accepting roles in TV shows. On the set of one TV show in her mid twenties, she met Andrew Upton, three years her senior.
Andrew had grown up in Sydney, the son of a doctor and a nurse and after seeing Harold Pinter's Betrayal on a school trip at 16 he wrote his first play. "It was called The Plumber, a Pinteresque title, without any of the skill, depth or capacity… I knew I didn't want to act – I tried it at school and it just wasn't my bag," he recounted in an interview for the Independent. At university in Sydney, he joined the drama society, before he formally started studying directing and playwriting in Melbourne. Hitting a "brick wall" career-wise with theatre, he went into film to earn a living, spending a decade working as an assistant editor for films such as the charming children's film Babe as well as TV shows. He met Cate while working on Thank God He Met Lizzie in 1996 – "I'd already met her socially because the theatre world is fairly small but then the relationship developed."
Her metamorphosis from a young, romantic Princess to the Virgin Queen is a work of art
"We didn't like each other for a long time – about 17 years!" Cate said on The Ellen Degeneres Show. "We knew each other socially and we didn't really get on." But then one night they bonded over a poker game. When Ellen asked if alcohol had been involved, Cate said, "There wasn't actually alcohol – oh no, there was alcohol involved—alcohol and gambling. And then we got tattooed." And that's how they initially bonded. After just three days of intense dating, Cate knew Andrew was the one – and she realized this while in bed with him. "We were in bed, as you are after three days, and he said, 'Cate,' and I thought, 'S— he's gonna ask me to marry him and I'm gonna have to say yes." Luckily, it was a false alarm. "And then he said, 'No, I'm hungry, do you want to go get something to eat?'" recalled Cate, laughing. But fast-forward less than a month and Upton was ready to put a ring on it. "Then he asked me after about 21 days and I said yes," revealed Blanchett. It all happened due to her cooking skills, or lack thereof. "I cooked him the worst meal. I somehow decided that to stuff a trout with walnuts and goat's cheese would be a good idea," she said. "He ate it and then he asked me to marry him, so clearly he was, I don't know, hallucinating. He realized I couldn't cook." So it was after those three days – and that horrible meal – that sealed the deal. "You give them food poisoning," she joked. "They're delirious, and then you've got them!"
With Matt Damon in the gorgeous The Talented Mr. Ripley
If her cooking couldn't warn him off, neither could her choice of underwear, she modestly claimed, "People would be horrified if they could see my underwear drawer. I swear to God, the only reason I take jobs and do photo shoots is so I can get more underpants," she told Jodi Gugliemi at PEOPLE magazine, laughing. "I still have underpants my mother made me in high school. I just – something about going to the lingerie section, I don't know what – I get overwhelmed, I never know what to buy. So I have the most embarrassing, embarrassing underwear."
They developed an instant connection, and married soon afterwards in 1997. "I think marriage is all about timing. Getting married is insanity; I mean, it's a risk – who knows if you're going to be together forever? But you both say, 'We're going to take this chance, in the same spirit. Getting married is insanity!"
At the time of her wedding, Cate was also making her feature film debut first with a supporting role as an Australian nurse captured by the Japanese Army during World War II in Bruce Beresford's film Paradise Road, co-starring Glenn Close and Frances McDormand, and then in the lead in the romantic drama Oscar and Lucinda (1997), opposite the hunky Ralph Fiennes, fresh from his success with The English Patient. I remember watching her in these movies, she effortlessly held her own acting-wise and had the screen presence of a bona fide star, so her name and face stayed with me. Her next movie role made her an international breakout star.
Her first high-profile international role was in Shekhar Kapur directed Elizabeth (1998), portraying the Virgin Queen in a powerful performance that showed how the young Queen transitioned from being a girl to a formidable monarch. Her metamorphosis was so masterful that it earned her a Golden Globe Award, British Academy Award (BAFTA), and Screen Actors Guild (SAG) and Academy Award nomination for Best Actress. "I was shocked," she recalled in an interview. "You know, I called my agent after making Elizabeth and said, 'I think I've ended my career before it's even begun.' So yeah, I was completely shocked by how that film was received."
Back in Australia, Cate and Andrew formed their own film production company, Dirty Films, the first project of which was the short film Bangers (1999), part of Stories of Lost Souls, a compilation of thematically-related short stories, which he wrote and directed, she starred in and they jointly produced. She also appeared in the comedy Pushing Tin (1999), co-starring Billy Bob Thornton and Angelina Jolie in which film critics remarked that Cate stole the show, but the other two stars hooking up grabbed the headlines. She was a part of the ensemble star cast for Anthony Minghella's gorgeous remake The Talented Mr. Ripley (1999), starring Jude Law Matt Damon, Gwyneth Paltrow and Philip Seymour Hoffman. Then, Cate scored a recurring role in a blockbuster fantasy trilogy, Peter Jackson's Oscar-winning, The Lord of the Rings. The trilogy holds the record as the highest-grossing film trilogy of all time and Cate got a chance to really expand her fan base. In the middle of all this filmmaking, Superwoman Cate gave birth to the couple's first baby, Dashiell John in 2001 followed by Roman Robert in 2004.
Playing Galadriel in The Lord of the Rings trilogy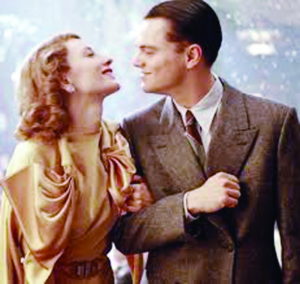 In 2005, she won her first Academy Award for Best Supporting Actress for her terrific portrayal of Katharine Hepburn in Martin Scorsese's The Aviator opposite Leonardo DiCaprio's Howard Hughes, giving her the distinction of becoming the first actor to get an Academy Award for playing an Oscar-winning actor. To support her country's film industry, she loaned her Oscar statue to The Australian Centre for the Moving Image. That year, talented Cate also won the Australian Film Institute Best Actress Award for playing a very different role, that of a former heroin addict, in the Australian film Little Fish, which was co-produced by Dirty Films and nominated for 13 Australian Film Institute awards. In 2006, she starred opposite Brad Pitt in the multi-lingual, multi-narrative ensemble drama Babel, directed by the Mexican director Alejandro González Iñárritu that received seven Academy Award nominations, the Steven Soderbergh-directed World War II drama The Good German opposite George Clooney, and the psychological thriller Notes on a Scandal with Dame Judi Dench for which Cate Blanchett received her third Academy Award nomination for her performance.
As Blanche Dubois in A Streetcar Named Desire
Tobey Maguire, George Clooney & Cate Blanchett in The Good German
With Dame Judi Dench in Notes on a Scandal
Playing Bob Dylan in I'm Not There
A bankrupt, alcoholic, bipolar WASP in Blue Jasmine
In Benjamin Button
With Rooney Mara in Carol
As Lady Tremine in Cinderella
In her speech at the 2006 Women in Hollywood event, presenting Cate with the Icon Award, Judi Dench, herself an awe inspiring actress, said of her co-star, "When we came to work, I realized of course that Cate has a fierce intelligence, an unbelievable integrity. Her powers of concentration are phenomenal. Above all, she has a great sense of humour which I think is the most important thing to have and she is a phenomenal family person. The fact that she is working on something with an incredible intensity and at the same time can completely switch off and become a member of an incredibly close family with her children and her husband. When I saw her playing Elizabeth, it was one of those rare moments that I forgot I was watching an actress and I believed I was watching a real person who had actually lived and existed in history. I think Cate is the most extraordinary actress and I'm thrilled we did this movie together." High praise indeed!
Meanwhile, Upton had started to earn a name for himself adapting classics for the stage, such as Maxim Gorky's The Philistines for London's Royal National Theatre. After living in the seaside town of Brighton, England for a decade while she established her international film career, the couple decided to return to their native Australia in 2006. Cate said that they wanted a permanent home for their boys, be closer to their family, and contribute to the Australian theatrical community. Perhaps having devoted a decade pursuing her dreams, it was time that the couple focused on furthering Upton's theatrical career. They chose the upscale Sydney suburb of Hunters Hill where they bought a mansion, which underwent extensive renovations to be made more eco-friendly in line with their ecological beliefs. But Upton's original play Riflemind, staged at the Sydney Theatre Company, about an ageing rock star planning a comeback tour closed quickly due to a poor response.
In 2007, Blanchett was named as one of Time magazine's 100 Most Influential People in the world and one of the most successful actresses by Forbes magazine. That year she was on top of her game appearing in two remarkably different roles: reprising her role as Queen Elizabeth I in the sequel Elizabeth: The Golden Age, as well as portraying one of six incarnations of Bob Dylan in Todd Haynes' experimental film I'm Not There, for which she won the Volpi Cup Best Actress Award at the Venice Film Festival, the Independent Spirit and Golden Globe Best Supporting Actress Award for her portrayal of Jude Quinn. At the 80th Academy Awards, she received two Academy Award nominations – Best Actress for Elizabeth: the Golden Age and Best Supporting Actress for I'm Not There – becoming the eleventh actor to receive two acting nominations in the same year, and the first female actor to receive another nomination for the reprisal of a role. Famous film critic Roger Ebert said, "That Blanchett could appear in the same Toronto International Film Festival playing Elizabeth and Bob Dylan, both splendidly, is a wonder of acting".
Living the normal life–at an amusement park with her boys
She next gave a villainous turn in Steven Spielberg's Indiana Jones and the Kingdom of the Crystal Skull, becoming Spielberg's favorite villain from the entire series, and played a ballerina in David Fincher's Oscar-nominated The Curious Case of Benjamin Button, appearing opposite Brad Pitt for a second time. In 2008, she received her star on the Hollywood Walk of Fame.
In 2008, the couple took over as joint artistic directors of the Sydney Theatre Company (STC). While Cate took time off to give birth that year to their third son Ignatius Martin, Upton's theatrical career flourished as a playwright, adapting Hedda Gabler, The Cherry Orchard, Cyrano de Bergerac, Don Juan, The Maids and Children of the Sun, etc. for the STC.  He spoke about their decision to head the company, "We both trained in Australia and we know everyone, it's a very small world. When you grow up in a country you've kind of got an investment in it. Without wanting to sound like a terrible politician, the most important thing that we do is our family. We've always worked together in a way. You have your odd, 'no, no, no, we have to do this,' but in the end you can say: 'Oh, all right, I'll fight for that next year, then.' That collaborative approach is a really important part of theatre – it's compromise that adds, not detracts."
Andrew Upton frankly and humorously discussed living in his wife's shadow with Alice Jones for The Independent, calling himself "the hand," so frequently does he find himself perfectly cropped out of red carpet photographs of him with his wife. Being married to an Oscar-winning film star, one of the finest actress' of her generation and one of the most beautiful women in the world, he has become an expert in taking a back seat. "They (magazine editors) just look and think, 'he's not interesting, cut him out.' You can almost see the scissors," he roared with laughter.
"To be fair to those ruthless magazine editors, they do make an odd couple: she, ethereal, statuesque, a cool Armani muse, he, a puckish bundle of energy with thinning hair and tired blue eyes. But in real life there's no separating the couple," conjectured Jones.
"I've never had that level of success," he admitted. "Having looked through the prism of Cate, you can see across to the people whom that sort of stuff happens to….I'm never followed but Cate is. Her public identity is associated with her work, which I think is good, right and proper because she's bloody good at it. When her work is coming into focus, people want to see a photo of her carrying shopping bags. I can understand it – people are interested and I'm glad they're interested otherwise they wouldn't come to see it."

Red carpet style icon
Cate admitted that it was not always easy working together in such a high-profile way as well as raising a family, it's all about communication. "We would divvy it up in a fluid way that perhaps only a married couple could. We've always talked. He's the first person I met who I could deeply talk about work with, and I think we've kept each other healthy in that way because you can go a bit bonkers. And I'm bonkers enough! We've never been competitors, and we've never shied away from robust argument."
She told Brooks that she knew the move was a gamble for her as it risked closing the door at her back. "When I stepped away to run the theatre company, a lot of people said, 'This is a mistake. You realise you have a certain shelf life and you're throwing that away.' But I think it's made me a better actor. If it hasn't, I'm a fucking idiot."
Proud of what they achieved at the STC, putting on 16-19 shows a year over four stages, making the organisation environmentally sustainable, and touring productions internationally, she said, "It was a lot of work, but it was in partnership. And it meant that I absented myself from filmmaking for six years. There were a lot of people who I could tell were thinking, 'You're in your late 30s, and the film industry's not going to be your friend forever. Is this really the time?' They thought I was having some sort of early midlife crisis, but Andrew and I knew the wealth of talent in Australia, and it's our creative wellspring. So to return to that community and to be inside it was game-changing for us."
"It's been an enormous challenge and enormously gratifying," she added. "Andrew and I wanted to travel less and the opportunity of living and working in Sydney was irresistible, especially when it came to being able to give our children roots. I also felt drawn to the stimulating kind of environment that the theatre offers in a way that is completely different from film. To direct a company has its own challenges, and there's nothing like the terror and thrill that comes from performing live in front of an audience. So it's been a marvellous experience for both of us."
Blanchett took to the stage in a magnificent performance as Blanche DuBois in Tennessee Williams' A Streetcar Named Desire. Though it has been played numerous times by countless fine theatre actress' Cate completely made the role her own and played it like it had never been played before. She got rave reviews for her portrayal. The New York Times critic Ben Brantley wrote, "DuBois has been pulled gently and firmly down to earth by Ms. Blanchett. What she brings to the character is life itself, a primal survival instinct … All the baggage that any 'Streetcar' usually travels with has been jettisoned. Ms. (Tracey) Ullmann and Ms. Blanchett have performed the play as if it had never been staged before, with the result that, as a friend of mine put it, 'you feel like you're hearing words you thought you knew pronounced correctly for the first time.'"
John Lahr raved in The New Yorker, "Blanchett, with her alert mind, her informed heart, and her lithe, patrician silhouette, gets it right from the first beat … Blanchett doesn't make the usual mistake of foreshadowing Blanche's end at the play's beginning; she allows Blanche a slow, fascinating decline … I don't expect to see a better performance of this role in my lifetime."
The great Meryl Streep said, "That performance was as naked, as raw and extraordinary and astonishing and surprising and scary as anything I've ever seen … She took the layers of a person and just peeled them away. I thought I'd seen that play, I thought I knew all the lines by heart, because I've seen it so many times, but I'd never seen the play until I saw that performance."
Cate won the Sydney Theatre Award for Best Actress in a Leading Role and the Helen Hayes Awards, for Outstanding Lead Actress in a Non-Resident Production award, and the production won for Outstanding Non-Resident Production.She then played Yelena in Upton's adaptation of Anton Chekhov's Uncle Vanya, which traveled to the Kennedy Center and the New York City Center as part of the Lincoln Center Festival. Again, critics were most impressed. The New York Times' Ben Brantley wrote, "I consider the three hours I spent on Saturday night watching (the characters) complain about how bored they are among the happiest of my theatre going life … This Uncle Vanya gets under your skin like no other I have seen … (Blanchett) confirms her status as one of the best and bravest actresses on the planet." Again, Blanchett received the Helen Hayes Award for Outstanding Lead Actress in a Non-Resident Production, and the Helpmann Award for Best Actress. Clearly the husband wife team was most successful.
Cate told Anita Singh in an interview for The Telegraph about their partnership, saying Andrew allows her unfettered access to his email account and that she runs her household as a "well-oiled machine" by reading all the messages addressed to her husband as "he hates emails," leaving all his correspondence to her. "We work together and it's a way of synchronising our lives. I can see what he's up to – it's not that I don't trust him."
She also takes charge of organising her children's lives. "I've got a whole system going. I know what has to be done by the end of the evening, and what has to be done by the end of the morning. Three lunch boxes, three school bags, three sets of school uniform. Maybe I'm old-fashioned, but I have to write everything down," Blanchett said. She has a rule that she will never be away from the children for more than six days; she said there are times when she dislikes the acting profession but "it's a vocation, something I feel compelled to do. The work is not simple, but I do love it."
Friends and colleagues said the couple never seem to have any drama, and they work together constantly, especially when they took over the STC.
Lady of the manor
The family's primary residence is currently Highwell House, East Sussex that was once owned by Sir Arthur Conan Doyle

Blanchett stepped down from her full-time role at the theatre in 2013, but continued to star in a few STC productions, while Upton carried on as artistic director for another two years. Her film work was still limited. "What prevents me from picking and choosing is my geographical location and my desire not to have someone else raise my children."
Sheryl Garratt wrote in The Telegraph that Blanchett, who is forthright, funny, exceedingly good company and astonishingly beautiful, reckons "the children keep her honest. They force you to be economical. To choose your roles wisely and then shrug them off as soon as you're done." People always ask how she is able to juggle her roles as an actor and parent. "Now, I might be wrong, but I don't think they put the same question to male actors, do they?" How she has changed since she first got married, "I think Andrew would say I've got better at my job that I've learned to get out of my own way a bit more. I think perhaps he would say I'm a little less socially awkward. I hope so anyway. I used to be very socially awkward. Walk into a room. Not know what to say. But you do carry that fear with you. When I was getting ready to leave (the company, I did think, 'Well, I'm in my 40s, I don't know if I've even got a film career to go back to.' And then Blue Jasmine landed in my lap."
Her role as the brittle Park Avenue princess fallen on hard times in Blue Jasmine won her a second Oscar. But the experience of shooting it was no bed of roses. She described Woody Allen's directing style as one of "benign neglect. The first day was brutal. He came up to me and said, 'This is awful and you're awful.' As if he were talking about someone else, some other actress, and that maybe I could go and have a word with her. And then three weeks later it turned out that he didn't like the costumes, he didn't like the locations, he didn't like the scene. He said, 'You've got to help me rescue this movie.'"
She did such a wonderful job that some critics called it the best role of her career, better even than as Elizabeth I. The performance earned her more than 40 industry and critics awards, including the Critics' Choice Award, Santa Barbara International Film Festival Outstanding Performance of the Year Award, Australian Academy Award (AACTA), SAG award, Golden Globe, BAFTA, Independent Film Spirit Award and the Academy Award for Best Actress. She, thus, became the first Australian to win more than one acting Oscar.
The couple fulfilled their dream when they adopted daughter Edith Vivian Patricia in 2015 because Cate said that she and her husband had wanted to adopt ever since the birth of their first child. Despite their high profile status and wealth, Australian adoption authorities still carried rigorous background checks into their lives before confirming the adoption and handing over the baby girl. Soon after, they sold their Sydney mansion for $20 million in 2015 to a Chinese buyer and moved back to England where Andrew and Cate purchased a seven bedroom, five reception room historic $6.25 million English manor, Highwell House, in East Sussex. Originally built in 1890, the home had fallen into disrepair, but had been extensively renovated and restored by its previous owner to its previous grandeur with bespoke materials and hand crafted finishes. Another celebrity owner in the past had been author of the Sherlock Holmes series Sir Arthur Conan Doyle. Variety magazine reported that around the same time the couple also purchased a five-bedroom house in Sydney once owned by drag queen Dame Edna from its last owner for approximately $8 million. Not a bad life!
Late last year, paparazzi clicked photos of Andrew "getting very close" with 27 year old Love Child star Harriet Dyer
To pay for it all, Cate then played Cinderella's evil stepmother in Disney's Cinderella in a fun, campy way. On the other end of the spectrum, she starred opposite Rooney Mara in the lesbian relationship film Carol. At the Cannes film festival Variety reporter Ramin Setoodeh asked her if this was the first time she had played a bisexual. Cate cheekily replied, "On film or in real life?" The reporter prodded if she's had relationships with women. "Yes, many times," she shot back referring to her countless female friends, family members and colleagues. The resulting story went viral, and eclipsed the movie itself. "Look," she clarified to Brooks, rolling her eyes at the memory, "I also just played a journalist. No one asked me how long I'd been to journalism school. If I played someone who has an affair, I think a reporter would probably think twice before asking, 'Ooh, how many affairs have you had?' It would be a slightly delicate area. But there are no holds barred about asking me whether I've had relationships with women. And so I facetiously said, 'Oh yes, I've had many relationships with women' – because frankly, who hasn't? Of course I said it in inverted commas. But the inverted commas didn't make the page." So try as you may, reporters looking for a story will blow up the minutest detail trying to come up with a sensational, headline grabbing scandal.
Similarly, Andrew too has had his share of over eager press. Late last year, paparazzi clicked photos of Andrew "getting very close" with 27 year old Love Child star Harriet Dyer. The tabloid, Star reported that the two spent the evening at the Strawberry Hills pub in Sydney, while Cate was thousands of miles away in NYC with their children. "Drinks were flowing. Andrew and Harriet's hands were all over the place," revealed an onlooker, who watched the pair play a flirtatious game of pool in the company of friends at the local watering hole – just miles down the street from the home he shares with Cate and the kids. "At one point, Harriet rested her head on Andrew's chest and he wrapped his arm around her, whispering something in her ear. Andrew and Harriet looked uncomfortable with the camera snapping away," said the spy. "It they hadn't spotted the photographer, who knows what might have happened? Even if it was innocent, it certainly left a bad impression."
Australian magazine New Idea reported that "At one point they were holding hands and he had his arm around her before leaving together to hail a taxi. The pair was never far from each other, engaged in 'close conversation' and were quite affectionate. Cate recently relocated to Los Angeles with her children for a film."
According to the magazine, Harriet told a group of fellow Australian actors, "He's (Andrew) a notorious party boy, everyone knows that."
On holiday with their four kids in tow
Though the two have worked together in the past at the Sydney Theatre Company, a lot of speculation as to the nature of their relationship took place. Cate, however, appeared confident and unfazed the next day when the story broke. Paparazzi followed her around NYC to capture any meltdown she may have or even a hint of emotion she may show. Everyone wanted to know whether there was any truth to the story. Whether she really trusts her husband that much or whether she's the consummate actress in real life as well is anybody's guess. She had herself admitted in an earlier interview, "It's not whether you can act or not. It's whether you can act comfortable and relaxed. I'm not comfortable, I'm not relaxed. It's all down to acting."
Later the same magazine New Idea reported that Harriet was overheard telling a group of actors at a premiere that she reached out to Cate as soon as the photos were released to ensure she and the children were okay, "I sent through an email to Cate and said: "This is all 's***' We were just having drinks after a show when the images were taken. " She wrote back, "We're cool, babe."
Happily ever after, or as close to it as you can get
Andrew also broke his silence over the incident, insisting his relationship with Harriet was strictly platonic. 'We've been friends for years. She's a good friend,' he explained.
Since then, Harriet has begun dating No Activity co-star Patrick Brammall, after calling it quits with Australian actor Ben Lawson late last year, so there was that narrow window when she was footloose and single.
The Mail on Sunday carried a story of Cate Blanchett generously praising Andrew soon after, "I'm incredibly fortunate to have met the intelligent, generous, risk-taking, stimulating man to whom I am married. He's really amazing. I don't think it's more difficult for actors to have a good marriage than anyone. I think in the end a really important component of any relationship is honesty, and it also comes down to luck."
Andrew also praised his wife, describing being married to her as "a daily thrill." Damage control or the whole truth and nothing but the truth? Your guess is as good as mine.
Looking back at their twenty year marriage, Cate said, "It's been a great creative partnership with my husband and also a great love affair. Working together, running a creative company in Australia. It's all been fantastic."
If you would like to see Cate perform live and happen to be in the Big Apple, do check out her Broadway debut in Upton's adaptation of Anton Chekhov's play The Present, running now through March 19, 2017.