By Jalal Salahuddin
After working in Pakistan for 12 years and being part of the group of event managers that started the industry at home, I often wondered if it was simply enough to want to grow J&S locally, or to take a bigger and bolder step and look for other options abroad alongside Pakistan.
The opportunity happened by chance when we left for India to organize the Lifestyle Pakistan tradeshow some years ago. The show was a resounding success with all of Pakistan's top business houses coming back after having done millions in sales in textiles, furniture and other Pakistani made goods. My partner in J&S Omar Satti and I began to think: if we can export music and other talent across the border, then why not services? The similarity in culture, language and style between the two countries has always existed; and the idiom of the "desi wedding" is deeply ingrained in both places.
How would we do it? Who would we partner with? To do bespoke and high end events in India required careful planning and thought. India is a huge market with a multi-billion dollar event management industry. One has to be the best of the best to get to do the top work for the country's burgeoning bevy of billionaires, celebrities and socialites. Everyone wants new and exciting ideas for location, décor and entertainment. It reminds me of the United States at the turn of the 19th century when the Vanderbilts, the Astors and the Mellons were building French-inspired chateaus by the sea in Newport and holding elaborate masquerade balls in their New York and Boston brownstones. Modern Indian society itself has created the behemoth known as The Big Fat Indian Wedding. Pakistan has also been seduced by the idea of the grand desi wedding and we at J&S have designed and executed some of the country's most well-attended and glamorous affairs.

Omar Satti, Umad, Amitabh Bachchan & Adeel Chaudhry with guests
The guest-list read like the who's who of India's business, entertainment, political and
intellectual elite
The logical thing for us to do would be to find a partner who liked our work and who had the brand name, reputation and an aesthetic, which was stylish, tasteful, and genuinely creative. Both of us agreed that no one would be better than Rohit Bal.
Rohit grew up in Srinagar, studied in Delhi, worked and traveled internationally and has a personality and style that is firmly grounded in the history and traditions of the subcontinent, yet connected to the modern world. Known as the Yves Saint Laurent of India, Rohit is intensely concerned with design as an art form. The designer has drawn on history, fantasy and folklore to create masterpieces of couture that are desired by discerning aficionados around the globe. He has always had a deep understanding of the psyche of the fashion world and it reflects in his collections that are intelligent, studied, imaginative and completely innovative. But they are also always relevant and awe-inspiring.He is recognized in India and internationally for meticulous attention to detail. He draws inspiration from influences wide and varied. From the village crafts and traditional methods of design that India is so rich in, to the transient phenomenon of the subcontinent's urban landscape, the designer has brought them all to life in his spectacular but original language.His creative spirit has touched everything in the past few decades from fashion to interiors.Now he would bring his inimitable style and panache to designer weddings and events.
More than that, he is a genuinely wonderful person and a dream to work with. We began by having a glamorous launch event at the ITC Maurya to introduce Rohit Bal Luxury Wedding & Events by J&S. We thought: we would excel at creating the most glamorous and exciting wedding and decor concepts for a discerning clientele both in India as well as globally. Both Rohit and I became Co-Creative Directors.
Ritu Kumar & Shashi Kumar
Rahul Bose

The idiom of the "desi wedding" is deeply ingrained in both India and Pakistan
Work has followed and we have done incredible events for some of India's top industrialists and A-listers. But that is news for another article. Recently, we were approached by Ajitabh Bachchan, (Amitabh Bachchan's brother),to do his daughter Nayna Bachchan's wedding reception. Nayna had married the Bollywood actor Kunal Kapoor at a quiet ceremony in the Seychelles two months ago. Now her parents and family were hosting a grand wedding reception in Delhi for them. "This is Bollywood's first family," Rohit said to me, "and we have to do a phenomenal job."
We began by finding inspiration from all things desi: tube roses, motia, desi ghulab, vermillion amaryllis. The event was taking place at a stunning farmhouse with a winding garden where we placed beautiful handmade wrought iron gates strung with floral tassels alongside a 300 foot long candle wall that shimmered as guests walked into the venue. The Mangniyar Seduction, a 25 member troupe from Rajasthan, sang Sufi songs welcoming guests as Amitabh Bachchan, son Abhishek and wife Aishwarya, Ramola and Ajitabh Bachchan and the rest of the Bachchan family stood by a falling flower stage to welcome the 1500 guests.
Rohit and I went to source carved marble fountains, solid silver doors, venetian mirrors, Mughal fans and Tanjore paintings from the 1800s from antique dealers to decorate the ivory colored muslin-draped main hall. 15,000 candles and dozens of baskets of roses decorated the walkways and tables. All the dining tables were dressed with crinkled and quilted tablecloths and napkins especially made at Rohit couture atelier, carved gold chargers and candelabras and huge bunches of blooming amaryllis. Even I gasped when we saw the elegant and scintillating result as we finished decorating the event.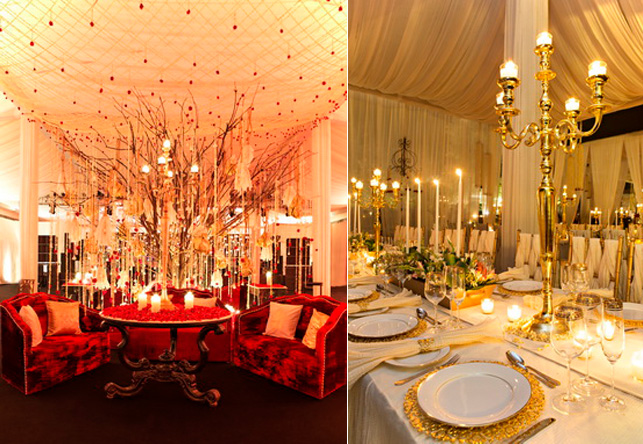 Aishwarya Rai Bachchan, Abhishek Bachchan, Jaya Bachchan, Amitabh Bachchan & Ramola Bachchan

"This is Bollywood's first family," Rohit said to me, "And we have to do a phenomenal job"
The guest-list read like the who's who of India's business, entertainment, political and intellectual elite. Priyanka Gandhi and her husband Robert Vadhra exchanged pleasantries with Amitabh and Jaya Bachchan, while Anupam Kher and his wife Kiran Kher took a selfie with Nayna and Kunal Kapoor. Rohit Bal, Abhishek and I chatted away as the crowd went crazy when Hrithik Roshan began dancing on the sofa. Meanwhile, everyone admired Dior ambassador Kalyani Chawla's stunning outfit. Novelist Shoba De looked striking in a canary yellow sari and stood by Dubai-based billionaire Sunil Vasvani who had flown in on his private jet for the evening. Aishwarya Rai Bachchan looked glamorous in a bright red outfit while her sister-in-law Shweta looked elegant in a pale gold couture lehnga.
A Latin American band played during the champagne reception and were followed by the inimitable Meet Brothers who sang their famous hits Chitiyan Kalayaan and Baby Doll. The crowd cheered on the dancefloor as Abhishek sang with them to celebrate his cousin's nuptials. Our very own Adeel Chaudhry also performed desi songs for the guests. The evening was an enormous success and it's true:there is no business like show business. We hope to do many more evenings like it.