Saba Ahmed talks to Ayesha Omar about her film debut
It's always a pleasure to meet Ayesha Omar, as much as it is to watch her on screen. Her down-to-earth candor and easiness catches one, both in real life and on TV where she is best known as Khoobsurat in the super hit comedy "Bulbulay." From seeing her gorgeous artwork hung up front and center in the principal's office at the Lahore Grammar School, and now chatting with her about her latest project, film "Yalghaar," I've seen Ayesha traverse every kind of artistic landscape: cooking shows, a recorded album, stage plays, musicals and now a movie.
These days, she finds herself switching from her glamorous self from the likes of "Dolly Ki Ayegi Baraat" for a somber role in "Yalghaar." The most expensive film yet to be made in Pakistan—I know we've heard that before, but all reports confirm this is true!—"Yalghaar" is not dissimilar in subject matter to "Waar." It's based on the true events that took place around the Pakistan army's military operation in Swat. It's also got a stellar cast: Shaan, Humayun Saeed, Adnan Siddiqui, to name a few industry heavyweights, alongside newcomers Aleeze Nasser and Sana Bucha. "My first spell of shooting has been very intense," says Ayesha who found herself in a system of caves constructed on set in Karachi. The set was so realistic, Ayesha tells me, that even the bats began to call it home! "Without revealing too much, I'll just say that it was not all fun and games. It was hardcore, very dingy and dirty but that's the environment we wanted." So for six grueling days of shooting, she left herself go and would only experience luxury and comfort when she returned home to her bed. It's hard for our actors to shake off their inhibitions while acting, certainly Pakistani girls who are expected to look and act a certain way. "We've grown up with this kind of conditioning," Ayesha tells me, "And I had to break away from all that for the film and really had to stop caring about how I looked. Let's hope it works!"
The set was so realistic that even the bats began to call it home!
Ayesha tells me candidly that she got cold feet while shooting for the film, the kind one may get on the day of their wedding. "I felt like I would not be able to come up to the expectations of the director, [Hasan Waqas Rana], but the director had so much faith." Ayesha was fortunate enough to have been offered the film alongside her friend and filmmaker Bilal Ashraf. He has been an objective and harsh enough critic on set to satisfy Ayesha's perfectionist streak. "The film team is like a family now," says Ayesha. "We have a WhatsApp group, we're sharing ideas and we're constantly in touch. The supporting crew as well, like the wardrobe assistants and the DOP's are all young and energetic people who are new to the industry and full of fresh ideas."
For any actor, the big screen is the ultimate place where you get to make an impact. "I never thought I'd ever get into films. Especially the kind of local films that we grew up with!" says Ayesha. But with the revamping of Pakistani cinema, there are all sorts of people joining the industry armed with creativity, new ideas and new technologies. "We don't know where cinema is headed and we don't have an identity yet, so everyone is experimenting with what will work," says Ayesha for whom this is a real change from her known and loved screen identity as Khoobsurat on "Bulbulay." Laughing, she says, "Most people now choose to call me Khoobsurat instead of my real name, even people who I've known all my life!"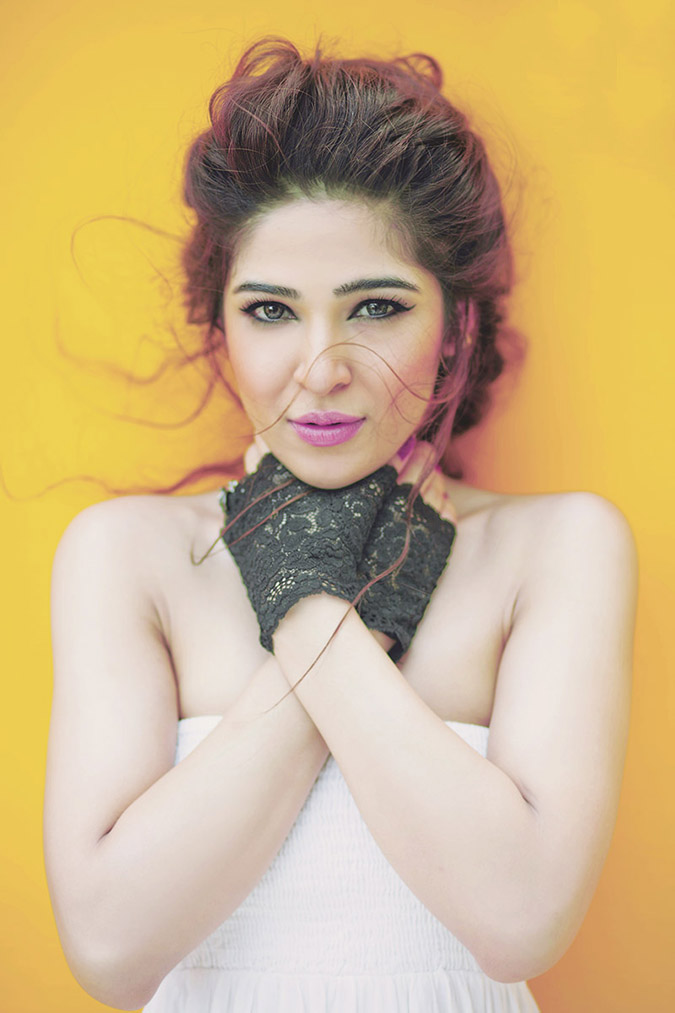 'I really had to stop caring about how I looked'
The golden era of PTV, an era of calm rehearsals before the shoot, no longer exists in the drama industry. The few directors who go the extra mile are richly rewarded for their efforts. Ayesha has immense respect for Hina Dilpazeer, an actor who seems to have perfected the juggling act of building depth into her many TV characters. According to Ayesha, who is a co-star and also a fan, "She is the coolest person I have worked with, a real institution. I learn from her every day, I share everything with her. We've been working together for years and when we're working, we don't even need to talk to each other to know what we're going through."
Hair & Makeup: Ayesha Omar
Photo Courtesy: Abdullah Haris