By Mahlia Lone
Long thought of as a confirmed bachelor, news of George Clooney's impending nuptials with London-based barrister Amal Alamuddin sent shock waves through his legion of female fans. Overnight he went from being public domain to the committed partner of one. It was a move that he himself could not have foreseen; claiming he was just not marriage material and made "a lousy husband" after a short lived marriage to actress Talia Balsam in 1989 floundered in its early days. He also went against type when choosing a wife, going against the model/cocktail waitress type that he generally dated. On top of that, his chosen woman was of Middle Eastern descent and, gasp, a Druze Muslim!
Born George Timothy Clooney on May 6th 1961 in Kentucky, he is a suave, debonair and handsome Hollywood leading man of the Cary Grant variety. Additionally, Clooney is thoughtful, intelligent and a committed humanitarian with a broadcast journalist father and a mother with both beauty and brains, having served as a beauty pageant queen and city councilwoman. He has also descended on his mother's side from the same stock as President Abraham Lincoln. We can rightly imagine then that politics and current affairs rather than show business dominated the dinner table conversation at the Clooney household of his childhood. A young George must have absorbed all that talk like a sponge and filed it away for future use. Growing up in a fervent Catholic household, George attended Catholic schools and was even an altar boy for a time. Rebelling against his childhood and with big dreams in his head, George dropped out of college. First, he tried out to play professional baseball for the Cincinnati Reds, but he did not make the team. Then, he moved to LA to pursue an acting career, like his aunt Rosemary Clooney, who was also a famous cabaret singer.
His first jobs were women's shoe and door-to-door insurance salesman, construction worker and tobacco cutter. These minimum wage jobs supplemented his meager income from playing bit parts on TV while he was a student at the Beverly Hills Playhouse acting school for five years. Then came hit TV show ER in the early 90s, on which he played Dr. Doug Ross with Juliana Margulies (currently starring in The Good Wife on TV) as his nurse love interest, catapulting him to instant stardom. Handsome George became a household name and the object of lust for millions of women around the globe. During his five year run on ER, Clooney was lured to the silver screen. His first film was Robert Rodriguez directed From Dusk till Dawn in which sultry Mexican siren Salma Hayek famously does a sexy snake dance. Then, he did a romantic comedy, One Fine Day with established star Michelle Pfeiffer and the action thriller The Peacemaker with the then Mrs. Tom Cruise, Nicole Kidman. Rising star George Clooney was next cast as a superhero in Joel Schumacher's Batman & Robin (1997) with Chris O'Donnell playing Robin and Steven Soderbergh directed cops and robbers flick Out Of Sight opposite a newly famous Latina, Jennifer Lopez in 1998. Next step was mega stardom with the Ocean's Eleven trilogy. With a stellar ensemble cast, this heist movie was box office gold, a remake of a 1960 film starring Frank Sinatra. As Danny Ocean, Clooney led a modern day Rat Pack, including Brad Pitt, Matt Damon and Don Cheadle, to name just a few of the actors bringing their combined star power to this fun blockbuster series.
In 2003, in opposition of the Iraq War, he said prophetically, "You can't beat your enemy anymore through wars; instead you create an entire generation of people seeking revenge… Our opponents are going to resort to car bombs and suicide attacks because they have no other way to win… I believe (Secretary of Defense under George W. Bush) Donald Rumsfeld thinks this is a war that can be won, but there is no such thing anymore. We can't beat anyone anymore"
Not content to rest on his acting laurels, in 2001, Clooney co-founded Section Eight Productions with Academy Award winning director Steven Soderbergh and the following year Clooney proceeded to venture into directing with the biographical spy thriller Confessions of a Dangerous Mind, earning favourable reviews for his direction. In 2005, Clooney won his first Academy Award for Best Supporting Actor in the Middle East based political thriller Syriana that was inspired by the memoirs of former Central Intelligence Agency (CIA) agent Robert Baer of his posting in the Middle East. In 2013, Clooney received the Academy Award for Best Picture for producing yet another political thriller Argo. As an actor, screenwriter, producer and director, Clooney is the only person so far who has been nominated for an Oscar in six different categories.
In 2006, Clooney started another production company named Smokehouse Pictures. That same year, Clooney received the American Cinematheque Award, honoring his "significant contribution to the art of motion pictures." In the recent past, Clooney has co-starred with Sandra Bullock in the 2013 sci-fi thriller Gravity, as well as produced August: Osage County, starring the Academy Award winning actresses Meryl Streep and Julia Roberts that same year.
A serial dater, Clooney dated in succession the actress Kelly Preston, who went on to marry John Travolta, actress Ginger Lynn Allen, French reality TV personality Céline Balitran, British model and TV presenter Lisa Snowdon with whom he had an off and on five year relationship, Hollywood star Renée Zellweger, actress Krista Allen, reality personality Sarah Larson, Sophie Dahl English model, IT girl, author and granddaughter of children's books celebrated author Roald Dahl, Italian lingerie model and TV host Elisabetta Canalis, and even a statuesque former WWE (World Wrestling Entertainment) wrestler Stacy Keibler. Showing them off at award shows as arm candy, when his girlfriends, enjoying the limelight and the glamorous life on the arm of a Hollywood idol, became serious and wanted marriage he would promptly break up with them, politely reminding them that wasn't part of the deal. Soon it became a running joke that just as one of his movies was named Good Night and Good Luck, so did that come at the end of a date with Mr. Clooney.
In September 2013, when Clooney met human rights lawyer Amal Alamuddin at a charity fund raising dinner in Venice, he was discussing Middle East politics with the ease of a man who effortlessly commands an audience. She, however, was not impressed and quickly put him in his place. He was naturally intrigued, so used to women throwing themselves at him willy nilly
Clooney has admitted publicly that he greatly admires and looks up to his father Nick, so it was just a matter of time that he espoused worthy causes as a political activist and humanitarian. He supported the Democratic Party and President Obama in both his campaigns for the 2008 and 2012 presidential elections. George is a staunch supporter of gay rights. In 2003, in opposition of the Iraq War, he said prophetically, "You can't beat your enemy anymore through wars; instead you create an entire generation of people seeking revenge… Our opponents are going to resort to car bombs and suicide attacks because they have no other way to win… I believe (Secretary of Defense under George W. Bush) Donald Rumsfeld thinks this is a war that can be won, but there is no such thing anymore. We can't beat anyone anymore."
As a humanitarian, Clooney is involved with Not On Our Watch Project that focuses global attention and resources to stop and prevent mass atrocities, like the Armenian genocide, along with Brad Pitt, Matt Damon, Don Cheadle, etc. He has raised funds for the 2004 Tsunami, 9/11 New York attack and for the 2010 Haiti earthquake victims by organizing the Hope for Haiti Now telethon to collect donations.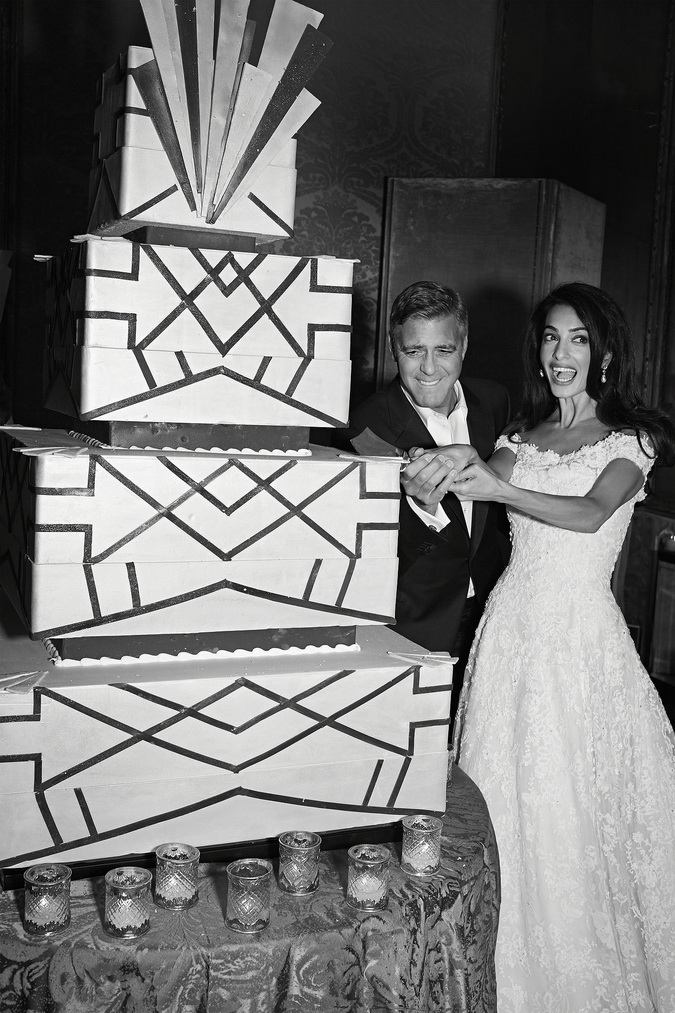 His most significant contribution has been to the Darfur conflict in Chad and Sudan to date. With his father he travelled to Africa in 2006 and made the TV special A Journey to Darfur, showing the dire situation of Darfur's refugees. Then, he was the executive producer and narrator for the documentary film Sand and Sorrow, on the Darfur crisis. Additionally, he addressed a Save Darfur rally in Washington, D.C. in the same year, and at the UN Security Council alongside Nobel Prize-winner Elie Wiesel appealed the UN to find a solution to the conflict and help the people of Darfur. Clooney appeared in Don Cheadle produced 2007 documentary Darfur Now, to appeal to people all over the world to help stop the Darfur crisis. Clooney and Don Cheadle received the Summit Peace Award from the Nobel Peace Prize Laureates in Rome. In his acceptance speech, Clooney said, "Don and I … stand here before you as failures. The simple truth is that when it comes to the atrocities in Darfur … those people are not better off now than they were years ago." The United Nations announced Clooney's appointment as a UN Messenger of Peace in 2008.
In September 2013, when Clooney met human rights lawyer Amal Alamuddin at a charity fund raising dinner in Venice, he was discussing Middle East politics with the ease of a man who effortlessly commands an audience. She, however, was not impressed and quickly put him in his place. He was naturally intrigued, so used to women throwing themselves at him willy nilly. He asked for her number, which she refused to proffer, thinking him a serial womaniser. Finally, after much cajoling, he managed to get her email address. After doing some homework on her, he sent her this flirtatious email: "I think the reported hottest man in the world should meet with the hottest human rights lawyer in the world." In her mid thirties and single, Amal had been voted the hottest barrister in London in 2013 by the blog Your Barrister Boyfriend. George Clooney has not only has been voted People magazine's Sexiest Man Alive on more than one occasion and No. 1 on TV Guide's 50 Sexiest Stars of All Time list in 2005, but has also been included in 2009's list of Time (magazine) 100 "Most Influential People in the World." Amal that had prior to this in London been crying over several glasses of wine that she may never find a husband to her best friend, who later included this in her toast at the  grand Clooneywedding, was being courted by the world's Most Eligible Bachelor, as he was dubbed by the press.
The chase was on. Shrewdly playing hard to get, Amal was cool at first, not responding to his emails. Then, finally, she replied. She couldn't resist the heady allure of Clooney's charms for long. They met for a dinner date at London hotspot Berner's Tavern where they talked about a surveillance satellite program over Syria. On Valentine's Day, they came out as a couple at a special White House screening of Clooney's World War II movie The Monuments Men, where the two were photographed coyly holding hands. Not content just to wine and dine her, Clooney whisked off Amal to a string of luxe holidays at exotic locales from Seychelles to Tanzania (on a safari) and Mexico. His only stipulation to her was that she quit smoking, which she promptly gave up cold turkey.
Within six months they were engaged with a 7 carat, £500,000 emerald-cut diamond set in a platinum band. Clooney proposed over a home cooked pasta meal that he himself prepared. The engagement was celebrated at celebrity haunt Nobu in Malibu, where he had invited his friends, i.e. Cindy and Rande Gerber, Emily Blunt and John Krasinski, and Edward Norton, to meet his fiancée after which he took her to Bono's (lead singer of U2) party.
The world was agog with curiosity about how a regular non-celeb had achieved the impossible and got George Clooney to propose. His former girlfriends had sweetly smiled, appeared accommodating and non-demanding to no avail. The readers clamoured for information, which the press happily provided. Paparazzi followed the barrister around town as she quickly upped her style game.
Amal was born in February 1978, in Beirut to a businessman father, who belonged to a prominent Druze famil,y and a Sunni mother, who is a foreign editor of an Arab newspaper and a PR professional. Druze is a closed sect, the members of which may or may not be considered Muslim. This offshoot of the Ismaili sect has elements of Judaism, Christianity, but primarily of Islam. The Druze community is tightly knit due to constant persecution historically and no one can convert to the religion, you have to be born to it. The family moved to London in 1980 to get away from the Lebanese civil war.
Amal graduated in 2000 from St. Hugh's College, Oxford University with a BA degree in Jurisprudence. An extremely bright and hard working girl, she received the Exhibition and Shrigley awards there. The following year, she enrolled in the Masters program at the New York University School of Law, where she was a clerk at the International Court of Justice. There, she received the Jack J. Katz Memorial Award for Excellence in Entertainment Law. She returned to London and was called to the bar (Bar of England & Wales, Inner Temple) and started working as a barrister at Doughty Street Chambers, specialising in international law and human rights. Her client roster reads like a Who's Who of international political players, such as WikiLeak founder Julian Assange, former Prime Minister of Ukraine Yulia Tymoshenko, imprisoned Canadian-Egyptian journalist Mohamed Fahmy, the former Libyan intelligence chief Abdallah Al Senussi, the King of Bahrain, the State of Cambodia, Greece, and currently the former President of Maldives Mohamed Nasheed. In 2013, Amal was appointed by the UN as an adviser to Special Envoy Kofi Annan on Syria and as counsel to the 2013 Drone Inquiry by into the use of drones in counter-terrorism operations. It was just after this that she met Hollywood crusader George Clooney and corrected his facts about the Syrian geopolitical situation.
In an interview, George said of why he fell in love with Amal, "She's an amazing human being. And she's caring. And she also happens to be one of the smartest people I've ever met. And she's got a great sense of humor."
But it was only after she became Amal Clooney that she was chosen by Barbara Walters, American TV's foremost interviewer, as the Most Fascinating Person of 2014.
When she made her red carpet debut at the Celebrity Fight Night charity event in Florence as Clooney's fiance, the tall, slim and elegant brunette wowed in a black strapless silk gown with dangly gold earrings. A tuxedoed Clooney got onto the stage and declared, "I met my lovely bride-to-be here in Italy, whom I will be marrying, in a couple of weeks, in Venice, of all places… I would just like to say to my bride-to-be, Amal, that I love you very much and I can't wait to be your husband."
They filed for their marriage license in London and the notice was put up, as stipulated by English law, on the Chelsea Town Hall public board. In September, the wedding of the year took place. The happy couple arrived by a speed boat named Amore in Venice waving to the waiting crowds and a throng of eager photographers. Amal was clad in cream Stella McCartney wide legged trousers, short sleeve top wide brimmed hat with black ribbons in her hat and at her waist, and carrying a beige envelope clutch, while George was dapper in a grey Armani suit and black tie as they proceeded to the Venice City Hall for a civil ceremony. On the 26th, they celebrated the last night of singlehood at their respective bachelor and bachelorette parties. His was a seven course meal at Ristorante de Ivo restaurant where copious amounts of Casamigos tequila, owned jointly by Clooney and Rande Gerber (Cindy Crawford's husband) and vintage wine, were consumed by the groom and five of his closest friends. The £3000 bill was waived by the restaurant owner for his famous frequent customer.
At the rehearsal dinner held at the Belmont Cipriani Hotel (where the entire wedding party was staying at the cost of £40,000 per night), Amal wore a fiery red waterfall cut (high-low) silk Alexander McQueen dress designed by Sarah Burton (who also designed Kate, Duchess of Cambridge's lace wedding gown) that put her toned legs on display. She had a matching scarlet pout, left her luxuriant hair loose with a bouncy blow dry and wore black pumps and big diamond earrings. He wore an open neck white shirt and navy suit.
The next day on 27th September, the wedding ceremony took place at the 7 star Aman Canal Grande Hotel, which Clooney had volunteered to pay for but her father refused his help. However, Clooney footed the bill for the rest of the weekend long affair, including travel expenses of all the guests. Amal wore a white French lace and tulle Oscar de la Renta off-the-shoulder wedding gown embroidered with diamante and pearls with a circular train, a wide neckline and a cathedral length veil, costing £10,000. It was one of the last dresses that the late de la Renta was personally involved in designing. She wore simple natural white pearl earrings with square cut diamond accents. For the reception, she wore another de la Renta, a beaded and tiered short gold flapper dress more fit for dancing. George wore a Giorgio Armani tux. A Tuscan feast was laid out for the A-lister guests, such as American Vogue editor-in-chief, Anna Wintour and actor Bill Murray. Ravioli with Lemon and Ricotta, and a Lemon and Blue Lobster Risotto comprised the first course. The second course was a Chianina Tuscan Beef, and dessert was a Chaud-Froid (hot-cold) with Zabaglione (custard). The Chocolate Wedding Cake was equally decadent with intricate gold leaf decorations.
The next morning the bride wore a Giambattista Valli cream heavy lace short dress with colourful floral appliqués, while her new husband wore another grey suit. The weekend festivities ended with the couple departing on Monday, her in a monochromatic striped dress carrying a hat box and him in yet another grey suit with open neck shirt. Clearly, the barrister chose her wedding wardrobe as skillfully as she fights her cases. It was her moment to shine with the world's spotlight on her and shine she did! Though Amal's father in his wedding speech asked the newly to quickly have children, the couple have not chosen to do so as yet. They have adopted a basset hound named Millie. The Clooney's main residences are: a 7500 square foot house in LA, a $10 million charming and historic villa on Lake Como, a holiday home in Los Cabos, Mexico, and a Grade II-listed, 17th century manor Mill House on the Thames in Oxfordshire that he bought her for £10 million pounds. The estate is a 40 minute drive from her chambers.
Having kept up her busy law practice fighting high profile cases, in a recent televised interview, Amal spoke of using her newfound celebrity for a good cause, "If there's more attention paid – for whatever reason – to that, then I think that's good….I think there is a certain responsibility that comes with that. And you know, I think I'm exercising it in an appropriate manner by continuing to do this kind of work." In addition, she is a visiting Professor at Columbia Law School. She has also partnered with the global initiative 100 Lives and founded the Amal Clooney Scholarship, whereby one female student from Lebanon is sent to the United World College Dilijan each year for a two-year International Baccalaureate program.
Meanwhile, George has been busy with upcoming movies releasing in 2016, such as the Coen Brother's Hail Caeser, in which he plays a 1950s Hollywood fixer, and Jodie Foster directed thriller Money Monster opposite Julia Roberts.
The couple juggles their hectic careers and have made a deal with each other not to spend more than a week apart. "I'm a much happier person and we have a very happy life. We enjoy many of the same things and I very much enjoy the projects that she takes on because they have real consequence," said Clooney describing their married life in glowing terms and how he is more fulfilled now than ever before: a recipe for marital success.