Iman Moghul's blog, The Pakistani Bride, is a beautifully executed assemblage of bridal trends and exquisite shoots, and sure is one Insta to follow! Afshan Shafi speaks to the blogger about all aspects of her style
What discipline did you receive your education in? How does this aid you in the running of your blog?
I am a doctor by profession. Having had to study a lot for my exams, I've learnt how to balance university and my love for fashion, in order to stay on top of both. I've always been told by my family and friends that I have a keen eye for fashionable clothing, beautiful jewellery, and amazing makeup. I decided to take the leap and started blogging in order to provide inspiration for those planning their big day, and  for those who love the same things as I do.
What is your favourite evening wear /formal look? Which designers/brands do you most enjoy wearing for these occasions?
A black gown is always my favourite evening look hands down. I think I've actually worn one to every gala and formal event I've been to over the last five years or so. You can't really go wrong as it looks incredibly sophisticated and chic. I usually pair my gowns with a glitzy clutch, high heels and statement earrings to complete the look. In terms of fashion designers, Elie Saab and Zuhair Murad are some of the best around.
What would be your go-to daytime look? What are your wardrobe staples/favourite designers in this regard?
A pair of denim jeans with an oversized white t-shirt, some sandals and a tote that can fit just about everything. I swear by Zara and Topshop for my wardrobe essentials, and my Louis Vuitton tote goes everywhere with me.
What are your most adored pieces of jewellery, both costume and precious?
For costume jewellery, Rang Posh has some of the most stunning pieces I have ever come across. You can pair their contemporary jewellery with western wear too. For precious jewels, it would have to be my gorgeous diamond and emerald earrings that my mother had made for me years ago by Karat.
How would you define the term style? Which people do you think exude a stylish persona?
To me, one's sense of style should be an accurate representation of their personality. As Rachel Zoe said, "Style is a way to say who you are, without having to speak." My current major style crush is Amal Clooney! Who on earth can muster up the effort to dress that well up until their 9th month of pregnancy?!
"As Rachel Zoe said, 'Style is a way to say who you are, without having to speak'"
Who are your major inspirations from the fashion world?
Huda Kattan is successful and intelligent, with an incredibly successful make-up line, online tutorials, and a huge online fanbase.
There are also so many other women, such as designer Coco Chanel who changed the game entirely for women in fashion and influenced the feminist movement in a remarkable way (doing away with the idea that women mustn't wear men's clothing). Model and body-activist Ashley Graham who has now become the most successful plus-size model to date, walking the runways for Michael Kors, and appearing on the covers of Vogue, Harpers Bazaar, Sports Illustrated and Elle, as well as pushing the social boundaries surrounding "ideal body types." Artist Pat McGrath is considered the most important make-up artist in the whole world, despite absolutely no formal training, with her own makeup line that sells out instantaneously (and she's also black, which means her success is one that is truly inspiring in a time when women of colour all over the world aren't represented nearly as much as they deserve to be). These women are only to name a few. Although they do not specifically represent South Asian fashion, they are definitely ones to aspire to and take example from, when it comes to broadening the horizons of Pakistani fashion and taking its people and talent to heights that have not yet been achieved.
What's your most favourite fashion show that you've attended in person?
I would say my favourite fashion show to date has been the India-Pakistan London Fashion Show that took place in Gibson Hall earlier this year. Nomi Ansari headlined the show, alongside many well-known Indian designers such as  Ekta Solanki. It was inspiring to see all the beautiful designs on the runway, and the countless similarities and distinctions between Pakistani and Indian fashion. They also had some really fun acts to follow up and a remarkable after party, which definitely makes or breaks a show like that.
You've collaborated with a number of leading fashion brands. Please elaborate on which collaborations you particularly relished?
After having collaborated with a number of brands, you always cherish the couple of people who have come to develop a strong and understanding professional relationship with you. I've recently collaborated with the incredible Aneela from Rang Posh jewels – her items are absolutely breathtaking. Neemar Jewels is also a regular collaborator with me, and I have an extremely good working relationship with them due to their incredibly professional attitude.
What current trends internationally do you most like/dislike?
I'm in love with the return of the bell-bottom trousers, paired with short shirts. It brings back so many memories from my school days. Also, the off-shoulder trend is very cute. However, I'm not a huge fan of the two-legged shararas with lawn suits; never have been. Also, crop tops is a trend I'm just not into, although I do appreciate that some people can really pull them off.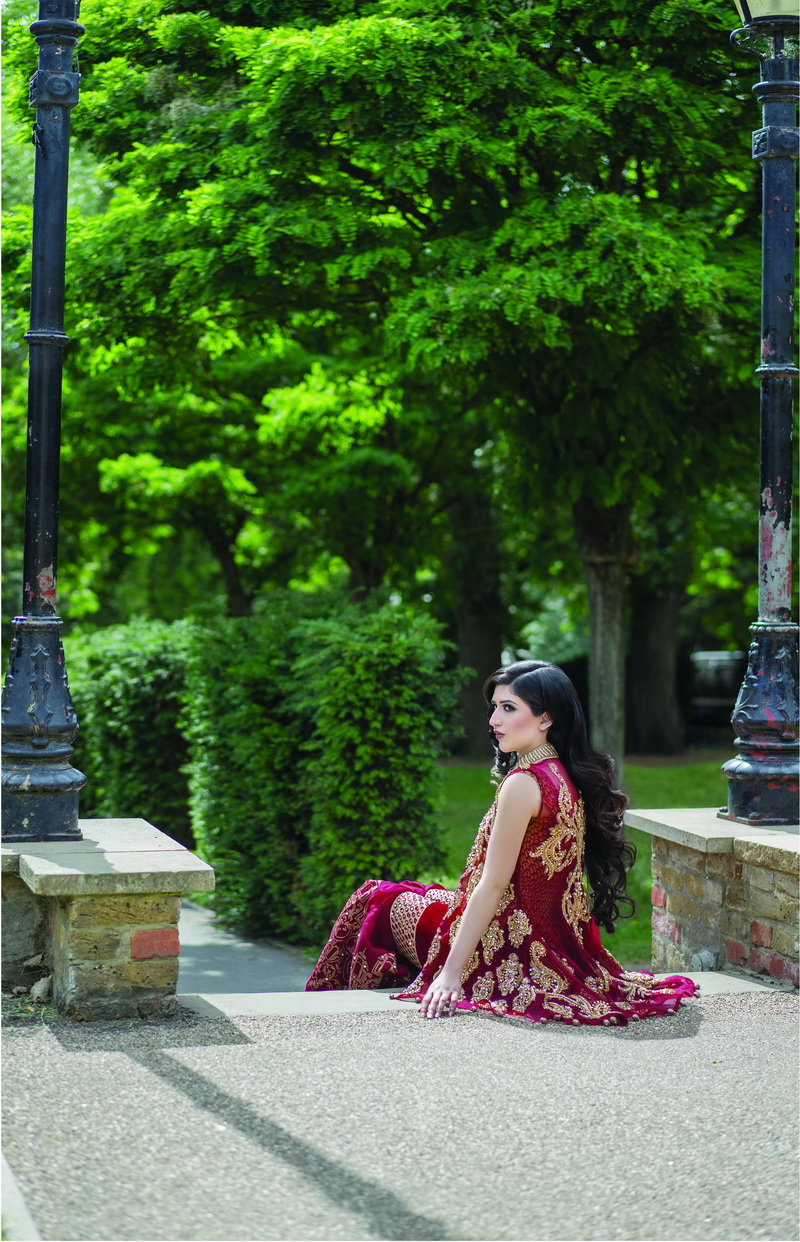 Which people (bloggers, designers, celebrities, etc.) would you say have influenced your style the most?
I don't necessarily take a lot of inspiration from anyone in particular. I've always been one to dress comfortably, and wear items that make me feel most myself. In fact, comfort is a big thing to me. Wearing heels can be incredibly painful (Louboutins, I'm looking at you!) and I always end up taking them off after a while. In terms of brands and designers, I have a few shirts from Sapphire and Khaadi in my closet, as their designs are really trendy and are easy to wear.
What are your future projects?
I'm working on a few exciting shoots this summer, one of which is going to be in Amsterdam so I'm particularly looking forward to that. (I won't reveal too much at the moment!) I'm also seriously considering setting up an e-magazine, so I can talk about my favourite fashion trends, inspiration and designs in more detail. In terms of collaborations, I'm in talks with my absolute favourite clothing brand of all time (you can guess who) and I have a few giveaways lined up for the summer—so watch this space!
Your five beauty essentials:
Power lip, like Russian Red by MAC cosmetics
Signature fragrance, such as Pure Poison by Dior
Eye-catching skin glow, using Soft and Gentle by MAC cosmetics
Beautiful baby like skin, achieved with Pixi's rose oil blend
A dense, buffing brush to create a super blended base for make-up, such as the Oval 6 Artis Brush.