New Delhi and the Taj Palace hotel played hosts to a dazzling array of top Indian couture talent. Our fashion correspondent, Shazia Saleem, was soaking up the splendour to bring you the best highlights here, exclusively at GT
Top Indian couturier and tastemaker, Sabyasachi Mukherjee had the honour of opening India Couture Week 2014 (sponsored by Shree Raj Mahal Jewellers and Logix Group). If there was ever an award for Most Creative Set, it would almost certainly always go to Calcutta-based Sabyasachi. The meticulous attention to detail immerses one into the inspirational journey that the designer references each season and this year was no exception. All aboard the turn-of-the-century Sabyasachi Express!
With luxury sleeper compartments and restaurant cars furnished with the perfect silverwear and cut crystal table settings as the backdrop, Sabyasachi showcased exquisite creations in mostly muted tones for both men and women. The show was titled Ferozabad and included Parsi embroidery references along with his signature handlooms and chintz block prints. Parsi embroidery draws from Iranian, Indian, Chinese and European heritage. Said the designer, "I was doing research for my new store in Bombay and I got very inspired by Ferozabad where all the glasswork is done."
For an Indian designer, ignoring the lucrative bridal market is madness
I loved the styling and sophisticated hues with the brighter shades, such as Tuscan peach, saved mostly for the boys who sported the hipster bearded look to groomed perfection. The voluminous lehengas in tulle with traditional embroidery were full of understated luxury and extravagance. If this is your dream bridal trousseau collection, remember to book a whole extra compartment for your trunks!
The Manikarnika ghat in Varanasi provided the inspiration behind heritage designer, Anju Modi's striking and varied bridal collection. Modi's collection captured the hues and majestic architecture of the Holy City. Featuring beautiful light and royal blue, cherry and champagne gold tones as well as refreshing contemporary pastel shades that capture sunrise on the Ganges, to the saffron and marigold tones that are reminiscent of pooja, worshippers, and their offerings cascading down the steps into the river every evening.
Delhi-based and founding member of the Fashion Design Council of India, Anju Modi seems to be riding on a wave of fresh energy at a time when many designers start winding down. Her growing confidence and experimentation with drapes and tailoring borrowed from Indian menswear is executed well and some of the bolder embroidery motifs were inspired by temple architecture.
Indian men look so dashing in Jodhpurs in the same unique way that only Scottish men look truly fabulous in kilts. Is it in their DNA?
Sophisticated long sleeve handloom blouses were the strongest look with Bollywood celebrity and showstopper, Kangana Ranaut (heroine of the movie "Queen") demonstrating this wonderfully in a backless midnight blue boat neck blouse with lehenga. Whether you're the bride or part of the extended family, Ms. Modi showed traditional silhouettes that were injected with sharp contemporary details to give a confident and cool edge to ceremonial dressing.
The elegant and feminine head and hair ornaments on the female models, waxed moustaches on the men and sumptuous embroidered silk velvet shawls for both demonstrated that details do indeed matter in order to finish the perfect look.
Rock star couturier, Rohit Bal continued his bridal love story with ivory for women saving rich jewel tones for the majestic peacocks.  The show was titled 'Indian Moderne' although it was firmly rooted in a majestic Mughal inspiration and aesthetic. Layering is a keyword with Rohit's collections and he is a master of it. The designer wanted to draw particular attention to his new jewellery designs and the monochrome canvas of ivory and gold did just that.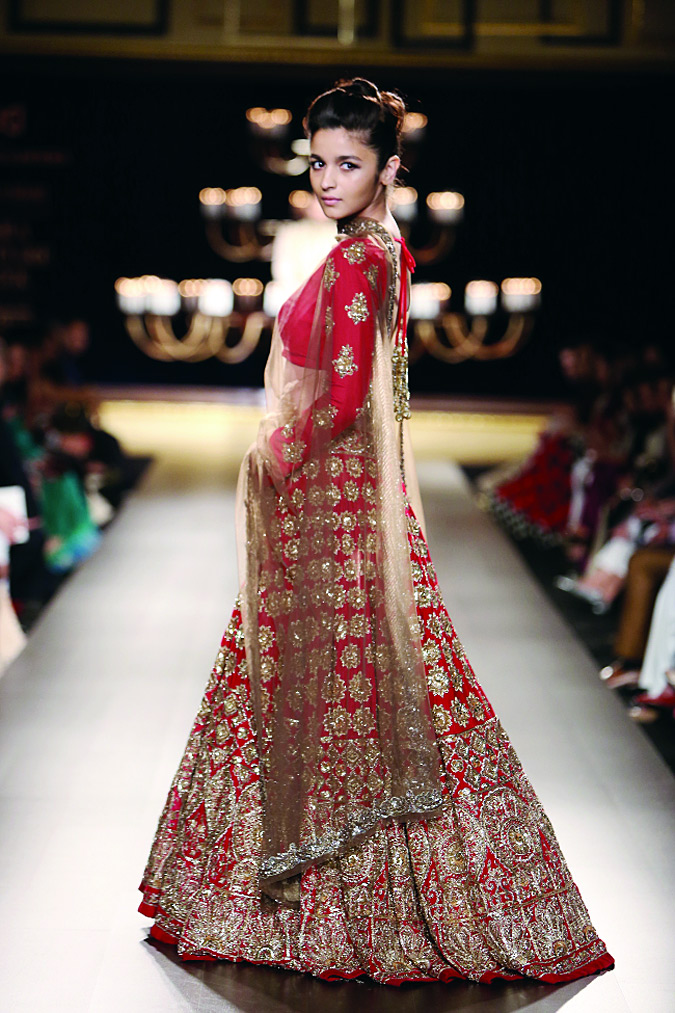 Every Indian woman will carry images of her favourite Manish Malhotra design on her smartphone ready to recreate it as fast as her driver can get her to the bazaar
Further into the week we were treated to a tale of two Manish's; celebrities in their own right with cult global followings albeit in very different ways. When Manish Malhotra shows a collection the impact on the mass bridal market is of immediate effect as if decreed from heaven. Every Indian woman will carry images of her favourite Manish Malhotra design on her smartphone ready to recreate it as fast as her driver can get her to the bazaar.
Manish Malhotra is a heritage designer with an expert eye to what women want and how to fulfil their bridal fantasies. Each season the couturier selects an Indian craft technique he wants to explore and this year's couture collection showcased zari and mirrorwork. Manish is also very fond of Kashmir, Kashmiri motifs and its indigenous handcraft resulting in the entire collection being produced there. Gilt-edged glamour in every tone of gold imaginable was the message this year with mirrorwork detail on hems and collars for both men and women on an otherwise toned down collection by Manish's standards. Showstopper, Alia Bhatt, walked down the ramp in a traditional ruby embroidered lehenga reportedly weighing a hefty 20kg. Despite the indulgence in this creation the look had a sophisticated vintage charm and the simple blouse was well balanced. If you're a bridezilla who insists on matching embroidery motifs for your groom (as donned by Aditya Roy), Manish is already one step ahead to fulfill your every demand.
Manish Arora, on the other hand, had another vision in mind for his Indian bride. A staple in the Paris ready-to-wear seasons, it has been a couple of years since Manish showcased a brand new couture collection in Delhi which is often given an encore of the Paris presentation. For an Indian designer, ignoring the lucrative bridal market is madness so the designer created a special brand accordingly: Indian by Manish Arora.
Showstopper, Alia Bhatt, walked down the ramp in a traditional ruby embroidered lehenga reportedly weighing a hefty 20kg
The intense motifs and rainbow kaleidoscope colour combinations are instantly recognisable as Manish Arora. Showing at the French Embassy instead of the Taj Palace, his collection featured five stories: iridescent sheer, prismatic festival lights, aristocratic Japanese chip embroidery, regal pearl embroidery and some signature multicolored kitsch for the collectors and original fans. A stratosphere away from traditional imagery makes it cleverly impossible to compare Manish's designs to anyone else. With not a dupatta in sight, Manish Arora's contemporary designs are bold, inimitable and not for the demure traditional girl.
Then there was London-trained designer with a growing presence in the Indian luxury segment, Gaurav Gupta. His latest couture collection comprised mainly red carpet cocktail gowns and contemporary saris with asymmetric draping and much less than the requisite six yards of cloth. Pared back embroidered detailing and dramatic ruffles added texture to the gothic black and teal shades that predominated the colour palette. The ray of white light and heavy embellishment was saved for his showstopper, Shraddha Kapoor, who carried the mermaid-cut gown well and guaranteed the column inches.
Dhoti pants appeared once more at Rina Dhaka's show, a designer with over twenty years of international fashion experience. Showstopper, Malaika Arora Khan carried the elegant nude appliqué sari well. Fellow actress, Huma Qureshi, showed the final look for couture house Harpreet & Rimple Narula. The earth coloured lehenga outfit with tonal embroidery was beautiful (if more mother of the bride) and the perfect setting for the diamond and pearl statement necklace by the couture week sponsors, Shree Raj Mahal Jewellers.
A new entry on the Delhi couture scene is a veteran of the Indian prêt collections. Sulakshana Monga's brand Solteeis one of the first Indian companies to launch a successful international franchise model in the UK and USA, and the designer finally felt ready to present her first couture collection this year.
Starting with a fail-proof inspiration in the couture world, "The Royal Opulence" and a beautiful set design, the contemporary designs aimed at a younger bridal party came one by one. The focus of the embroidery detail was refreshing on long cuffs and slim waistbands drawing the right attention. The playful and classic colour palette of metallics and fuchsia combinations are surely wardrobe staples of the subcontinent.
The designs and styling for menswear were smart and slimline with bold embroidered highlights and belted dupattas separating the men from the boys in sartorial style. Indian men look so dashing in Jodhpurs in the same unique way that only Scottish men look truly fabulous in kilts. Is it in their DNA?
Understanding the difficulties today's generation of Indian women have with sari draping, Sulakshana Monga's showstopper, Ilena D'Cruz, wore a stitched saree that simultaneously demonstrated its mainstream appeal and how you can't beat the genuine article…patience with sari draping is a virtue and so worth it. Sulakshana's prêt line has a loyal Bollywood following and I'm sure the young starlets will love her foray into couture.
The finale of India International Couture Week was unusual this year as the show sponsor, Shree Raj Mahal Jewellers took over from the couture designers to close proceedings. The focus firmly changed from clothing to jewels as in-house designers Svara and Sondaraya presented their collection entitled "Parinay." All the jewellery pieces were inlaid in the finest quality diamonds and other precious stones like rubies, pearls and emeralds. International jewellery trends have been predicting a growing demand for coloured precious stones and how beautifully they compliment and maintain their illustrious presence even when styled with heavily embroidered ethnic designs and, in this case, not one but three Bollywood showstoppers! It's not an easy task to outshine Bipasha Basu, Chitrangda Singh and Madhur Bhandarkar but somehow they managed. Shine on you crazy diamond.