By Mahlia Lone
Known in political circles as Hillary Clinton's "body woman," "shadow" and "mini me," Huma Mahmood Abedin was born in 1976 to Indian/Pakistani parents in Kalamazoo, Michigan. Her parents, both born pre-Partition in British India, highly religious, scholarly college professors, founded the Journal of Muslim Minority Affairs in 1978; an Abedin family run organization devoted to the study of Muslim communities in non-Muslim societies around the world. For this, the family received regular funding from Muslims the world over, especially Saudi Arabia. In fact, her father Syed Zainul Abedin (1928-1993) relocated the family to Jeddah upon receiving a lucrative teaching post there when Huma was only two. She was enrolled at a British all girls' school in Jeddah and learnt Arabic. Her younger siblings, sister Heba and a brother were born much after her. Their mother Saleha Mahmood Abedin is currently, an associate professor of sociology and dean at Dar Al-Hekma College, Jeddah.
Huma returned to the U.S. for her higher studies and got a BA from George Washington University in Washington D.C. with a major in journalism and a minor in political science. She wanted to be a serious political journalist like her first idol Christiane Amanpour and wanted to work in the White House press office. In 1996, while still at university, she began working in the East Wing of the White House as an intern to the First Lady Hillary Clinton. Another famous intern, Monica Lewinsky started working in the West Wing, the President's section, at the same time. Highly intelligent and efficient, Huma got a full time job at the White House following graduation and served as the back-up to Hillary's personal aide. When Hillary ran for the Senate in 2000, her older White House aides moved on. But Huma went with her and officially took over as Clinton's primary aide and personal advisor during her successful 2000 U.S. Senate campaign in New York.
"Huma is a very, very religious person — she doesn't smoke, drink or swear, always very polite," a Clinton insider told Newsweek
In 2001, Anthony Weiner the Jewish Democrat, then in his second term as a Congressman from Queens, New York, and 12 years her senior first saw Huma. "I was like, 'Wow, who is that?' " he told The New York Times Magazine's Jonathan Van Meter. Weiner represented New York's 9th congressional district from January 1999 until June 2011, winning seven consecutive terms and never receiving less than 59% of the vote; he was a popular politician who got the job done. On paper, it was a match made in heaven. At a Democratic Party retreat at Martha's Vineyard in August, Weiner asked Huma out for a drink. She replied that she had to work, but Hillary promptly gave her the evening off. Huma waved her arms at her boss and shook her head no. But Hillary encouraged them, "Of course all you young people should go out."
On the date, Huma, a teetotaler, ordered tea and then retreated to the bathroom for a long time. "She ditched me," Weiner said crestfallen.
The two kept running into each other in D.C. but Huma wasn't interested. She thought he was "a brash, outspoken, ambitious, camera-hogging New Yorker." Very slowly opposites began to attract. Weiner finally won Huma over in January 2007, when he sat between Hillary and her rival for the Democratic nomination, then-Senator Barack Obama, at President George W. Bush's State of the Union address. "I appreciate you looking out for my boss," Huma texted him. They went out for coffee and romance blossomed.
During Hillary's unsuccessful 2007 bid for the Democratic nomination, Rebecca Johnson wrote in a Vogue article that Huma is "Hillary's secret weapon" and that her motivation is not the details of policy or political horse-racing, but "the way that politicians are uniquely invested with the power to help individuals—as with, say, the woman whose legs were badly broken by a piece of plane fuselage on 9/11", whom Huma visited with Hillary in the hospital. Huma said, "To me, that's one of the blessings of this job. In some tiny, tiny way I am part of history, but I am also able to help people."
"I'm not sure Hillary could walk out the door without Huma," Clinton adviser Mandy Grunwald told Johnson. "She's a little like Radar on M*A*S*H (TV show). If the air-conditioning is too cold, Huma is there with the shawl. She's always thinking three steps ahead of Hillary." That year Huma went with the grand doyenne of fashion and publishing, Vogue's Anna Wintour to Paris for a $1,000-a-person fund-raiser at the home of James Cook, an American businessman. It's pertinent to note that Huma cuts a stylish figure herself, rarely repeating an outfit and always perfectly accessorized. Her go-to red carpet look is designer wear that is polished with splashes of colour and flashes of metallics. Plus she is high powered and rubs shoulders with all the American bigwigs.
In July 2008, a New York Times article stated that Weiner is one of the most intense and demanding of bosses, often working long hours with his staff, requiring them to be in constant contact via their cell phones, frequently yelling at them, and even throwing office furniture when irate. As a result, he had one of the highest staff turnover rates of any member of Congress, including, at one point, three chiefs of staff in 18 months. He admitted to pushing his aides hard but said that this was just his style of working.  Some of his employees praised him for "his intense involvement in constituent concerns and readiness to fight for New York City."
"The couple framed it as a sex scandal without actual sex, a narrative that made sense, stated a NY Times story"
Meanwhile, Huma started serving as the deputy chief of staff to U.S. Secretary of State Hillary Clinton from 2009 to 2013. In 2010, Huma made TIME magazine's 40 under 40 list of a "new generation of civic leaders and rising stars of American politics." Hillary sought Huma's advice on Middle East affairs. Senator John McCain commented at this time, "She is a person of enormous intellect with in-depth knowledge on a number of issues—especially issues pertaining to the Middle East." So Huma was a rising star in the D.C. political firmament.
In 2010, Huma and Weiner tied the knot in a ceremony officiated by Bill Clinton. She wore an embellished Indian-inspired Oscar De la Renta gown with polki jewellery that spoke of her ancestry. The designer favoured by First Ladies Hillary Clinton and Laura Bush told Vogue that designing the embroidered, cap-sleeved gown for Huma "was like dressing Scheherazade, the beautiful queen from One Thousand and One Nights." The lavish wedding cost a cool $250,000.
In her wedding toast, Hillary said fondly of the bride: "I have one daughter. But if I had a second daughter, it would be Huma." Saleha, Huma's real mother said Hillary may as well be Huma's mother as she got to see her daughter far more than she (her mother) did.
In May 2011, Abedin accompanied Hillary and Obama on an official trip to London that included a state dinner at Buckingham Palace. Huma wrote to her husband from her "spectacular" room at the palace, "I cannot believe what an amazingly blessed life that we live, these incredible experiences we've both had."
Just days later the perfect life came crashing down. Weiner hastily called and left a message for his wife, who was in Washington, the ominous words, "My Twitter was hacked." In fact, Weiner had mistakenly tweeted a photograph of his crotch meant for a 21-year-old Seattle college student to his 45,000 followers. It was a full blown sordid sex scandal. Huma who was pregnant at the time accompanied by Weiner hid from the reporters at a friend's house in the Hamptons. Only when they were packing up the car to return to New York City, Weiner had the guts to confess, "It's true. It's me. The picture is me. I sent it."
"It was every emotion that one would imagine: rage and anger and shock," Huma recalled to the Times later. Calling a news conference, Weiner came clean. He admitted he had sent explicit messages to six women during the previous three years, but had never actually met any of them. One State Department official said that many blamed Huma for driving Weiner to sexting because she "was never around. She gave so much to Hillary Clinton, what did she have left for him? It was politically incorrect, but we did wonder."
Huma sought refuge with Hillary who had herself lived through Bill's extramarital escapades while in office that had resulted in a scandal on a much bigger scale. The next day after the press conference, Huma returned to work at the State Department. "My compass was my job. It was where I could go and life was normal," she said.
"Huma didn't really want me to resign, frankly. Her frame was: 'We've got to get back to normal somehow,' " Weiner told Van Meter. But he didn't really have a choice. He resigned his office and gave up his $174,000 salary. Huma was making $155,000 from her State Department salary. The Clintons stepped in to help Huma financially. Not only did Weiner have to sell his Forest Hills condominium for $430,000, but Huma also sold her Washington condominium, for $620,000, at a slight loss. They moved into one of longtime Clinton supporter and New York developer, Jack Rosen's buildings at 254 Park Avenue South. They were hardly slumming it in the sunlit, 12th-floor, 2,120-square-foot, four-bedroom $3 million apartment, the monthly rent of which was at least $12,000. In Dec 2011, Huma gave birth to a baby boy, Jordan Zain Weiner. Life was better than normal.
Weiner started a consulting firm, Woolf Weiner Associates, to pay the bills. To help her favourite, Hillary signed off on Huma's request to become a special government employee (S.G.E.) at the State Department, so she could work from her New York City home while taking care of her newborn. Huma acted as a consultant with expertise that no other person could supply on a "myriad of policy, administrative and logistical issues," according to her application for S.G.E. status. She became an S.G.E. by mid 2012 and was paid $62.06 per hour. She was also acting as a consultant to Teneo Holdings, a global strategic-consulting and investment-banking firm co-founded by her friend and colleague Douglas Band, Bill Clinton's right hand man. For the seven months she worked at Teneo, she was paid $105,000. Additionally, Huma was hired as a consultant to the William J. Clinton Foundation to help plan for Hillary's "post-State philanthropic activities." Getting four different paychecks at once, the potential for conflicts cropped up immediately, according to William D. Cohan who tallied up her salaries in a Vanity Fair article. Together the couple reported a combined income of $496,000 for 2012. Politics sure is a lucrative career!
That summer, Huma, Weiner, and six month old Jordan posed for People magazine in their gorgeous apartment. They were happy. Huma is quoted in the article, "Anthony has spent every day since (the scandal) trying to be the best dad and husband he can be. I'm proud to be married to him."
Weiner was running for the 2013 NYC mayoral elections, but again he was caught sending graphic messages this time using the cheesy pseudonym Carlos Danger to a 22 year old woman named Sydney Leathers, an Indiana native who on social media had first expressed her disapproval of his extramarital behaviors. The story broke right after the sunny People story appeared. Weiner admitted that he had continued to send sexually explicit messages to at least three women in 2012. One recipient of his messages said that Weiner described himself to her as "an argumentative, perpetually horny middle-aged man."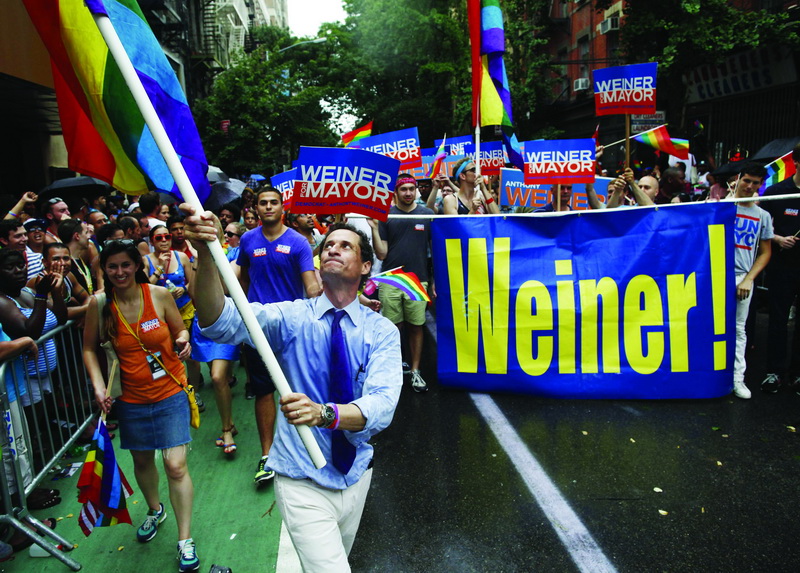 Despite demands for Weiner to drop out of the mayoral race, he doggedly and penitently held a press conference with his wife beside him in which he announced that he would continue his campaign. He apologised, "I said that other texts and photos were likely to come out and today they have…I want to again say that I am very sorry to anyone who was on the receiving end of these messages and the disruption this has caused." Not surprisingly Weiner lost the mayoral primary, winning only 4.9% of the vote. But the repercussions went far beyond New York, dragging Hillary's name into messy headlines about pornographic pictures and Weiner's descriptions of his carnal appetites.
"The Clintons put him in exile," one longtime Clinton insider said. They had no choice but to distance themselves not from Huma, but her errant husband who had become a political liability.
Weiner and Huma had allowed filmmakers full access to his "circus-like" mayoral campaign for a documentary called Weiner that premiered at the Sundance Film Festival in 2016. The film's co-director Elyse Steinberg told The Daily Beast reporter: "Just as Anthony was reduced to a caricature and a punch line, so was Huma. Our hope is that you get to see a different side of her: as a wife, as a mother, as a person with a very important job and you also get to see the judgment that was placed against her. Huma is one of many women whose husbands did something wrong or embarrassing, and they were criticized for staying in the marriage. Our job was to question those judgments."
"In the documentary, the filmmaker asks Weiner, 'Did Huma want you to go back into politics?' Without hesitation he responded. 'She did. She was very eager to get her life back that I had taken from her,' reported Tara McKelvey for BBC News. "The marriage survives. But Abedin's role changes. She goes from being a devoted wife to someone who places her bets, at least politically, on Clinton – not her husband. The metamorphosis of Abedin from a committed wife to a cautious one, hedging her bets, takes place gradually during the film. It's expressed in a subtle manner—more through gestures than words. In a political ad that's shown early in the film, she smiles at her husband while he talks about his candidacy for mayor. Later at an event in a New York apartment, she stands up and says: "I'm usually in that room as far as possible from the microphone.' Then she makes the case for why New Yorkers should vote for her husband.
Weiner is skinny and wiry–a coiled fury. He also has Faustian appetites. He's slouched on a couch. She's standing on the side of the room, with her arms crossed. 'The level of guilt,' he says and puts his hand on his heart. She practically rolls her eyes – and leaves the room. She loves him, but the scandal has pushed her almost to a breaking point. Later he says he wants her to go with him to the polls on Election Day to show her support for his candidacy. While he talks, she's standing in a dark hallway with her arms crossed. One of Clinton's advisors, Philippe Reines, who served as a spokesman when Clinton was Secretary of State, appears as a dark force in the film—unseen but powerful. Reines wants Abedin to stay away from her husband during a key moment in his mayoral campaign. Apparently, he thinks it could damage her reputation. She listens to Reines—not her husband. Weiner was committed to politics. But he became a punch line. In the end, his wife distanced herself from his campaign. She didn't go with him to the polls on Election Day. The film shows that in political theatre, sometimes it's smart to stay off stage."
Neither of the couple watched the documentary.
In 2013, a stage production The Weiner Monologues premiered at the Access Theater. Directed by Jonathan Harper Schliemann, the play was based on media coverage of Weiner's sexting scandal.
Meanwhile, Hillary had started her bid for the 2016 Presidential Election with Huma as the vice chairwoman of her campaign and considered by many as the most powerful person in the campaign organization. This was not surprising as Huma had remained  Hillary's closest confidante. Annie Karni wrote on the Politico.com site that Abedin was "the only official channel to Clinton" and was hence "elevated to the most senior member of Clinton's old guard. Huma is occupying a perch overseeing the campaign operation."
"Just knock on the door to the bedroom if it's closed," Hillary would tell Huma.
"A lot of times, Hillary would snap her fingers and go, 'Gum.' And Huma would fetch it," a Clinton insider told Newsweek. Huma was so dedicated that when she heard Hillary had been forced to carry her own bag up a staircase, she almost cried.
"Whatever the title, the job she performs for Hillary has always been essentially the same: confessor, confidante, and constant companion. It's safe to say that over the years Abedin and Hillary have spent more time together than either has with her husband. A former adviser to Bill Clinton describes her as 'a mini Hillary.' Wherever Hillary goes, Abedin goes," Cohan wrote.
"Abedin's near constant presence by Clinton's side for decades has made her a source of fascination and, in recent years, a paparazzi-stalked celebrity in her own right. Fans at rallies stop her for selfies; she has been photographed multiple times for Vogue, even by Annie Leibovitz; she hobnobs with movie stars at Paris Fashion Week; and she has the distinction of being the only Clinton campaign staffer who has been singled out by Donald Trump for attack (he used her marriage and recent separation from former Rep. Anthony Weiner to question Clinton's judgment)," he added.
In her turn, after Republican presidential candidate Donald Trump had proposed banning Muslims from entering the United States, Huma wrote an open letter to Clinton supporters calling her "a proud Muslim" and criticized Trump's plan as "literally writing racism into our law books."
Further public humiliation was in store for Huma when in August 2016 the New York Post printed excerpts from a Twitter conversation between Weiner and an unnamed woman. Weiner had again sent a picture of his crotch, this time with his four year old son sleeping on the bed beside him. He also told the woman he'd dreamed about her, and invited her to meet him in New York.
Before the story broke in the press, Hillary was asked by reporters what she thought about the latest whiff of scandal but she dismissed it as "rumours." Several of Mrs. Clinton's friends and allies suggested she distance herself from Huma. Hillary is very loyal, but she's also pragmatic.
The two women's closeness had caused envy in those who sought to curry favour because Huma speaks for Hillary, and people adept at getting access to Hillary knew it. "Everybody fights to be at the center and Huma controls a lot of that dynamic," a former advisor to Hillary said. Mrs. Clinton steadfastly refused to give up Huma.
The New York Times reported the next day that Huma had finally separated from her womanizing husband. She announced, "After long and painful consideration and work on my marriage, I have made the decision to separate from my husband. Anthony and I remain devoted to doing what is best for our son, who is the light of our life. During this difficult time, I ask for respect for our privacy."
*NO NEW YORK DAILY NEWS OR NEW YORK POST*
EXCLUSIVE: Huma Abedin and her Husband Anthony Weiner go for brunch on Father's Day and take their son to a park for some family fun in New York. Abedin was dressed down in jeans and flat shoes with a floral print shirt and was enjoying her day off whilst Hillary Clinton was in Hospital celebrating the birth of her grandson. Weiner was having fun with his son in the park going on a slide and swings. Weiner went for some trendy green shades in the blistering New York sunshine.
When asked whether Ms. Abedin would step down from the campaign, Hillary's campaign chairman, John D. Podesta answered, "Huma is a terrific leader. She's multifaceted, has a great strategic sense, and she's a wonderful colleague. She's an integral part of the team, and her competence is only exceeded by her humility. We of course stand by her."
"There is a long list of usually chatty Clinton surrogates and supporters who went gone mute on the subject of Huma Abedin," wrote Cohen. "The ones who didn't get the memo, or chose to ignore it, stuck close to the prescribed script. Michael Feldman, the managing director of the Glover Park Group, a communications consulting firm, said that after 20 years Abedin has become part of the 'institutional memory' and now occupies 'a really important and unique place in the organization.'
Bob Barnett, the lawyer who brokered the Clintons' multi-million-dollar book deals, says Huma is 'now one of the key glues that holds Clinton world together…. She knows everyone and everyone knows her. She knows their strengths. She knows their weaknesses. She knows the roles they've played, and that history is priceless to a person in public life.'"
Then horror of horrors, in September the Daily Mail published an article claiming that Weiner had engaged in a months long sexting relationship with a 15-year-old girl. The troubled teenager claimed he asked her to dress up in "school-girl" outfits for him on video messaging app Skype and persuaded her to engage in "rape fantasies." They also sexted through the app Confide specifically designed for confidentiality, automatically deleting messages and images after the first time they have been read or viewed. However, the girl took screenshots of a few of the lurid messages and images, including him bare-chested in the bathroom, which he had sent her that she shared with the Dailymail.com.
Devices owned by Weiner were seized as part of the investigation into this incident. He gave a statement to DailyMail.com in which he said: "I have repeatedly demonstrated terrible judgement about the people I have communicated with online and the things I have sent. I am filled with regret and heartbroken for those I have hurt."
The father of the teenager called him "a monster." He told the Daily Mail that Weiner's conduct was "absolutely criminal," and that it has been "gut-wrenching" to watch the impact it has had on his daughter. "I hope I never come in contact with him, I'll be in jail if I do."
Still the Clintons never publicly criticized Mr. Weiner.
FBI director James Comey went public with the latest investigation into Hillary Clinton's private email server, after he announced that the FBI was investigating emails found on a laptop seized during the investigation into Weiner. Freedom of Information Act requests from a conservative organization have made many of Clinton's staff's emails sent during her State Department tenure public. Huma was involved in many of the sensitive emails that were scrutinised. In one email dating back to the time when Clinton was Secretary of State, then-Clinton Foundation executive Doug Band asked Huma to facilitate a meeting between Hillary and the Crown Prince of Bahrain.
Hillary to her credit did not fire Huma regardless of what her husband's indiscretions had cost her.
But what is wrong with Weiner? And why has he ruined his life? Jaffe, a UCLA-trained addiction expert said, "If someone's life is repeatedly negatively affected by this behavior and they are unable to stop it, they need help."
A NY Times story on Weiner stated that the Society for the Advancement of Sexual Health estimates that 6 to 8 percent of Americans are sex addicts. Awareness of sex addiction, an intimacy disorder, has gone mainstream thanks to celebrities like Tiger Woods, David Duchovny, Russell Brand, etc. "Those commonly afflicted are 30- to 50-year-old men, upwardly mobile, successful men, type-A, pillar-of-the-community, CEO-type personalities who usually have a problem connecting to other people and generally have some sort of trauma in their past."
The Post recently photographed Weiner horseback-riding through the woods at a $25,000, 35-day, all-male sex rehabilitation program at the Recovery Ranch in Nunnelly, Tenn. In-patient rehab is considered a last resort for sex addicts. The patients greatly benefit from having the seclusion the all-male treatment center provides without all the triggers that women can create. Upon entering the facility, electronic devices are immediately confiscated and for the first two weeks patients can't even receive phone calls.
As we all know, Hillary Clinton lost the general election. Her email server scandal may have been a contributing reason. Huma was seen in tears after her boss' loss. She now works as Hillary's personal assistant.
"I'd call Huma one-in-a-million," Clinton staffer Philippe Reines told a NY Times reporter. "She is truly one of a kind, one in a billion. We are all in awe of her poise, grace, judgment, intellect and her seemingly endless energy."