Ace fashion designer Fahad Hussayn talks to us about his struggles in the industry, his inspirations and more
When did you first realize that you wanted to be a designer?
I always wanted to be an artist, I think for my household, being a designer was far more acceptable than me being an artist. I remember my mom telling me artists die poor. So subconsciously, I was driven to channeling my art toward design and fashion. My mother had a small setup where she made clothes at home. Her studio was home to me after school. That's where I learnt most about fashion. That's where I was inspired and in the process I explored the art that was inside me. In my opinion, any medium that gives us the opportunity to explore our craft is a gift from nature itself.
What was your first job out of college?
My first job was my own brand! I started working on it when I was in college and I launched it after I graduated.
How do you think the fashion industry has changed since you've been in it?
The fashion industry has become more chaotic. I also feel like a lot of the love for fashion has faded away. People accept mediocrity in the name of affordability. There are still no laws for the fashion industry and almost no government support. The worst part is the growing culture of the social media mob mentality. For me, fashion was far more respected and profound a decade ago.
Tell us about your muses.
I'm not a people's person. I very rarely connect with people. It takes time & chemistry for me to connect with someone. I love all the talented women I work with. They're all inspirational in their own way & never cease to amaze me. But Seher & Munazza are super special to me. Seher started off with her career with us. She's a graduate in fashion design from PIFD & it took us very little time to became friends. Munazza is a rare beauty. She's confident, self made, smart and we bonded over our love for black & everything goth. There's nothing more inspirational than watching these strong women be who they are and be so fabulous at it.
What collection of yours is your favorite?
Haha! From my past life, I think Putlighar has to be my favorite. However, my relaunch collection Saobanjara is also extremely close to my heart.
Who is your inspiration?
Some days, nothing at all. Over the years I've learnt how to deconstruct design to just a process. Inspiration requires emotion & feelings and in the real world, some days one just doesn't have those. I can take a beautiful facade of a building and turn it into a bridal. I can take a picture of people oddly dressed on a road and use it for color palette. Inspiration is a constant process. Other days it has to be mechanically dealt with. If something really moves me, I write about it & take it from there.
Where do you see yourself in 5 years?
I want to take Fahad Hussayn & print museum to a global scale. I want to try new and different things with them with a different set list of audience that we haven't tried before. It's a work in progress.
Your favorite international designer?
McQueen forever! Lately I've been in love with how Daniel Roseberry has resurrected Schiaparelli and combined wearable art with fashion.
What do you like to do on days that you're off?
I try not to take days off from work. If I do, I spend them cooking and end up with a good meal shared with friends.
If you could go back and tell yourself one thing before beginning your career what would it be? 
Don't fall for everything you're told; and perhaps I'd like to teach myself how to handle social anxiety.
Are you still involved in the day to day running of the brand?
Very much — every thing requires chaperoning if you want to achieve results.
What do you think are some of the downsides of being in the fashion industry in Pakistan?
It's mostly the lack of respect people have for the job, but then that's a general issue with most Pakistani people. They're bitter and unappreciative. It's difficult to create new things for an industry that doesn't even uphold niche markets.
In the recent years we've seen you come into your own, you express yourself a lot more in terms of your own fashion also. What changed?
I think I evolved out of the public opinion game. My friends, family and my therapist helped me get over it. I think being a figure that's constantly watched I fell victim to caring too much about what other people wanted to see me as; so I stopped doing things the way I wanted. I was told to blend in. I used to read really vile comments about to how I was perceived and looked upon for my hair, the kajal I wore in my eyes, my clothes, the shape of my body and my choices. I got thrown into the black hole of the opinion game. I'm at a point now that I don't care who thinks what of me. I'm my own man, loved by my family, my friends & people who appreciate me — I don't care anymore what masses think about my hair length — haha!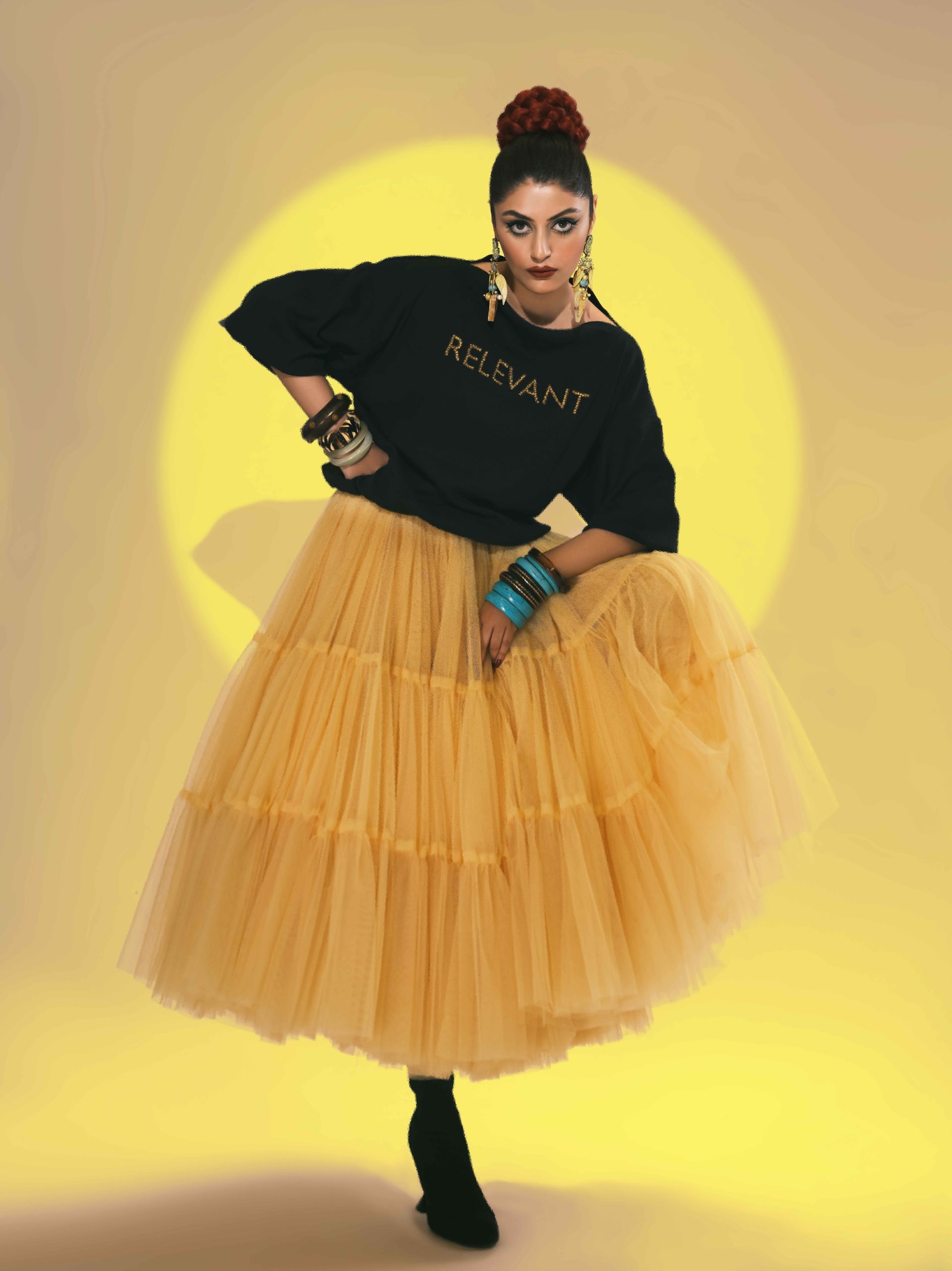 Photography | Asad Bin Javed
Hair & makeup | Fatima Nasir