Most Bollywood fans know Preity Zinta, the dimpled actress whose high energy, bubbly persona shot her to fame. Part owner of the IPL cricket team Kings XI Punjab, Preity's romance with Ness Wadia, heir of Bombay Dyeing and great grandson of Mohammad Ali Jinnah, kept her in the limelight after her star wattage dimmed. But who she ultimately tied the knot with is a lesser known fact. She settled down with a blond Californian executive Gene Goodenough who helped her get over her breakup. This is their story
Preity Zinta & Her Goodenough Husband
By Mahlia Lone
Preity Zinta was born into a Rajput Hindu family in Rohr, Shimla, Himachal Pradesh in 1975. Her father, Durganand Zinta, was an officer in the Indian Army and she grew up "an army brat" by her own admission, a tomboy in the company of two brothers. Their father set an example of discipline and punctuality that he expected the children to follow. The family's fortunes took a turn for the worse when Durganand died in a car accident. He was behind the wheel, while his wife Nilprabha was in the passenger's seat. She was severely injured and became bedridden for two years. Preity was only 13 years old when the accident took place and she said that both her and her brothers, Deepankar and Manish, a year older and a year younger, had to grow up almost overnight, leaving their carefree childhood days behind them. Nowadays Deepankar too is a commissioned officer in the Indian Army, while Manish lives in California.
A plump Preity with her friends
Preity became a boarder at the all girls' Convent of Jesus and Mary boarding school in Shimla.  Though she missed her family, she said that she had the "perfect set of friends." She was a good student, who enjoyed literature, particularly the works of William Shakespeare and poetry, as well as playing basketball. At 18, she graduated from The Lawrence School and enrolled at St. Bede's College where she first she earned a graduate honours degree in English, and then a post graduate programme in criminal psychology.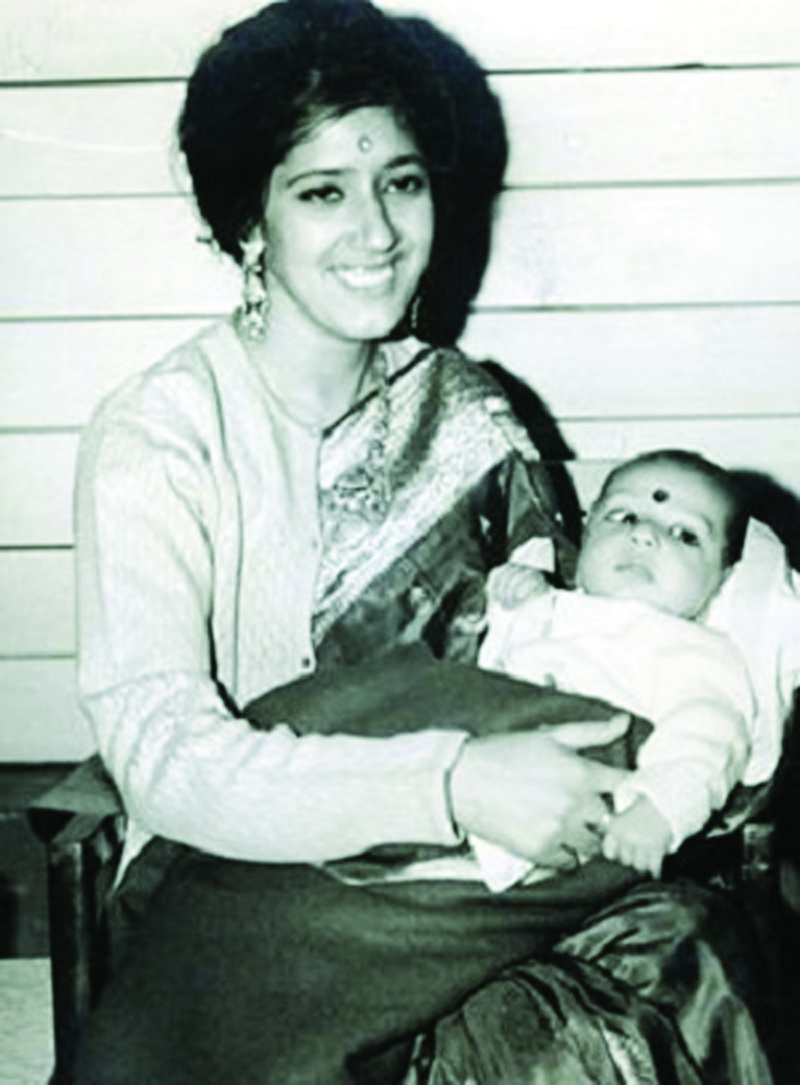 With her mother
With her father
A chance meeting with an ad director who asked Preity to audition on the spot at a friend's birthday party in 1996 led to her first television commercial for Perk chocolates. Soon, she also appeared in an ad for Liril soap in which she is drenched under a waterfall. In 1997, Preity Zinta accompanied a friend to an audition where she met the director Shekhar Kapur. He asked her to audition too. Upon seeing that she was a natural actress, he offered her a role in Tara Rum Pum Pum opposite Hrithik Roshan.  After its filming was cancelled, the former recommended her to director Mani Ratnam for his film Dil Se (1998) a Shahrukh Khan and Manisha Koirala starrer. Although Preity only had a small supporting role in the movie, her perky persona made her instantly famous and earned her a nomination for the Filmfare Award for Best Supporting Actress. That year, she won the Filmfare Award for Best Female Debut for her performance in both Dil Se and her first leading role in the action drama Soldier.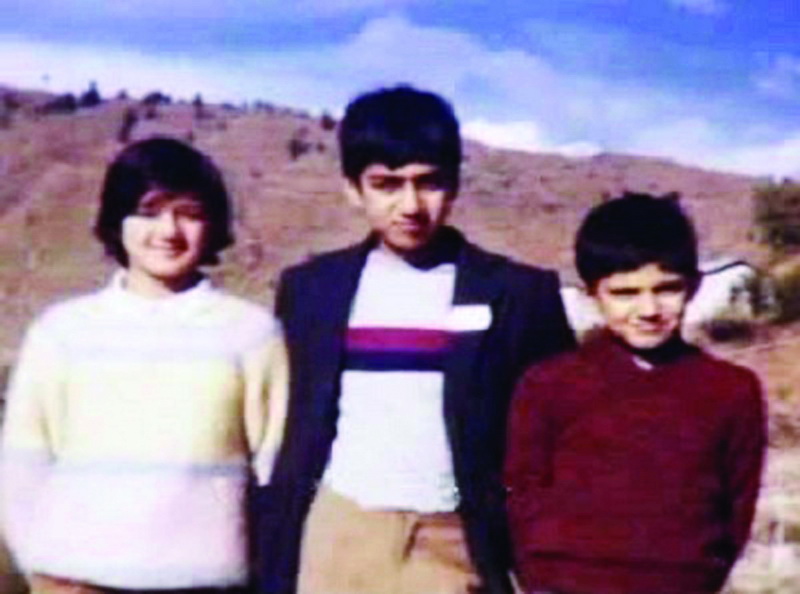 With her brothers
Preity recalled that her friends teased her when she joined Bollywood that she too would "wear white saris and dance in the rain," so she was determined to play different parts. Apart from a number of romcoms that she has appeared in, she has also chosen to play unconventional characters. On such was in the drama Kya Kehna (2000), which addressed the topic of single parenthood and teenage pregnancy. Her portrayal of a teen single mother who fights social prejudice earned her several award nominations, including her first nomination for Best Actress at the Filmfare Awards.
At this time, she was living with model Marc Robinson. The relationship only lasted a year or two and after their breakup she said she has "very, very fond memories of the times we were together and I'd like to keep it to that."
in an ad for Liril soap
During the filming of Dil Chahta Hai, she was rumored to be having an affair with Aamir Khan
After her breakup, during the filming of Dil Chahta Hai (2001) rumors were rife that Aamir Khan and Preity were having it off, but she denied the affair.
According to film critic Sukanya Verma, Preity's "energetic nature extends from her real-life into her appearances in films and is an integral part of her technique. What can you say about an actress who giggles non-stop in a tone that is anything but prim and propah? She is carefree. She is animated. She talks non-stop. She laughs all the time. She has a chilled out sense of humour. And a tomboyish streak too"
According to film critic Sukanya Verma, Preity's "energetic nature extends from her real-life into her appearances in films and is an integral part of her technique. What can you say about an actress who giggles non-stop in a tone that is anything but prim and proper? She is carefree. She is animated. She talks non-stop. She laughs all the time. She has a chilled out sense of humour. And a tomboyish streak too. Preity Zinta is all that and more. All this greatly contributes to her style of acting." Perhaps this friendliness off camera led her into trouble—we can only speculate.
In Chori Chori Chupke Chupke with Rani Mukherjee & Salman Khan
Abbas-Mustan's romantic drama Chori Chori Chupke Chupke (2001) was the first film to deal with the topic of surrogate childbirth. Initially, Preity was reluctant to play the role of a prostitute hired as a surrogate mother, but the director convinced her. To prepare for it, she visited Mumbai's red-light areas to study the slang and mannerisms of the working girls. For her convincing portrayal, she received a second Best Supporting Actress nomination at the Filmfare Awards. Rakesh Roshan's science-fiction Koi…Mil Gaya (2003), about a developmentally disabled young man played by Hrithik Roshan who came in contact with an alien followed. Preity plays his love interest. Not only did it garner her another Filmfare Best Actress nomination in addition to winning the Filmfare Award for Best Movie, but it also became her highest-grossing film, with a domestic total equivalent to $10 million.
Bharat Shah being led out of court in police custody
 In 2003, the national spotlight was on the sensational Bharat Shah case that highlighted Bollywood's links to the Indian mafia. Police had recorded 32 telephone conversations between producer Nasim Rizvi, financier Bharat Shah and Pakistan-based Mumbai underworld boss Chhota Shakeel during late 2000. Unlike the great Khan actors, Shah Rukh  and Salman, producer-director Rakesh Roshan, directors Sanjay Gupta and others who all retracted their statements under pressure, Preity Zinta defiantly stuck to her statement of receiving threatening calls from the underworld while she was shooting for the film Chori Chori Chupke Chupke in 2000. She told the sessions court in Mumbai that she received a call from a man who said, "Main bhai ka aadmi Razak bol raha hoon aur mujhe 50 lakh chahiye." Preity was threatened that there would be consequences if she did not pay up.
Producer Nazim Rizvi
 "I was very scared and upset and confided in Nazim Rizvi, the producer of the film. He told me not to worry and that everything would be alright. He gave me his cell phone number and told me to call him if I have any further problem," she said in court.
Preity became the first recipient of Godfrey's Mind of Steel Award at the annual Red and White Bravery Awards due to her testimony in the sensational Bharat Shah case
After her testimony that convicted both Bharat Shah and Nazim Rizvi, Preity  was given witness protection for two months and Indian citizens lauded her bravery because most of the men had backed down from taking on the wrath of the underworld that she a single woman had so courageously done. For this, she became the first recipient of Godfrey's Mind of Steel Award at the annual Red and White Bravery Awards. Upon receiving the award, she said, "To be brave is not to be fearless. It is when you fear and you get over it, then you can be called brave. I am human. It is not that I fear nothing. But getting over a fear is a continuous process and I have been successful so far."
Preity Zinta with ex-boyfriend model Marc Robinson with whom she lived for a year or two and from whom she separated on good terms
The Don, Chhota Shakeel
After the case was won thanks to her testimony, Preity starred in Yash Chopra's cross border romance Veer-Zaara (2004) as a dupatta clad traditional Pakistani woman opposite Shahrukh Khan playing an Indian officer. She polished up her Urdu for this and was so convincing in the role that later was cast in another movie as a Pakistani. She received her fourth Filmfare Best Actress nomination. Fresh from this success, Preity starred in another Yash Raj Film, Siddharth Anand's dramedy Salaam Namaste opposite Saif Ali Khan. The movie is about a modern Indian couple who live together and their unexpected pregnancy. The New York Times review stated, "She is cheerleader-homecoming queen-fraternity sweetheart pretty, so even when her characters are being unkind it's hard not to like her."
With Danish actor Lars on their romantic Hawaiian vacay
In 2004, Preity was rumoured to be dating Lars Kjeldsen, an actor from Denmark who starred in Rang Rasiya (2008), after their pictures from a Hawaii holiday surfaced. Lars later got married to another B'wood actress Suchitra Pillai.
Preity's career at this time was at its zenith, but with younger actresses on the horizon, her star was soon on its way down with two of her big commercial films flopping badly. Then in late 2004, Preity suffered two near death experiences: first when there was an explosion at a Temptation concert headlined by Shah Rukh Khan in Colombo, Sri Lanka. To offset her near miss, her personal life was looking bright with a burgeoning relationship with industrialist and bachelor about town Ness Wadia. In fact, in an interview, she said that she was friends with Ness and after the explosion upon her return to Mumbai, she rushed to visit him at home, tell him the story and be comforted by him. They grew closer and she went for a holiday with him and other friends to Phuket to recover from the shock of the bomb explosion. As luck would have it, the devastating tsunami occurred in Thailand while they were holidaying there. Preity was sleeping in her water villa. Ness rushed to wake her up and take her to safety. He saved her life and she turned to him for security.
The press changed her go-to epithet from "bubbly" actress to "the only man in Bollywood," both of which she disliked
Her work reflected this change in her. Having had an epiphany or wanting to reinvent herself, Preity changed tracks and started working in art, neo-realistic films, also known as parallel cinema. In her first English film, Rituparno Ghosh's The Last Lear, she plays a struggling film actress opposite Amitabh Bachchan. At the film's premiere during the 2007 Toronto International Film Festival, Preity said, "I did think with art films that they don't pay you, they don't feed you, but I was wrong, and I'm so happy to be here."
Then came an out of the blue allegation, which she dismissed nonchalantly. When filmmaker Shekhar Kapur's wife Suchitra Krishnamoorthy ended her marriage in 2007, she alleged that her husband had been cheating on her with Preity, but the actress dismissed it as being "a figment of her imagination….It is unfortunate that I am bearing the brunt of someone else's paranoia. She's clearly unstable and I wish her a speedy recovery."
For her next project, she chose Deepa Mehta's Canadian film Heaven on Earth (2008), a mystical drama in Punjabi based on the true story of an Indian woman who has an arranged marriage to a non-resident Indian (NRI) man from Canada, migrates to Toronto and becomes a victim of severe domestic abuse. Preity had wanted to work with Mehta in a role that would be "a new kind of acting challenge." To prepare, she conducted extensive research on domestic violence as well as learning Punjabi in only fifty days. She recalled, "I never knew a character would affect me so deeply. I've become completely withdrawn and introspective… I can't snap out of the character." She also called it her most challenging project because it helped her "shed everything that Preity Zinta was about." The film was screened at several international film festivals, earning her a Silver Hugo Award for Best Actress at the 2008 Chicago International Film Festival for "her strong yet subtle performance as a woman struggling to keep her dreams despite brutal realities."
Along with Ness and another mutual industrialist friend Mohit Burman, Preity acquired ownership rights in 2008 for the Mohali-based Twenty20 cricket team of the Indian Premier League (IPL) for $76 million. They named the team Kings XI Punjab. Until 2009 when Shilpa Shetty too bought a team with her husband, Preity was the only woman to own an IPL team even in partnership and the youngest owner. She took a two year hiatus from films to focus on her new business, getting involved with launching ticket sales and promoting the team. She said, "My involvement with the team is total. I am extremely passionate about our team and I do believe that I am the team's good luck factor, so I want to be there for everything."
Explosion at the Temptations concert in Colombo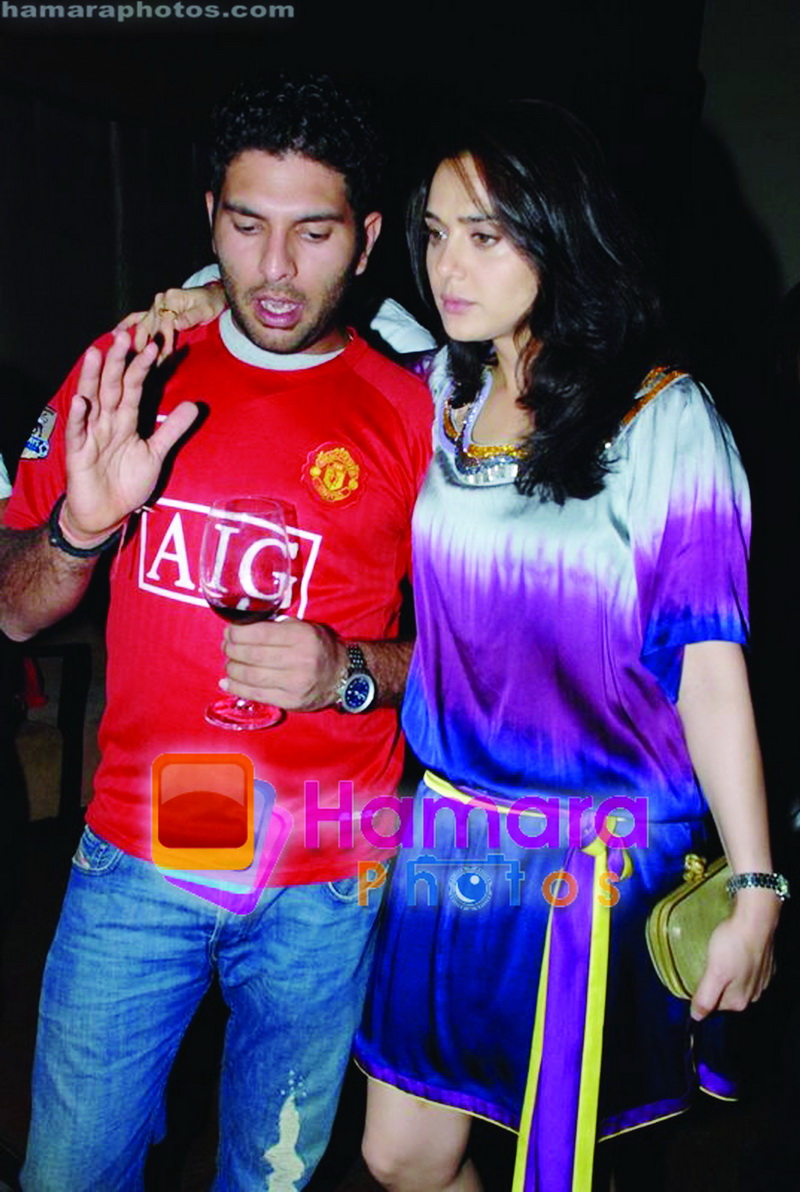 Preity and Ness' high profile relationship became the regular topic of press speculation. By 2009 their relationship was truly on the rocks. Apparently Ness wasn't committing, nor was he willing to let go. Rumors of an engagement were rife, but the easy on the eye couple broke up with Preity taking the initiative to call it quits. They had been together five years, she was in her 30s and it's natural for a woman to want the solid commitment of marriage.
Amitabh Bachchan, described her as being "frank and painfully honest," and said that she had "drive and guts in a world that can be most cruel to a single girl"
To help her get over her heartbreak after such a serious relationship, Preity was rumored to have had a couple of flings, the first with the tall, well built Punjabi cricketer Yuvraj Singh who was close at hand as the captain of King's XI Punjab. It was short lived and the two dismissed the rumours saying they were "just friends." Next up was Vikram Chatwal, a hotelier, married man and notorious womanizer. In 2009, news about Preity's fling with Chatwal spread like wildfire. They were spotted together at several occasions and a source was quoted saying that they had become quite close and the two got along like a house on fire. However, it too turned out to be just a rebound fling.
With ex-boyfriend Ness Wadia
Preity often went to spend time with her younger brother and his children in LA and there she met 6'1" 185 lbs grey eyed blond Californian executive Gene Goodenough who she said she "hit it off with immediately." Gene has an MBA from the Esade Business and Law School in Spain, and another masters' degree in management from the University of Southern California (USC) Marshall School of Business, LA, and works as a financial consultant. He is currently at NLine Energy Inc., a renewable energy development company in LA as the Senior Vice President in their product & finance department. Earlier he  worked as tje Assistant Vice President in Bank of America and as the Vice President/director of product management at Interthinx. Gene was extremely different from the type of men she had dated so far.
"I met him in Santa Monica in Los Angeles. Then we dated for five years," she shared with her fans on social media much later. When they first started dating, her close friends did not think the relationship had a future; they weren't even sure if the two were even remotely serious. For reasons better known to herself, Preity kept this relationship under the radar from the social/Bollywood crowd. She would travel to LA for the ostensible reason of meeting her family and meet up with Goodenough as well.
In Mumbai, Preity turned back to mainstream Bollywood films, which had made her rich and famous. Not having had a lead in a big movie since the flop Jhoom Barabar Jhoom (2007), she decided that she would put her money where her mouth is and produce her own comeback vehicle Ishkq in Paris. After being initially set for a release in fall 2012, the film was postponed multiple times before finally being released in the summer of 2013. But it bombed. She had sunk a lot of money into this project and apparently creditors came a calling.
Meanwhile her relationship with her American beau progressed steadily. Not many know that Gene was bedrock of support in helping her get over her ex-boyfriend Ness. He happened to be at her side when Ness allegedly pulled her hand, molested and abused her at Wankhede Stadium summer of 2014 during an IPL match in which their team was playing. Reportedly, her chivalrous American boyfriend was the one to stop her Indian ex at the time and shield Preity. She lodged an FIR against Mr. Wadia. Goodenough was initially reluctant to get involved in legal battles in India and left for the U.S. Not one to give up so easily, Preity flew to LA to convince him and he agreed to be the key eyewitness from her side.
Shekar Kapur & ex-wife Suchitra who claimed the director was having an affair with Preity, an allegation the actress dismissed
Ness Wadia gave his side of the story to The Times of India. He said that he was "shocked and dismayed" and that "the allegations are totally false and baseless. It is disgusting that she would stoop to this level."
Sources close to both claimed that Preity Zinta was "upset as Wadia was seeing someone…Zinta could not digest the fact that her former boyfriend, who is still her business partner, was involved in another relationship."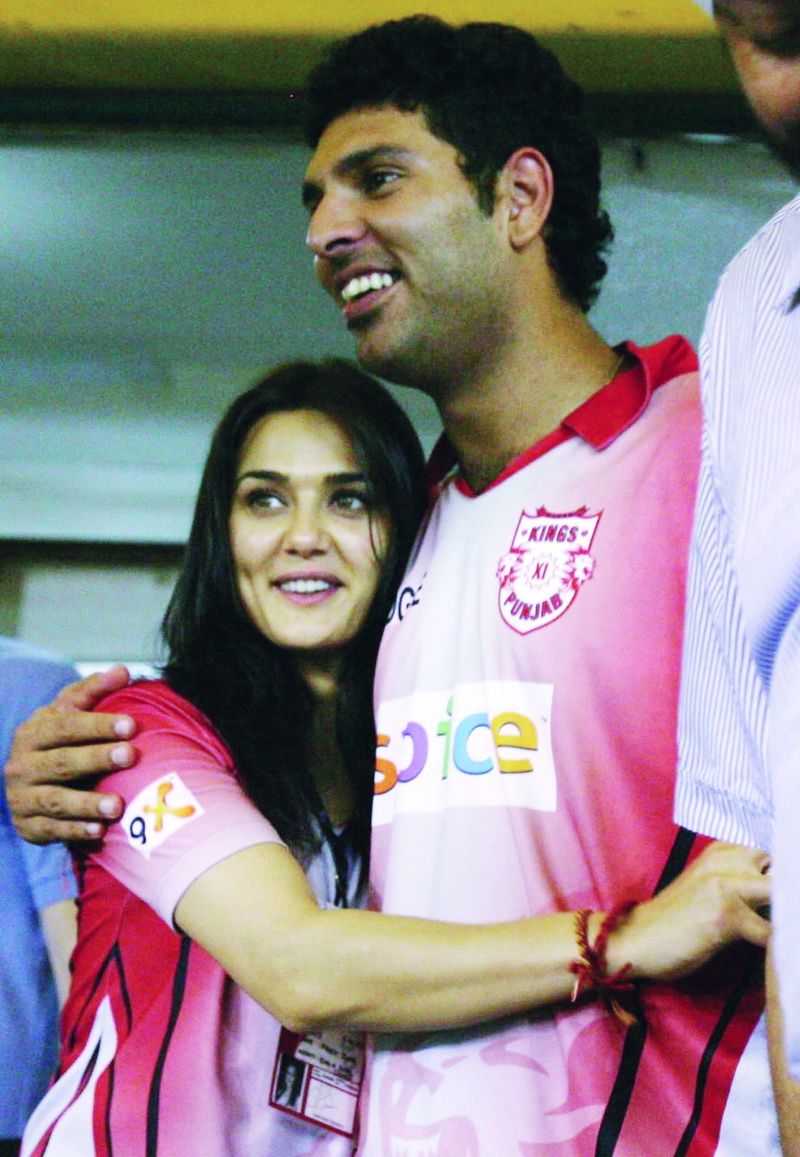 Wadia agreed that he indeed had started seeing someone two months prior to the incident and they got close when the IPL was being played in the UAE.   He said that his mother (who had not wanted him to marry the actress) had to undergo serious discomfort when attending a Kings XI Punjab match resulting in an argument between the two. This was a  clear case of he said/she said with emotions high on each side.
In Heaven on Earth
Author and columnist Shobhaa De, while commending her for lodging a molestation complaint against Ness Wadia, pointed out that Preity's repeated quest for justice would eventually play against her: "India is not terribly kind to strong-willed, outspoken women who are dubbed 'trouble makers' if they dare to raise their voices, especially against men. Zinta is such a woman."
Though at the beginning of her career, Preity was described by journalists as having a bubbly, outgoing persona, an image she disliked, by this time, the journalists dubbed her "The only man in Bollywood" a label she was also unhappy with.
Preity didn't let other people's opinion of her get her down, but persevered and got her life back on track. Her finances bounced back in due course thanks to her team ownership. She is currently worth a healthy $30 million. On February 28, 2016, Preity Zinta quietly got married to her longtime-beau Goodenough that she had been seeing for 6 years now. The couple tied the knot in a traditional Hindu Rajput wedding ceremony near Mulholland Drive, Beverly Hills, LA complete with a pandit conducting all the rituals, including pheras in an outdoor red and gold mandap with the glittering LA skyline as the backdrop. Preity's mother oversaw the entire arrangement," a source revealed. The bride and groom were clad in super traditional Indian wedding attire. Though Preity claims to be agnostic, telling The Times of India reporter that "I believe in good deeds, in karma, I don't believe in going to temples. For me, religion is very personal. It's all about having faith … We have heard and read that all religions are equal. Now I increasingly believe this." But all little girls plan their weddings in their head and even though Preity's bride groom turned out to be a blond American executive and not an Indian industrialist was no reason for her to alter her dream wedding.
The wedding was so hush hush that only her close friends Sussanne Khan and Surily Goel apart from family were invited. She announced her wedding to her fans via Facebook, "I was holding onto the 'Miss Tag' rather seriously till now, until I met someone 'Goodenough' to give it up for. So now I join the married club, folks. Thank you all for your good wishes and for all your love. Love you all." The proceeds from her wedding pictures were donated to the Preity Zinta Foundation, a charitable organization. The couple held a grand reception in Mumbai on Fri, 13th May, 2016 where all the who's who of Bollywood were invited and turned up. The bride chose to wear another custom made Manish Malhotra red gown.
Just prior to the reception, Preity was spotted at the Mumbai airport, along with her husband, greeting her in-laws. She was keen to show off her country to them, took them to Taj Mahal, Agra. After the reception, she whisked off Gene and his parents to a five star luxury spa in Rishikesh, Uttaranchal, a Himalayan paradise famed for its yoga and Ayurvedic practices.
Happy and content in her new life, Preity has also patched up with her business partner and ex Ness Wadia. They were seen together when their team beat Royal Challengers Bangalore in Indore. The two came face to face during the match and much to everyone's surprise they were more than cordial with each other, celebrating their team's victory together. Clearly they have both moved on.
Preity, though a famous, rich and glamorous actress, waited till 41 before tying the knot proving the adage that sometimes you gotta kiss a lot of frogs before finding your prince.