By Mahlia Lone
The Billionaire & the Bollywood Star
Nivrutti Munim was born in Bombay in 1955 the youngest of nine sisters and one brother in a Gujarati Jain family residing in Bhuleshwar, an older South Mumbai neighbourhood where most of the Gujarati community resided. Inspired by her elder sister Bhawna, a model, Nivrutti adopted the Anglicised name Tina and entered the beauty pageant circuit. Fair, pretty and slim, she was crowned Femina Teen Princess India 1975 and subsequently represented India at the International Teen Contest in Aruba 1978; she became the 2nd runner up and won the Miss Photogenic and Miss Bikini awards.
After appearing in a toothpaste commercial, Tina caught the eye of producer/director/star Dev Anand who cast her as his leading lady in Des Pardes (1978), which became a big hit. He cast her in two more films with him in the lead, Lootmaar and Man Pasand, which also became blockbusters quickly making her a household name. The press linked her with the elderly lothario who had launched her into films and whose production house she was signed to, a claim she denied later. Tina had been childhood friends with bad boy star kid Sanjay Dutt and they became sweethearts. When Sunil Dutt launched his son in Rocky (1981) and Tina was cast as the movie's leading lady, she not only left Dev Anand's "camp" but also turned down two other romantic films that went on to become big grossers: Rajendra Kumar's film Love Story introducing his son Kumar Gaurav and Ek Duje Ke Liye starring South Indian popular actor Kamal Haasan. Tina dimmed her light to play the supportive girlfriend, but Sanjay was heavily into alcohol and drugs. Despite several interventions by friends and family, Sanjay was badly addicted and eventually the two broke up.
Des Pardes with elederly lothario Dev Anand who launched her in her film career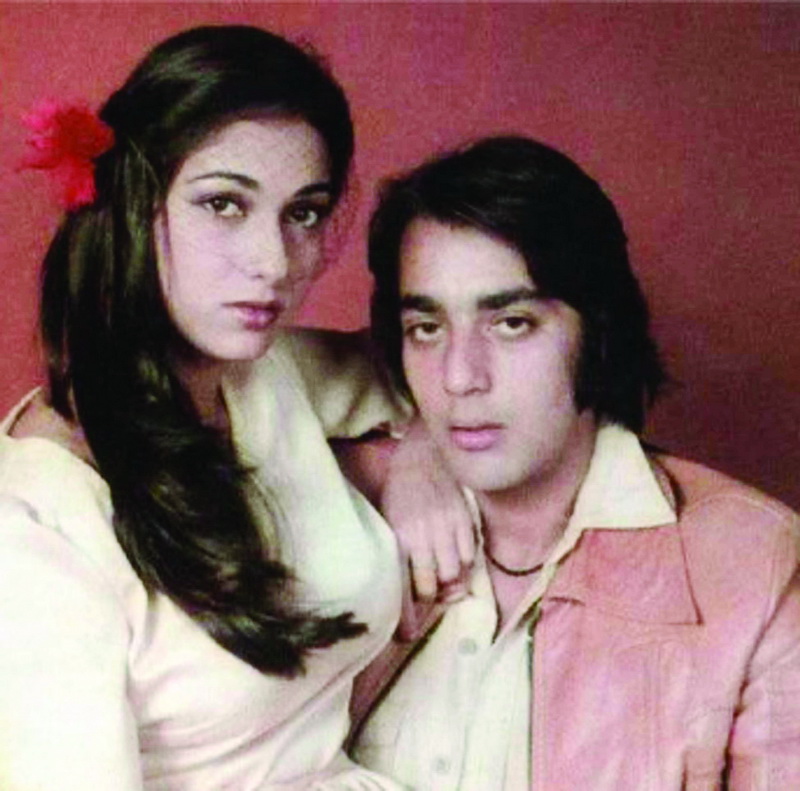 Tina's rapid climb to success via the men in her life
With boyfriend Sanjay Dutt, her co-star in Rocky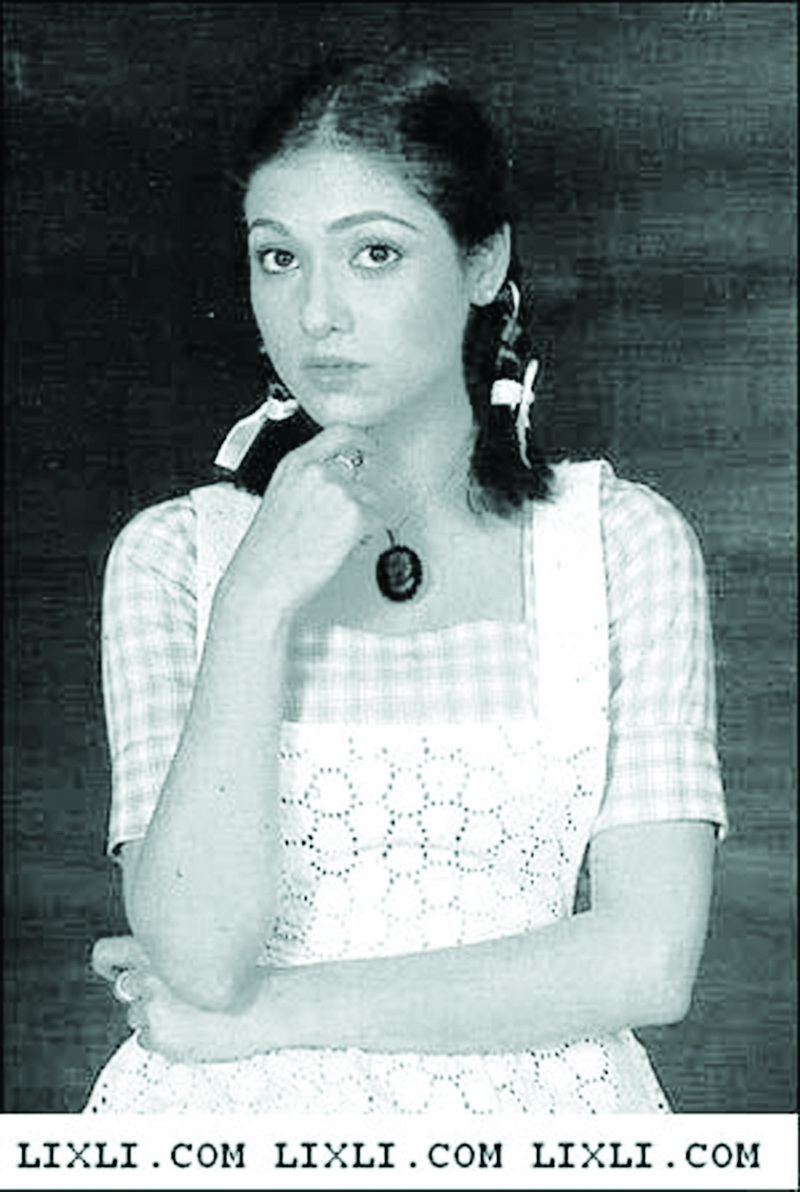 Tina was paired with the superstar Rajesh Khanna in a total of 11 films of which 8 were released and became huge hits including Souten and Bewafai. In their personal life too, the pair clicked. After his divorce from Dimple Kapadia, Khanna took up with Tina in 1980. She moved in to his palatial house Aashirwaad on Carter Road, but he never sealed the deal by marrying her. Towards the end of this scandalous, by the standards of the time, live in relationship, she attended a Gujarati wedding wearing a black sari. Traditional Gujarati wedding colours are red and gold, and she was the only one dressed minimally. A Gujarati industrialist's son couldn't help but notice the stylish Bollywood star, and thought himself how pretty and different she was. This young man was Anil Dhirubhai Ambani who would go on to transform her life.
Tina played the heroine in 11 Rajesh Khanna starrers as well moved in with him in his house after his divorce from Dimple Kapadia
Sex symbol
Three years younger than Tina, Anil was the son of one of India's leading industrialists Dhirubhai Ambani of Reliance Group. He had gotten his Masters degree from the Wharton School of Finance at the University of Pennsylvania and had brought his modern ideas back with him with which he was modernizing his father's business. A few months later, Anil ran into Tina in Philadelphia and was formally introduced to her. He asked her out, but being a star often propositioned by random men she was standoffish. Besides she was still living with Rajesh, who was not marrying her. In 1986, after she broke up with her older lover, Tina was again introduced to Anil by her nephew who insisted she  meet this eligible Gujarati boy. She agreed to meet him reluctcantly, but kept dilly dallying. When she finally capitulated and met him, she was struck by how straight forward and genuine he was, saying simply to her, "You are pretty."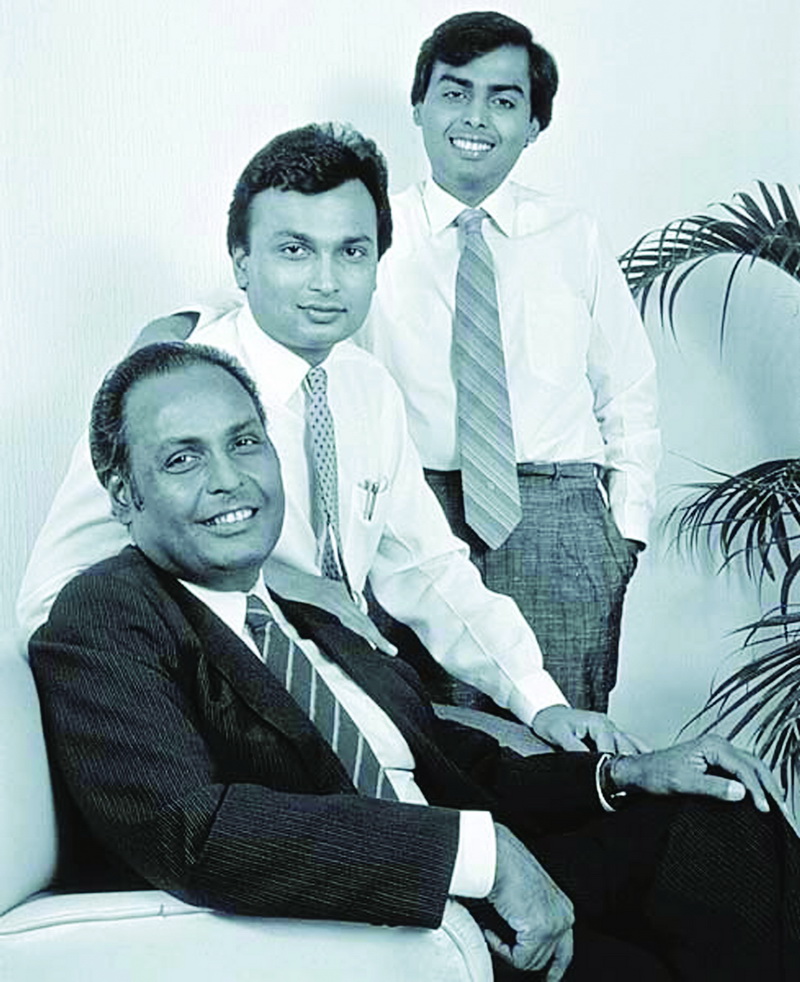 The Gujarati business tycoon Dhirubhai Ambani with Mukesh & Anil Ambani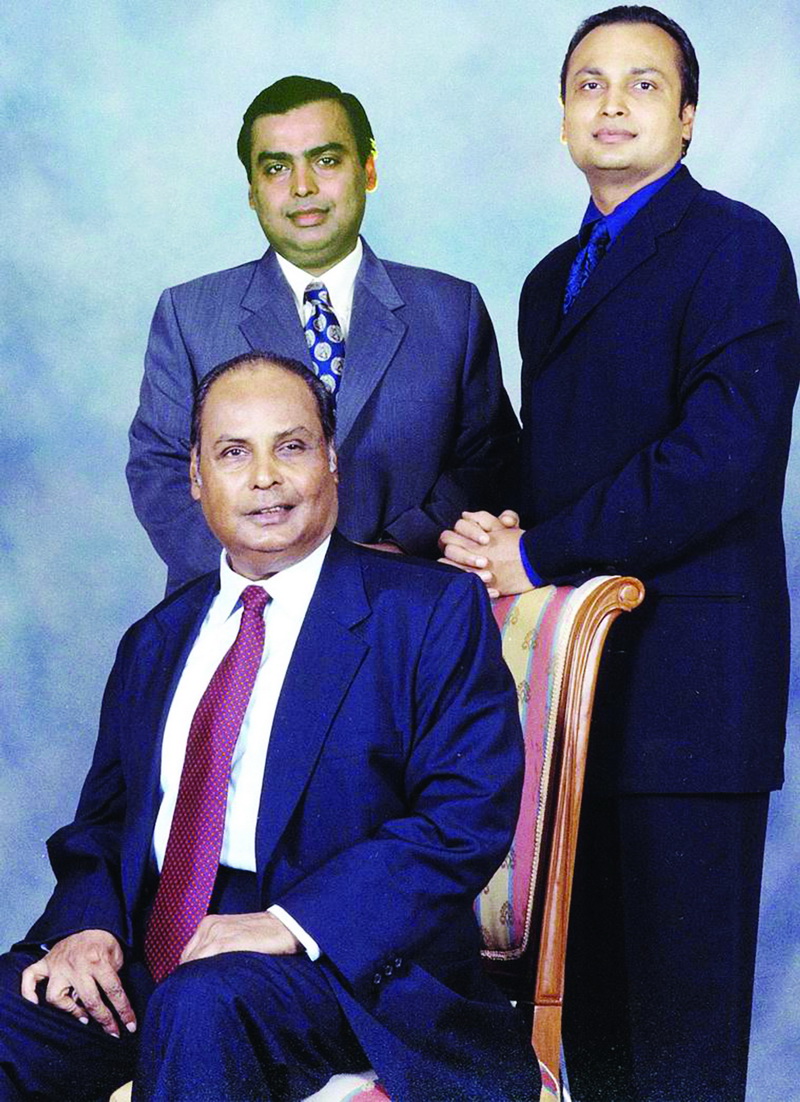 Kokilaben & Dhirubhai Ambani
On the talk show, Rendezvous with Simi Garewal, Tina recounted their first date, "The first time I met him, I was quite struck by his simplicity. I found him very upfront and genuine….He was unlike the other men I had met, because most of the guys I met were from films. Also, we spoke the same language, not literally, but we were brought up in a similar manner."
Anil agreed on the show about their affinity to each other, "When you meet someone from the film fraternity, you have certain notions about them. I have known many people from that industry, but she is just different. The attraction came about only after I met her."
Anil knew that he had found The One, while Tina realized that he was the kind of marriage material guy she needed to settle down with. But it was not to be that easy. They dated only a few months before the budding romance was splashed all over the tabloids and the conservative Ambanis were not amused. Their son wanted to marry a scandalous actress who had openly been living with a man.  Anil's parents asked him to end this relationship, which could have no future. The dutiful son promptly complied by breaking up with Tina after explaining the situation to her. Tina's film career was already at its tail end. After yet another failed romance, disheartened, she decided in 1987 to leave for Los Angeles to qualify as an interior designer.
Extremely lavish but traditional Gujarati wedding
The two had no contact for the next four years, even though Anil said of his feelings at this time, "There was a lot of pain. A feeling of great loss!"
Then one day after a big earthquake hit the Los Angeles area, Anil called up Tina to check if she was safe. She greeted him warmly and said she was fine. Anil abruptly disconnected the call. After he hung up, Tina was flabbergasted that he called her out of the blue and then hung up so quickly. She recalled, "That was the time I was so upset and crying away. And, I asked myself why this guy called me, came into my life, and revived all the feelings? Obviously he cared that's why he wanted to know whether I am OK or not. But, he did not even complete the conversation. The least he could do is complete the conversation." It was an emotional blow for her. For the first time, she realised that Anil really cared for her.
On their first date, Anil said simply to Tina, "you are pretty"
Anil explained his side, "There was no conversation to be held. It would have been a sob-sob conversation, because when you are talking to someone you love so much after three to four years, you get into it."
Though he could have had his pick of girls, Anil all this time kept trying to convince his parents to let him marry Tina. She in her turn had kept her head down and did not make any waves. Finally, seeing their son's loyalty and commitment to Tina, they caved. With his parents blessing, Anil again called her up, and asked her when she would return to Bombay. Still smarting from his abrupt  call two years prior, she brushed him off saying "soon" but not thinking anything of it she kept postponing her plans. After six weeks of this cat and mouse game, Anil told her that if she did not come this time, he would not call her again. Hearing the seriousness in his voice, she said, "That was when I realised that something is going on and I shouldn't miss this. Now, I should go back, and that following week, I came back."
The very next day, Anil picked her up and immediately took her to his home to meet his parents. He recalled, "Even before she came back to India, I had very clearly laid out a plan. This is the day she will meet my parents, this is the day will get engaged, this is the day we will get married and this would be the location."
Anil Ambani with sons, Anmol & Anshul
When Anil left Tina with his family, his older brother, Mukesh Ambani, casually asked Tina how she felt about getting married the next month. She said that she was shocked when she realised that once the parental consent was given how quickly they were to be married. After this, Anil only had her family to contend with.
Anil said, "I went to her house in Khar. Tina's sister and brother-in-law were there. They both were quite shocked to see me because they didn't know what was going on (in Mumbai). Her brother-in-law went inside to tell her mother. She was shocked to see me. I said that you love your daughter, Tina, very much, and she said, 'yes, absolutely.' I said that 'if that is the case, then you can keep her here otherwise, I very much want to marry her.'"
The billionaire brothers with their wives, Nita & Tina
Tina & Anil with the Spielbergs at the Golden Globes 2013 representing their co-production Lincoln
When Tina's mother figured out that the son of India's richest man was asking for her daughter's hand in marriage, she was overjoyed and took his hand in gratitude. Anil and Tina got married only six weeks later in February 1991 in a lavish but traditional Gujarati wedding. Tina wore a red Gujarati bridal sari with heavy gold Gujarati jewellery. Anil wore a cream coloured sherwani with gold embroidery and a Maharaja's multi strand pearl necklace.
Tina, after leading an independent life, moved in with her in laws. When the former sex symbol was asked how she felt about staying in a joint family system, she said, "I have all the freedom that I want. If at all there is a restriction, it has been put by me. I believe that in our culture and our society, it's not only the guy you are getting married to, the family is also apart of the marriage. I was brought up like this, so this hasn't been difficult for me."
The couple has two sons, Jai Anmol Ambani and Jai Anshul Ambani, who Tina said have been brought up in as simple a manner as possible and don't make many public appearances.
Sibling Rivalry

Mukesh Dhirubhai Ambani
Net worth: $31.3 Billion (as of March 2017)

Chairman & MD, Reliance Industries,
inherited their father's core
businesses, which he made even more profitable

Reliance Group
Reliance Industries,
Reliance Petroleum (RPL)
Indian Petrochemicals Corporation Ltd (IPCL)
Reliance Industrial Infrastructure Ltd (RIIL)

Anil Dhirubhai Ambani
Net worth:$2.9 billion (as of March 2017)

Chairman, Anil Dhirubhai Ambani Group (ADAG)
inherited the newer companies, which suffered losses

Reliance Communications (RCOM)
Reliance Capital (RCL)
Reliance Energy (REL) Reliance Natural Resources
Ltd (RNRL)
Reliance Broadcast Network
Ltd (RBNL)
After the death of Dhirubhai, Mukesh and Anil fell out over their vast inheritance, but finally their mother mediated and divided up the family's businesses and assets. Mukesh Ambani is India's first trillionaire in INR or worth more than $33 billion and lives with his wife and three kids in India's most expensive private residence Antilia, a billion dollar high rise, while Anil, a low single digit billionaire, owns Telecom, Entertainment, Financial Services, Power and Infrastructure companies. His notable deals include launching India's largest IPO of Reliance Power in 2008, which was subscribed in less than 60-seconds on offer, fastest in the history of Indian capital markets till date. In 2008, he also signed a joint venture worth US$1.2 billion with Steven Spielberg's production company DreamWorks. He is also building a multi story residence called Abode, ironically on Nargis Dutt Road, Pali Hill, Bandra, which will cost even more than his brother's home. Both the brothers have been awarded many outstanding business awards by prestigious institutions the world over.
Tina at 62 has lost her former slim figure and has also had a nose job
While her husband is hard at work wheeling and dealing, Tina spends her free time promoting worthy charitable foundations including Harmony Foundation – For Senior citizens, Harmony Art Foundation – For Promotion of Art, Kokilaben Dhirubhai Ambani Hospital & Medical Research Institute – Mumbai, and Kokilaben Dhirubhai Ambani Nursing College (KDA-NC) – Mumbai.
She sums up her wedded bliss, "Lots of happiness, two beautiful children, a wonderful marriage."