By Mahlia Lone
Talk about a perfect life—Ryan Reynolds and Blake Lively are blond, beautiful, famous and successful movie stars, with two lovely daughters and a picture perfect house. They live an idyllic life full of sweetness, sunshine and smiles. Everything is a choice and, according to Ryan, this is a life that Blake has created for her family. Let's see how she is achieving her dream
Born Blake Ellender Brown in 1987 in Tarzana, Los Angeles to Ernie Lively (né Ernest Wilson Brown, Jr.) an actor, and his wife, Elaine, the good looking actress has an older brother, Eric, and half-siblings, Lori, Robyn and Jason, all of whom work in the entertainment industry. A beautiful child of English, Irish, German and a trace of Cherokee ancestry, she was cherubic with lovely golden ringlets. Her parents took her with them to acting classes that they taught instead of leaving her with a babysitter, where Blake said she picked up the "drills" of acting and gained confidence. At only 10 years of age, she appeared in the film Sandman (1998) directed by her father. Since showbiz was a family business, Blake was not particularly enamored by it and dreamt of attending Stanford University. Teenaged Blake had a crush on fellow child star Kelly Blatz with whom she was childhood pals. Lively said that when they started filming the teen horror flick Simon Says in 2004, "he finally came around" and the two started dating. He was her first boyfriend.
During the summer between Blake's junior and senior years at Burbank High School, her brother Eric asked his agent to send Blake on auditions, which is how she was cast in the coming of age movie The Sisterhood of the Traveling Pants (2005) alongside Amber Tamblyn, Alexis Bledel and America Ferrera. Blake caught the eye in the film and was nominated for a Teen Choice Award for Choice Movie Breakout – Female. Back in school, she became the senior class president, a cheerleader, and a member of the championship choir.
It was when she was cast as the poor little rich girl Serena van der Woodsen in the hit teen series Gossip Girl based on the bestseller book series by Cecily von Ziegesar that Lively became a household name the world over. The mega successful show ran from 2007 till 2012. During the summer hiatus of 2008, Blake reprised her role in The Sisterhood of the Traveling Pants 2 and by this time she had become fast friends with the actresses.
"I don't want to date someone just to date someone," Lively said in an interview for Cosmopolitan magazine that year. "I want to be with a guy who's going to better my quality of life, better me." She outed her relationship with her GG costar Penn Badgley at the 2008 Met Gala and continued seeing him for the next three years.
Very close to her family, Blake said that on holidays, like Christmas Day, all the siblings would stay in bed together. "Somehow we just spend seven hours a day all together just chatting and it's really nice to have that time, because it's rare that we get together for such a nice chunk of time. We never leave the house. We're together all day whether we're making gingerbread houses, or baking cookies, or sitting around and watching movies all piled up."
Inordinately fond of food and cooking, Blake called Martha Stewart her "idol" as well as being a fan of Nigella Lawson, a TV chef. Lively spent evenings working as a pastry chef at the renowned Per Se in New York City and took cookery classes wherever she travelled as a way of immersing herself in the local culture, including a tailor-made workshop at Le Cordon Bleu in Paris. Her ambition was to become a restaurateur and also "hoped one day to have an interior decorating company," due to her love of "antiques, colours and textures and layering things." Even though her GG role that she became synonymous with was of a spoilt rich girl, she was actually much more family oriented and more interested in perfecting her domestic arts rather than painting the town red like other celebrities her age. After GG ended, Blake was cast in the superhero movie Green Lantern starring Hollywood heartthrob Ryan Reynolds.
Ryan Rodney Reynolds was born in 1976, in Vancouver, British Columbia the youngest of four brothers to James Chester "Jim" Reynolds, a food wholesaler, and Tammy, a sales assistant. The handsome blond actor is of Irish descent and was raised a Roman Catholic. His older brother became police officers, while Ryan began his showbiz career with a stint in 1991 in the Canadian teen soap Hillside. He graduated from Kitsilano Secondary School in 1994, but dropped out of Kwantlen Polytechnic University in 1996 and moved to Hollywood. His breakout role was in the hit show Sabrina the Teenage Witch with teen queen Melissa Joan Hart.
Reynolds' next big role came in the sitcom Two Guys, a Girl and a Pizza Place (1998-2001). He had a relationship with the show's star Traylor Howard for two years even though she was a decade older than him; then he moved on to Kristen Johnston, also a TV star nearly a decade older; till he finally started dating Rachael Leigh Cook, an actress closer to his own age.
Ryan made the jump to the big screen in the hit National Lampoon comedy Van Wilder (2002). At the same time, he started his first serious relationship with popular Canadian singer/songwriter Alanis Morisette. The couple spent five years together from 2002 to 2007 and the two were even engaged for the three last years. Morrisette wrote songs about her heartbreak after their breakup on her album Flavors of Entanglement, especially the track Torch that was all about her former fiancé. During this relationship, Reynolds, known mostly for his comedic roles till now, expanded his acting range. He built up his body for an action role in the 2004 film Blade: Trinity. And in George Lutz's 2005 remake of the 1979 horror film The Amityville Horror, Reynolds traversed the horror genre as well. Continuing to play against type, he played an FBI agent alongside Ray Liotta in the 2006 crime action film Smokin' Aces, and in X-Men Origins: Wolverine (2009) he worked in a superhero film.
"I've had four boyfriends in my whole life. I've never been with anyone that's not a boyfriend. If I spend time with a man, it's because there's somebody that I know well who has been a friend for a while"
—Blake lively
In 2008, Ryan married sex symbol Scarlett Johanssen, his girlfriend for a year, but the marriage only lasted for three years with Scarlett calling it quits citing her monogamy issues and hinting at his insecurity with her success. In the meantime, Reynolds had a big summer hit in The Proposal (2009) opposite established box office star Sandra Bullock. Not only did he effortlessly hold his own against the senior actress, but their on screen chemistry was hot, and the two ended up having a fling  after his marriage had irrrvocably broken down.
When the movie's stars Lively and Reynolds made their debut as Green Lantern costars at 2010 Comic-Con at the San Diego Convention Center, he was still married to Scarlett, and she was still dating Badgley, but they had clearly established a good rapport with each other. With Green Lantern Reynolds was expected to become an A-list leading man but when the $200 million superhero movie hit theatres, it was a disappointment for critics and audiences alike. It just barely broke even. By the end of the year, the two stars were both single. During next year's WonderCon press conference the two stars were seen giggling and enjoying each other's company, but they were only friends at this time. Ryan told Details, "I'm very happy not to be in a relationship right now. That's okay. I didn't plan on it, that's for sure . . . but that's okay. I've been in relationships pretty much since high school….Some people look at that as a good thing. I think wiser people might see that as a house of cards….Anyone that gets divorced goes through a lot of pain, but you come out of it….I'm not out of it yet. At all."
Men usually seek solace when experiencing pain in the arms of the next willing woman and Reynolds followed up his fling with Sandra with two more flings that year, one with German model Agnes Fischer and the next South African glamazon star Charlize Theron as salve to his ego and pain.
Meanwhile, Lively was concentrating on her career and snagged a lucrative and high profile campaign as the face of the new Gucci fragrance, Gucci Premiere. And she was the arm candy of none other than Leonardo DiCaprio who squired her around the South of France during the summer of 2011. But he is not one to settle down or even stay with any one woman for long, regardless of how good looking or sweet she may be.
Back Stateside, Reynolds and Lively started spending more time together.  He later reminisced on Entertainment Weekly's SiriusXM show, "We were buddies then. I remember it was funny because for about a year after Green Lantern had come and gone and all that stuff we were both single," he said. "We went on a double date. She was on a date with another guy and I was on a date with another girl. That was the most awkward date for their respective probably because we were just like fireworks coming across (laughing). It was weird at first but we were buddies for a long time. I think it's the best way to have a relationship is to start as friends."
Soon rumors were rife that the Green Lantern costars' were hooking up after they were seen at multiple spots together fall of 2011, and she was photographed leaving his Boston apartment early one morning. In a later interview with GQ magazine, he said, "I mean, I always imagined that would happen, and then it happened. Every idiotic Hallmark-card cliché is true." Ryan said he knew Blake was "The One" not when they first met but after they had sex on their first date. Ryan explained that he asked the actress to dance in an empty restaurant, on a really late evening in Tribeca and knew instantly. He said: 'It was just one of those moments where halfway through the dance, it was like, 'Oh, I think I just crossed a line.' And then I walked her home. And, uh, you know, I don't really need to go into what happened after that."
Speaking about the same date to Entertainment Weekly, Blake said: "That date went well for him. I don't know about fireworks for me. No, we were such good friends for so long and we both got to know each other as friends so when we were both single, we were still trying to find each other's perfect date—'Oh, who would be good for you?'
First day on the set of Green Lantern, Blake arrived with a batch of freshly baked cupcakes that Ryan devoured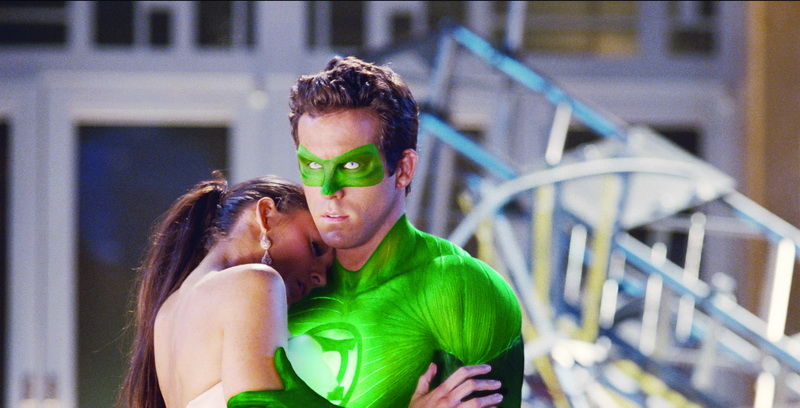 We'd sit around being like, 'Oh jeez, do you know anyone?' And it didn't click for, I mean, a good year and a half. Like, 'Oh hey, wait, hold on. We could date!'"
Lively paid him a visit him on the set of his movie R.I.P.D., a 3D supernatural action comedy film starring Jeff Bridges, in Boston on his birthday in October with a big bouquet of balloons tied to her dog Baxter as a cute surprise. Soon they became inseparable; the new couple spent the Christmas holidays with Reynolds' family in Vancouver where they were spotted holding hands while walking through the Granville Island Public Market. In January 2012, they were seen going for an incognito stroll in New Orleans, La. In the summer, they were back in British Columbia, visiting the Ferry Terminal in Nanaimo.
Reynold's back to back flings after his marraige disentigrated
"They are very much in love," a source close to the couple reportedly told press. "They rarely travel without one another."
"I've been with very few people. If I'm not with somebody who really excites or inspires me, then I'd rather be by myself," Lively told Marie Claire. "To be around me, you must love food or I'm the most obnoxious person you've ever met. I'm in a big cooking phase. That's all I'll talk about."
Perhaps in anticipation of putting down roots, Lively sold her West Village apartment and bought a $2.3 million country style house in Bedford, in upstate NY with 1.7 acres of garden, a wood panelled living room, formal dining room, library and sun porch. "They keep to themselves," said a neighbor. "They frequent the Bedford Hardware store for home improvement goods, buy groceries and go to restaurants in the area, but aren't very talkative to the locals. They eat out a lot, and are polite, but don't make friends with people there. The pair just want to be left alone in their home."
Following a romantic trip to Venice, the couple tied the knot in a super secret ceremony at Boone Hall Plantation in Mount Pleasant, South Carolina (where The Notebook was filmed) on Sept. 9th 2012 after only a year of dating They had not even announced their engagement before getting married. The bride, 25, wore a silk tulle Marchesa ball gown with rose gold embroidery and crystals while the bridegroom, 36, was in a Burberry suit. Only 35 guests were in attendance including her Sisterhood of the Traveling Pants costars — America Ferrera, Amber Tamblyn and Alexis Bledel. The ceremony was held in a rustic barn and the reception was held in a white tent at the plantation, while Blake's good friend, British singer Florence Welch serenaded the newlyweds with three songs and Bette Midler performed as well. Blake's elder half-sister, also an actress, Robyn Lively recreated her Teen Witch dance from the late '80s film classic that she had appeard in. No one, not even the performers or any guests were allowed to bring in phones and everyone was sworn to utter secrecy. Even after the wedding, no pictures were released except for those of certain details, like the bouquet, cake and dessert table, which were published in Martha Steward Living magazine. The vanilla-and-sour-cream wedding cake with peach-apricot preserves and Earl Grey-milk chocolate butter cream was made by Maggie Austin Cake in Alexandria, Virginia. Among the deserts were s'mores, espresso beans, blueberry cheesecake tartlets and lemon meringue tartlets, as well as fruit jellies and mini strawberry cupcakes.
The morning after, the couple were pictured sharing a kiss in Charleston as the bride displayed her stunning pink diamond engagement ring designed by celebrity jeweller Lorraine Schwartz, featuring a large center stone supported by a band of small diamonds. "Ryan chose Lorraine Schwartz to help him find a flawless, light pink oval diamond. They worked together to design a custom setting in rose gold and pave diamonds with a nod to deco," a spokesperson for the jeweller said. The bride's rose gold wedding ring, also by Schwartz, has a series of delicate diamonds to complements the engagement sparkler.
Lively settled down to domesticity well, preferring to cook at home rather than head out to expensive restaurants. "I use a lot of fresh ingredients, which really does make a huge difference. It's easier to be healthy when eating things that are fresh, because they are often fruits and vegetables," she said while filming a segment making Puff Pastry for Vogue.com. Her go-to recipes are sausage and brie puff pastry and rotisserie chicken.
"Right now, I'm so peaceful. I've never been happier in my life. He treats me like a queen," announced newly wed Blake
Even Martha Steward called her "a groovy cook."
The newlyweds took a romantic trip to Paris that winter. An eyewitness told Us magazine "They were kissing the entire time. The locals said hello, but they were only interested in each other."
Always known for her unerring fashion sense, Blake's sartorial style climbed a notch even higher after her wedding. She said, "It's (fashion) such a passion of mine. That's the reason I don't have a stylist, not because I think I can do it better than any of these people, but because I just love it so much that it would be like handing over something."
Lively's career chart continued to progress and, in 2013, the blond actress scored her first major makeup campaign as the new face of L'Oreal, The next year she launched a lifestyle digital magazine and e-commerce website with artisanal hand-made one-of-a-kind items that she personally selected called Preserve. The products she was hawking were too expensive for the average consumer. The site never really took off and sensibly she shut it down after only a year, claiming that she had launched it before it was ready and she would redo it and relaunch it later.
Lively returned to her lucrative film career and started filming for the The Age of Adaline with Harrison Ford in a cameo role. She plays a woman who "stops aging after recovering from a near-fatal accident," but the film was only a modest success.
The Reynolds made a string of glamorous, high profile appearances that garnered them much publicity.  First stop was at the 2014 Met Gala. However, the genetically blessed married couple skipped the after parties to eat hot fudge sundaes with peanut butter sauce at NYC hot spot Serendipity despite being all glammed up. Right after they graced the red carpet of the 67th Cannes Film Festival to attend the screening of Canadian independent film Captives, starring Ryan Reynolds
Ryan declared on The Late Show With David Letterman, "I'm not one for vomiting declarations of sentiment out across the airwaves, but when we had that baby, I fell more in love with my wife than I'd ever been in my entire life. I couldn't even believe it….I used to say to (Blake), 'I would take a bullet for you. I could never love anything as much as I love you.' And the second I looked in that baby's eyes, I knew in that exact moment that if we were ever under attack, I would use my wife as a human shield to protect that baby."
Lively shared her marital bliss with Marie Claire , "We've never gone a week without seeing each other. He's my best, best friend. If I could spit out a litter of kids, I would."
And she did, having her first, a daughter who looks just like her who they named James, on Dec 16th 2014. The wary couple kept the birth under wraps for weeks before any public announcement was made.
On Valentine's Day 2015, Ryan said, "One of the most common things in the world is making out, having a couple of drinks, and then doing it, and then having a baby. I was perfectly sober for this one though. I gotta say," he joked. "It's amazing. I just always marvel how common it is and yet how profound it is. And I always laugh because you know celebrities you always cringe when they talk about their kids. Like 'my child is the only one that has ever exited a womb out, ever. Amid his laughter he continued, "Well, a lot of people have done this, so you always want to temper it with a little of self-effacement. But I love it. I truly worship that kid. It's terrible. She has me so far wrapped around her finger it's dumb. She says 'dada' and I will walk through a cement wall to get to her."
"I was recently asked how my style has changed since I got married, as if I was living under some sort of dictatorship. I'm very lucky to be with someone who has better taste than me. We influence each other in different ways"
Still a working actress, Blake accepted the challenge of filming the movie The Shallows mostly in a bikini after the birth. Lively had been known for her incredible 5'10" tall and curvaceous but slim body before pregnancy. To get fit for her upcoming role, Blake hired a personal trainer who made her exercise for 90 minutes each day. Her circuit training regime included squats, lunges, push-ups and planking. The exercise did more for her than lose the baby weight she'd gained. She said, "I worked out with an amazing trainer Don Saladino. He kicked my butt. It was also eight months after having a baby so my body was already completely different than what it normally was. Not just aesthetically but also your muscles are different, your body, everything is just shifted and changed."
Then speaking about the actual intense filming, she told E! News: "It was really crazy. But it was also nice to have that motivation because I wouldn't have done that. I wouldn't have gotten in that kind of shape. It was like training for a marathon, but a marathon is one day. This was six weeks straight, six-day weeks, no lunch breaks, thirteen-hour days, four-foot waves at all times. By the time I was done with the movie…I had muscles that I had never had before." In the film, Lively has absolutely flat abs and there is not an inch of fat or loose skin anywhere.
Then in 2016, Reynolds finally hit the big time when Deadpool, the eighth installment of the X-Men film series, was released having been in inception since 2004.  After a new type of viral marketing campaign, the film earned over $783 million dollars, becoming the overall highest-grossing R-rated film as well as the highest grossing X-Men film to date. Script writer Rhett Reese described Reynolds' role being instrumental in ensuring the success of the movie by being "the keeper of the Deadpool flame for many years … if we ever do something that is off the Deadpool path, or if it doesn't feel like Deadpool, he catches it." His tenacity paid off and finally Ryan had a superhero franchise of his own, with a sequel announced after the movie's mega success.
"Everything we do in life we do together. I get to share my life with the person he's become, and we get to grow from there"
—blake
The same year, Blake gave birth to their second daughter Ines. After having a second child, Ryan admitted that parenting gives him anxiety, because he now finds he is constantly in a rush and has to cram things into short bursts of time, "I think you're just more desperate in everything you do, 'cause you're like, 'I've got 10 minutes to do this, and then I gotta get home. There's just no time anymore, so you're hardened by it. Anxiety, I think, that's probably it." He said that earlier he didn't think he would make a good dad because of his not having had a good relationship with his own father, but Blake assured him he would and patiently schooled him in becoming a hands on dad, changing diapers and cleaning spit up.
On December 15th  2016, Reynolds received a star on the Hollywood Walk of Fame, at 6801 Hollywood Boulevard. His beautiful wife, toddler daughter and new baby were all there with him to share in his honour. In another landmark, Blake took Ryan to Japanese restaurant O Ya in NYC to celebrate his  40th birthday.  Blake, in a rare public declaration paid tribute to her husband, posting on Insta, "We fell in love at your restaurant in Boston. We stay in love at your restaurant in NY. Thank you for the BEST food and memories!" In the photo, Reynolds holds a picture of the two, making the same pose, in a shot taken five years prior to this.
During this year's Met Gala, Humans of New York shared Ryan Reynolds' heartfelt message about his other half on. Ryan was quoted gushing about some of Blake's best qualities, "She always responds with empathy. She meets anger with empathy. She meets hate with empathy. She'll take the time to imagine what happened to a person when they were five or six years old." He added that she had made him a more empathetic person by helping him strengthen his relationship with his dad. "I had a very fractured relationship with my father. Before he died, she made me remember things I didn't want to remember. She made me remember the good times."
HOLLYWOOD, LOS ANGELES, CA, USA – DECEMBER 15: Actor Ryan Reynolds and wife/actress Blake Lively and daughter James Reynolds and newly born daughter attend a ceremony honoring Ryan Reynolds with a star on the Hollywood Walk of Fame – Dedication of the 2,596th star on the Walk of Fame in the category of Motion Pictures on December 15, 2015 in Hollywood, Los Angeles, California, United States. (Photo by Xavier Collin/Image Press/Splash News)
Pictured: James Reynolds, Ryan Reynolds, Blake Lively
Ref: SPL1412004 151216
Picture by: Xavier Collin/Image Press/Splash
Splash News and Pictures
Los Angeles: 310-821-2666
New York: 212-619-2666
London: 870-934-2666
While Blake told USA Today: "We've both given up projects that we really love because we can't keep our family together. People often think their career is something they have to chase and maintain, but for us, we said, 'Let's always chase and maintain our personal life.' This is a career that's like the stock market: You've got to stay hot while you're hot. But your family, that's the real thing that gives you security and success and happiness." And that is the secret to her success.