By Mahlia Lone
The song Remember is the gist of John Winston Lennon's childhood. He was born in 1940, at a time when World War II raged on in full force, to an Irish merchant seaman named Alfred who was away at sea for his duties much of the time, including at the birth of his son to his Liverpudlian wife Julia. Both of John's parents were naturally musical though none of them took it up as a profession. Alf supported his wife and child by regularly sending them his steward's salary while Julia lived at her father's house. Things went awry when Alf deserted his post towards the end of the war and became absent without leave for six months.
"Just remember when you were small
How people seemed so tall
Always had their way
Do you remember, your ma and pa
Just wishing for movie stardom
Always, always playing a part
If you ever feel so sad
And the whole world is driving you mad
Remember, remember today"
—John Lennon
Lennon's high school reports stated bleakly: "Certainly on the road to failure … hopeless … rather a clown in class … wasting other pupils' time"
Giving up on him, Julia started to have an affair with a Welsh soldier and got pregnant by him. Her childless older sister Mimi repeatedly complained to Social Services about Julia "living in sin" and she and her dairyman husband George Smith were awarded custody of John. When Alf got back home, he offered to take his wife Julia back but she refused.  She gave up her baby girl for adoption and took up with John Bobby Dykins. The Lennons never divorced and Julia became Bobby's common law wife, having two daughters with him. Meanwhile, Alf tried to whisk off five year old John to New Zealand but Julia and Bobby followed them to Blackpool.  The Lennons fought over their little boy and Alf asked his son to choose between his father and mother. Conflicted John chose his father twice, but also started crying when his mother walked away and started to follow her. Imagine the little boy's anguish!
According to Mark Lewisohn, one of the world's leading authorities on the Beatles, who has penned many books on the band, Alf decided to leave John with Julia and took himself off. Father and son were not to meet again for 20 years. But it was Aunty Mimi and Uncle George who took John in when Julia handed him over to them after only a few weeks. The poor little boy ended up blaming himself saying later, "My mother … couldn't cope with me."
The strict childless couple was kind to John, and Mimi was determined to give him a "proper upbringing." John attended Dovedale Primary School and then Quarry Bank High School (renamed Calderstones School) and was described by his cousin Leila Harvey as a "happy-go-lucky, good-humoured, easy going, lively lad." His aunt would buy him books of short stories, while his uncle got him a mouth organ and solved crossword puzzles with him. Both instilled the love of words and storytelling in him, which would later help him in his songwriting. Herself musical, Julia taught her son to play the banjo, ukulele and piano accordion. Because Mimi didn't allow records in her house, so 11 year old John would go over to his mother's house where they would listen to Elvis Presley records together. Naturally creative and with a sense of humour, he also drew cartoons for his magazine The Daily Howl. However, his school reports stated bleakly: "Certainly on the road to failure … hopeless … rather a clown in class … wasting other pupils' time."
Insecure, being a child of a broken home, John would become violently jealousy, slapping, hitting and pushing Cynthia around
At 15, John got into skiffle music (a genre combing jazz, blues and folk music linking it to American popular music). After being pestered by son, Julia bought him his first guitar, an inexpensive Gallotone Champion acoustic on the condition that he keep it in her house, knowing well that her sister would disapprove. When John bragged that he would one day become a famous musician, Aunt Mimi would reply: "The guitar's all very well, John, but you'll never make a living out of it."
The determined teenager formed his own skiffle band called the Quarrymen, named after his high school. By the summer of 1957, the Quarrymen were playing gigs singing "a spirited set of songs" made up of half skiffle and half rock and roll." John met Paul McCartney at the Quarrymen's second performance at a Church garden fête and asked the younger lad to join the band.
Tragedy struck the following year when Julia was killed when a car hit her while she was walking home after visiting John. Devastated by the loss of his mother, John failed all his O-level examinations.
Looking back in 1980 John observed about his family life and his rebelliousness: "Part of me would like to be accepted by all facets of society and not be this loudmouthed lunatic poet/musician. But I cannot be what I am not … I was the one who all the other boys' parents—including Paul's father—would say, 'Keep away from him'… The parents instinctively recognised I was a troublemaker, meaning I did not conform and I would influence their children, which I did. I did my best to disrupt every friend's home … Partly out of envy that I didn't have this so-called home … but I did… There were five women that were my family. Five strong, intelligent, beautiful women, five sisters. One happened to be my mother. (She) just couldn't deal with life. She was the youngest and she had a husband who ran away to sea and the war was on and she couldn't cope with me, and I ended up living with her elder sister. Now those women were fantastic … And that was my first feminist education … I would infiltrate the other boys' minds. I could say, "Parents are not gods because I don't live with mine and, therefore, I know.'"
McCartney later said bemused that Aunt Mimi "was very aware that John's friends were lower class", and would patronise him when he visited John at home. According to Paul's brother Mike, their father was also disapproving, predicting that John would get his son "into trouble," although he later allowed the fledgling band to rehearse in the McCartney family home. During this time, 18-year-old Lennon wrote his first song, Hello Little Girl that was to become UK top 10 hit five years later.
Meanwhile, his aunt's and headmaster's intervention stating his case led` to his acceptance to the Liverpool College of Art. He joined the popular youth culture of the 50s, wearing Teddy Boy clothes (tight trousers, long jackets, fancy waistcoats and suede loafers) partly inspired by the styles worn by dandies in the Edwardian period, and became a disruptive influence in the class, often ridiculing teachers. After a college party to celebrate the end of a term, John asked "Cyn" as he called her to "go out" with him. She replied that she was already engaged. Nonplussed, he deadpanned, "I didn't ask you to marry me, did I?" They went to Ye Cracke pub for their first date.
Insecure, being a child of a broken home, John would become violently jealousy, slapping, hitting and pushing her around. They would break up then get back together. John said later, "I was in sort of a blind rage for two years. I was either drunk or fighting. It had been the same with other girlfriends I'd had. There was something the matter with me."
John's friend Tony Bramwell recalled, "Cynthia was beautiful, physically, and on the inside. Although she knew he was apt to find love on the road, she was totally dedicated to his success… and extremely influential. He was insecure and Cynthia was there to pump him up and to buttress, his weak side."
With His Son Julian, 1963McCartney recommended that his friend 14 year old George Harrison  become the lead guitarist with his audition taking place rock 'n roll style on the upper deck of a Liverpool bus. Though Lennon thought Harrison was way too young, he was impressed enough with his guitar playing skills to induct him into the group. Stuart Sutcliffe, Lennon's friend from art school, joined as bassist. The four became The Beatles in early 1960 and by August they were engaged for a 48-night residency in Hamburg, Germany. Quickly taking on Pete Best as drummer, the band left for Germany much to conservative Aunt Mimi's horror.
The Beatles ended up accepting three Hamburg residencies over the next couple of years. To keep up their energy during their long, overnight performances playing at clubs, the group started taking the amphetamine Preludin. Meanwhile, Cyn also failed to get her diploma; she rented Lennon's old room in the Smith house, supported herself by working at a Woolworths store and waited patiently for her boyfriend's return from Germany. Lennon loved writing many passionate letters to her and on one trip home brought her a suede coat. Aunt Mimi threw a hand-mirror at him for spending so much money on that "gangster's moll," perhaps disappointed that her adopted son didn't bring the expensive gift for her.
The band returned to England minus Sutcliffe who decided to stay behind in Germany to study and live with his fiancée. He was replaced by McCartney on bass and Best was replaced by Ringo Starr on the drums. This was the Beatles lineup we know and love.
In a 1987 interview, McCartney said that the other Beatles idolised John: "He was like our own little Elvis … We all looked up to John. He was older and he was very much the leader; he was the quickest wit and the smartest."
The upcoming band's fortunes changed when one day in end '61, local record store owner and music columnist, Brian Epstein caught their lunch time performance at The Cavern Club, an underground jazz and rock 'n roll nightclub in Liverpool.  Epstein said, "I immediately liked what I heard. They were fresh, and they were honest, and they had what I thought was a sort of presence … a star quality." However, he felt, "They were a scruffy crowd in leather and jeans, and they were not very tidy and not very clean. They smoked as they played and they ate and talked and pretended to hit each other."
Yoko Ono belonged to a noble Japanese family, one of the wealthiest in the country. She was class mates with  Prince Akihito, the future Emperor of Japan. But they lost their fortune and begged for food after the Tokyo bombings
Though Epstein had no prior experience of artist management, he had a vision for the band. The Beatles in their turn were impressed that Epstein had the inherent Jewish business savvy, wore expensive suits, and owned a large car. They soon sign with him as their manager though McCartney, Harrison, and Best all under 21, needed the signed consent of their parents first. Epstein had them clean up their act by putting on sharp suits and ties, insisted that they stop swearing, smoking, drinking, or eating on stage, and had them bow at the end of their performances.
Epstein described the process of their style evolution, "I encouraged them, at first, to get out of the leather jackets and jeans, and I wouldn't allow them to appear in jeans after a short time, and then, after that step, I got them to wear sweaters on stage, and then, very reluctantly, eventually, suits." Epstein found a suit design he thought would work on the young band mates, "I thought it was an excellent design at the time."
McCartney was the first to agree with Epstein's suggestions thinking that they reflected his RADA (Royal Academy of Dramatic Art) training and believing that the changes made the group look more professional. He said, "We all went quite happily over the water to Wirral, to Beno Dorn, a little tailor who made mohair suits. That started to change the image."
Lennon initially resisted wearing suits and ties, but then gave in saying, "I'll wear a suit; I'll wear a bloody balloon if somebody's going to pay me."
Master Dorn was awarded two Provincial Shields, awarded for excellence in the art of tailoring, due to his fine work for the Beatles. His sharp tailoring became a part of their image.
Cyn told John she was pregnant. "There's only one thing for it Cyn, we'll have to get married," he replied prosaically. He was 21, she was 22. The Lennons were married in the summer of '62 at a Marriage Registery office with McCartney and Harrison in attendance. Epstein was the best man and none of the  parents were invited. It was a simple ceremony and very hush hush with no photographs or flowers as Epstein wanted Lennon to appear to be single for the benefit of his growing legion of female fans. The wedding was celebrated afterwards in the same restaurant where John's parents had celebrated their marriage in 1938—thoughtful Epstein had taken care of it all.  The newlyweds had no honeymoon, as Lennon had to play a gig the same night. During her pregnancy, Epstein lent his flat for the couple to live in. On one occasion, when news of the wedding leaked out, the group denied it pointblank. Cynthia was content to keep a low profile, and let her husband bask in the spotlight, loath to endanger his fledgling career.
The band's first single, Love Me Do was released at this time. Their debut album Please Please Me, was recorded in less than 10 hours. Lennon recalled how effortless it was, "We were just writing songs … pop songs with no more thought of them than that—to create a sound. And the words were almost irrelevant." By early next year, Beatlemania had started with the band's mainstream success in the U.K. They were the boy band pop sensation not only of their time but of all time.
Lennon was on tour when his first son, John Charles Julian Lennon, was born. The baby boy had been named after John's deceased mother Julia.  John did not see his son until three days later, remarking, "He's bloody marvelous, Cyn! … Who's gonna be a famous rocker like his Dad then?"
Yoko was briefly admitted to a Japanese mental institution after her first marriage collapsed. She was suffering from acute depression
Now comes a twist, according to biographer Philip Norman, the homosexual Epstein was physically attracted to Lennon from the beginning. Right after Julian was born, Lennon inexplicably left for a long weekend holiday to Barcelona alone with Epstein. It led to speculation about their relationship. Lennon admitted, "Well, it was almost a love affair, but not quite. It was never consummated. But it was a pretty intense relationship. It was my first experience with a homosexual that I was conscious was homosexual. We used to sit in a café in Torremolinos looking at all the boys and I'd say, 'Do you like that one? Do you like this one?' I was rather enjoying the experience, thinking like a writer all the time: I am experiencing this." But his old anger, insecurity and violent streak returned when at McCartney's twenty-first birthday party in '63, Lennon physically attacked Cavern Club Master of ceremonies Bob Wooler for asking slyly "How was your honeymoon, John?"
"He called me a queer so I battered his bloody ribs in," Lennon justified.
At the end of '63, the Beatles were invited to the Prince of Wales Theatre in London for the Royal Command Performance in the presence of the Queen Mother, Princess Margaret and Lord Snowdon. (Queen Elizabeth was heavily pregnant with her youngest Prince Edward at the time.) Reporters looking for a story goaded the band mates that they had sold out their young fans by choosing to play at such an "establishment" event. They even asked cheekily if they would lose their Liverpool accents that evening. "No, we don't all speak like BBC," McCartney volleyed back. The Beatles were greeted by countless screaming fans, while the royals were greeted decorously and the other celebrities were virtually ignored.
Lennon recalled his feelings, "I was fantastically nervous but I wanted to say something to rebel a bit." So he deadpanned, "For our next song, I'd like to ask for your help. For the people in the cheaper seats, clap your hands … and the rest of you, if you'll just rattle your jewellery. We'd like to sing a song called Twist And Shout.
Touché! Lennon with his wit managed to mollify his young, working class fans by poking fun at the royals and aristocrats in the audience who took it in the light vein it was intended. The next day the newspapers were plastered with this headline.
The Beatles' appearance was a triumph. But they declined all subsequent invitations to reappear on the show. Lennon explained why in his 1970 Anthology: "We managed to refuse all sorts of things that people don't know about. We did the Royal Variety Show, and we were asked discreetly to do it every year after that, but we always said, 'Stuff it.' So every year there was a story in the newspapers: 'Why no Beatles for the Queen?' which was pretty funny, because they didn't know we'd refused. That show's a bad gig, anyway. Everybody's very nervous and uptight and nobody performs well."
The "lost

weekend"
Their next triumph came across the pond. After a year of Beatlemania in the UK, the group made their  US debut appearance on The Ed Sullivan Show in '64.  The band's mega stardom reached the stratosphere. For the next two years, the Beatles incessantly toured, made movies and wrote songs for their upcoming albums. Lennon also managed to write two books: In His Own Write and A Spaniard in the Works that had his cartoons in it. In '65 The Beatles were appointed Members of the Order of the British Empire (MBE) in the 1965 Queen's Birthday Honours for their achievements and for being ambassadors for British culture.
The same year they were honoured, they were also introduced to LSD. A dentist hosting a dinner party attended by Lennon and Harrison accompanied by their wives secretly spiked the guests' coffee with the drug. When they wanted to leave, their host confessed to what he had done and told them they'd better stay put till the effect wore off. Later that night, in an elevator at a nightclub, they all believed it was on fire: "We were all screaming … hot and hysterical," Lennon recalled. This was the beginning of their LSD addiction. Lennon spent 1967 almost constantly under its influence.  As his dependence on the drug increased, he drifted further and further away from Cynthia.
One incident that occurred at this time during an interview with Evening Standard reporter Maureen Cleave was to seal his fate. Lennon told her offhand, "Christianity will go. It will vanish and shrink … We're more popular than Jesus now—I don't know which will go first, rock and roll or Christianity." Their Brit fans didn't bat an eyelid at the comment, but Americans in the super conservative Bible Belt and Deep South are a different breed.  Pandemonium broke out over there with the Ku Klux Klan organising mass burning of Beatles records, and posting death threats against Lennon. Things got so bad that for a while, the Beatles suspended all Stateside tour plans.
Lennon had resumed songwriting prior to his assassination
With his cutting wit, Lennon regularly mocked Epstein calling him a "Queer Jew!" When he heard that Epstein was naming his autobiography, A Cellarful of Noise, Lennon cracked, "More like A Cellarful of Boys." During the recording of "Baby, You're a Rich Man (1967), he sang "Baby, you're a rich fag Jew" just to upset Epstein. None of the other Beatles were as aggressive against their manager who had succeeded in bringing them the promised riches. Was Lennon homophobic perhaps? But then why did he go away on holiday alone with Epstein?
One day, John Lennon met the Japanese-American conceptual artist Yoko Ono, seven years his senior.
Yoko (Ocean Child) was born in Tokyo to wealthy banker Isoko and Eisuke, formerly a classical pianist. Eisuke came from a long line of samurai warrior-scholars and was the daughter of Yasuda Zenjiro who owned the country's largest financial conglomerate in Japan till it was dissolved at the end of World War II. Belonging to such an upper class family, Yoko was enrolled at Tokyo's elite Gakushuin (Peers School) founded in 1847 by Emperor Nink? in Kyoto to educate the children of the Imperial nobility and led a blessed life.
Ono was controlling and interfering, and caused friction between the band mates
But following the devastating Tokyo bombings that brought Japan to its knees, even the rich couldn't stave off starvation. The Ono family too scrounged for food while pushing a wheelchair laden with what was left of their worldly belongings. Ono said this period in her life gave her her "aggressive" attitude.   Her mother managed to bring some of their possessions with them to the countryside,where they were bartered for food, for example Eisuke wisely traded her German-made sewing machine for 60 kilograms of rice with which to feed the family. Isoko had been in Hanoi all this time and was now believed to be a prisoner of war in China. Yoko said in an interview, "He was in French Indochina, which is Vietnam actually…. in Saigon. He was in a concentration camp."
By April 1946, conditions in the country started slowly improving. The family moved back to Tokyo. Yoko's school Gakushuin located near the Tokyo Imperial Palace had miraculously remained unscathed and had reopened and she re-enrolled there. Ono became the classmate of Prince Akihito, the future Emperor of Japan, and they graduated in 1951. Yoko was the first woman to enroll into the philosophy program of Gakushuin University but she didn't graduate from there as she joined her family in the U.S.
Lennon, a hand-on dad, was on his way home from the recording studio when he was shot
After the war ended in 1945, Ono's family had immigrated to the U.S.  and settled in the affluent town of Scarsdale, New York, half an hour from the City. Ono transferred to Sarah Lawrence College to be with her parents, but she had been living away from them for nine years and had become independent of thought and lifestyle. Ono liked the Bohemian life, meeting artists, poets, and other freethinkers, much to her parent's shock and disapproval. Inspired by visits to art galleries and seeing avant garde artistes put up installations and do performance art, she dropped out of college, set up a performance art studio in Tribeca, NYC and eloped with Japanese avant garde composer Toshi Ichiyanagi in 1956.  The same age as her, Toshi was the experimental fusion music star in Japan, combing Western instruments with those of his country.  But the marriage was a mistake and, after living apart for several years, they filed for divorce in 1962.
Suffering from acute depression, Ono returned home to live with her parents and was briefly admitted to a mental institution in Japan. Upon her return Stateside, the impulsive young woman married Anthony Cox, an American jazz musician, film producer, and art promoter and they had a daughter Kyoko Chan Cox. Yoko left their daughter in Anthony's full time care while she pursued her art career single-mindedly. Not surprisingly, the marriage disintegrated but the couple stayed together for the sake of their joint careers as conceptual artists, while Cox also managed Yoko's publicity.
To cut a long story short, according to Lennon and Ono, in 1966, he went to the Indica Gallery in London, where she was putting up her conceptual art exhibit. They were introduced by gallery owner John Dunbar. Ono's Hammer A Nail exhibit called from viewers to hammer a nail into a wooden board.  The exhibition had not yet begun, but Lennon wanted to hammer a nail in. When Ono stopped him, Dunbar said to her in disbelief, "Don't you know who this is? He's a millionaire! He might buy it." Ono had supposedly not heard of the Beatles, but said he could if he paid her five shillings. Lennon replied, "I'll give you an imaginary five shillings and hammer an imaginary nail in."
Chapman was a born-again Christian who believed Lennon had committed blasphemy
According to McCartney, the year before Ono had been in London compiling original musical scores for John Cage's book Notations. She asked McCartney first to give her his own manuscripts for the book but he declined and suggesting that Lennon might oblige. When she approached him, he readily gave her the original handwritten lyrics to "The Word."
Perhaps as the first made a better story as well as promoted Ono's art, the couple agreed to put out their own version of their first meeting to make better copy.
In a 2002 interview, Ono admitted, "I was very attracted to him. It was a really strange situation."
In '66, the Beatles lost their manager Norman Epstein to a lethal combination of sleeping pills and alcohol.  He died in his bed wearing his pajamas and was discovered by his butler. The rock 'n roll lifestyle had caught up with him. The Beatles were meditating with the Indian guru, Maharishi Mahesh Yogi in the countryside, in Bagnor, Berkshire. Things would never be the same for the band again. Epstein had seemingly effortlessly managed to turn the promising band into one of the biggest acts of the day and left them free to focus on their creative output while he dealt with the business end. He also advised them in their personal lives and provided the balance for their ego-driven rock star personalities. The band mates had no idea how quickly they would drift apart without him.
Meanwhile, Ono was aggressively pursuing her wealthy and world famous would be patron—Lennon. She sent him a slew of letters asking Lennon to sponsor her art show. He too enjoyed corresponding, earlier writing long letters to Cynthia. She even started calling his house. Suspicious, Cyn asked her husband for an explanation but he dismissed it saying she was an artist asking money for her "avant-garde bullshit." In '67, Ono convinced him to sponsor her solo show at Lisson Gallery in London.  Till the spring of 1968, the two remained platonic. When the Beatles made their meditation ashram trip to India, Lennon wrote the song Julia that had the lyrics, "Ocean child calls me."
While his wife was on holiday in Greece that summer, Lennon invited Ono over to his Kenwood home one night to record the Two Virgins album after which he said, they "made love at dawn." When Lennon's wife returned home she found Ono wearing her bathrobe and drinking tea with Lennon. He looked nonchalantly at Cyn and said, "Oh, hi." Cynthia walked out of the house to stay with friends. To exact revenge and to apply salve on her bruised ego, Cynthia slept with Alexis Mardas, the Greek electronics engineer who worked with the band.
When Lennon found out, he asked for a divorce on the grounds that she had committed adultery, a clear case of the pot calling the kettle black. He also wanted custody of Julian, even though he didn't feel especially close to him. Ono had become pregnant and he wanted to be with her. After negotiations, Lennon capitulated and agreed to let Julia divorce him on the same grounds. The case was settled out of court by the end of the year soon after Ono suffered a miscarriage losing her male baby. Lennon was directed by the judge to give Cynthia a lump sum of £100,000, a small annual payment and custody of Julian.
Lennon said that at the time of Julian's birth, which was unplanned, he was very young and focused on his career. He was never actively involved in bringing up Julian who felt closer to McCartney than to his own father. On a car journey to visit Cynthia and Julian during Lennon's divorce, McCartney composed the song, Hey Jules, to comfort him that became the Beatles song Hey Jude. Lennon commented, "That's his (McCartney's) best song. It started off as a song about my son Julian … he turned it into Hey Jude." Lennon too wrote the songs, Lucy in the Sky with Diamonds and Good Night for Julian so he did have feelings for his son.
Without Epstein to keep them together, the band mates started pursuing interests independently of each other. Lennon appeared in the anti-war, black comedy How I Won the War (1967). McCartney took it upon himself to give the band mates a point of focus while coming to terms with Epstein's untimely death so he made himself in charge of their television special, Magical Mystery Tour . The Beatles immersed themselves in making this psychedelic TV film, which did better with American rather than British audiences.
With Epstein no longer around to take care of the business end, the band members took it upon themselves to handle their financial matters.  With that in mind in '68 they formed Apple Corps, a multimedia corporation. Lennon described it as "artistic freedom within a business structure." But they were inexperienced in business matters and the company was soon plagued by problems and sorely in need of professional management. A young receptionist at the company May Pang became Lennon and Ono's personal assistant.
Lennon spent more and more time with Ono and less with the other Beatles. Knowing that their wedding in 1969 would become a huge global press event, John and Yoko decided to use the publicity to promote world peace. A week long bed-in served as their honeymoon. The couple essentially remained in bed wearing their pajamas and invited the press to the Presidential Suite (Room 702) at the Amsterdam Hilton Hotel every day between 9 a.m. and 9 p.m.  Signs reading "Hair Peace" and "Bed Peace" were pasted above their headboard. The novel event garnered headlines the world over and they repeated their bed-in in Montreal. John stated to the press, "It's part of our policy not to be taken seriously. Our opposition, whoever they may be, in all manifest forms, doesn't know how to handle humour. You know, and we are humorous, we are, what are they, Laurel and Hardy. That's John and Yoko, and we stand a better chance under that guise, because all the serious people, like Martin Luther King, and Kennedy, and Gandhi, got shot." How prophetic!
But what the world did not find humorous was the breakup of the Beatles, for which they blamed Ono. She maintained that the Beatles broke up themselves without any direct involvement from her and said, "I don't think I could have tried even to break them up."
When the group recorded Sgt. Pepper's Lonely Hearts Club Band in '66, there was still a fraternal spirit between them and they wanted to collaborate together as musicians. It was after that trouble started. The break-up of the Beatles was a not due to a single event or factor but a cumulative process throughout the period 1968 to 1970.
Some of the factors leading to the breakup were the cessation of touring in 1966, the death of Epstein and differences in artistic vision with each of the member pursuing his own musical tastes. McCartney was more into pop, Harrison was interested in Indian music, and Lennon's compositions became more introspective and experiential. To make matters worse, unlike the other wives, Yoko did not leave John's side for a minute, they were always together even when he was working with the rest of the band in the studio. The band mates had made a tacit agreement not to let the women in their lives into their inner sanctum, their studio. Not only that, but Lennon insisted that she should also have a say and input into the band's recordings. She would make her opinion known without being asked. Harrison especially found her presence and interference increasingly irritating. After all they had achieved their massive success without her help. Harrison was evolving fast as an artist and wanted more space to write songs and sing lead vocals, but Lennon and McCartney dominated the band.
Disregarding the friction she was causing, Ono became so controlling that when she and Lennon were injured in a car accident in the summer of '69, partway through recording Abbey Road, and she was laid up in bed, she had a microphone installed in the studio so she could make artistic comments about the album during their recordings.
Journalist Barry Miles wrote that Ono's continual presence in the studio put a considerable strain on Lennon's relationship with the other band members. Harrison was so fed up that when she took one of his chocolate digestive biscuits without asking that he exploded and told her off in a rage. As all these stories leaked to the press, she was called "the woman who broke up the Beatles" and became extremely unpopular with fans.
Ono influenced Lennon to produce more "autobiographical" output and, after recording Beatles single, The Ballad of John and Yoko they formed their own band, the Plastic Ono Band. They came out with their first album Live Peace in Toronto 1969, which was recorded during the Toronto Rock and Roll Revival festival and for which guitarist Eric Clapton, bass player Klaus Voormann, and drummer Alan White collaborated with them. After the rock first half, Ono performed an avant-garde set screaming on the microphone. Lennon's heroin use inspired him to record the song Cold Turkey with the Plastic Ono Band. The Beatles had rejected the song for release as a single even though all the band mates had their own personal drug issues.
His fans greeting his independent musical output with ready enthusiasm greatly cemented Lennon's decision to quit the Beatles in '69 on the flight back to London from Toronto after playing at the Rock and Roll Festival. Back in England, at the next band meeting at Apple, he informed McCartney and Starr of his decision (Harrison was not present at the meeting). He said he wanted a "divorce." But that day the band also signed a lucrative renegotiated recording contract with Capitol Records, guaranteeing them a higher royalty rate, so Lennon was asked to keep his decision private until the release of the Beatles' Let It Be album and film the following year. Since it was a mutually beneficial contract that they had negotiated together, and the band mates still trusted each other, they kept this crucial information to themselves.
By 1970, knowing which way the wind was blowing, all four band members had begun working on solo projects. At the end of the year, McCartney filed a lawsuit against the other three Beatles Let It Be album and film the following year. Since it was a mutually beneficial contract that they had negotiated together, and the band mates still trusted each other, they kept this crucial information to themselves.
By 1970, knowing which way the wind was blowing, all four band members had begun working on solo projects. At the end of the year, McCartney filed a lawsuit against the other three Beatles in London's High Court for dissolution of the Beatles' contractual partnership. The legal process and negotiations were so lengthy and complicated that it took five years for formal dissolution of the partnership to finalise.
Rock stars have groupies throwing themselves at them daily. There is so much temptation and opportunity to stray. Every couple faces eventual boredom in the bedroom no matter how strong their marriage may be. Being intelligent, Ono was faced with a choice, either she orchestrate a set up and give her blessing to Lennon straying or worse he would end up doing to her what he did to his first wife.  In mid '73, Ono confided her dilemma to their personal assistant May Pang who had been working for them for three years by now. The 22 year old Chinese-American assistant was neither glamorous nor come from a lofty background.  Best of all, Ono felt she could control her and the situation. She told May, "He likes you a lot" and gave her blessing for them to start a physical relationship.
Despite her reservations about how the sexual relationship would pan out, May Pang started sleeping with Lennon and the two moved to L.A. There he started working on an album with record producer Phil Spector, a frequent collaborator with the Beatles. Their drunken recording sessions became legendary and it is said that every musician in L.A. was desperate for an invite to join in their jam sessions. Lennon soon became out of control and later called this 18 month period his "Lost Weekend." Pang was just too young and inexperienced to be able to control Lennon who was in his early thirties. Ono had been more of an older mother figure who could stabilize him. Not knowing what to do, after a series of calamitous incidents where he publicly behaved self-destructively , Pang encouraged Lennon to reach out to old band mates, friends and even develop regular contact with Julian, whom he had not seen for two years. Ono had always discouraged his contact with his son since she felt threatened by it. Starr, McCartney, Beatles roadie Mal Evans, and American musician Harry Nilsson all came and spent time with Lennon under his roof in L.A. and things improved for Lennon.
Julian began to see his father more regularly. Christmas of '73, Lennon bought Julian a Gibson Les Paul guitar and a drum machine, and he himself taught his son some chords. "Dad and I got on a great deal better then. We had a lot of fun, laughed a lot and had a great time in general when he was with May Pang. My memories of that time with Dad and May are very clear—they were the happiest time I can remember with them," recalled Julian wistfully.
But Lennon's old violence also resurfaced at this time and one night after a heavy night of drinking he tried to throttle Pang. So summer of '74, a sober Lennon and Pang returned to live in NYC so he could  concentrate on recording and adopted two cats which they named Major and Minor. They also had a spare room for Julian when he visited. Lennon was rewarded for his good behavior with the success of his album Walls and Bridges topping  the album charts, and his solo single "Whatever Gets You Thru the Night" becoming the number-one US single, the only one in his lifetime.
While visiting Mick Jagger at Andy Warhol's compound in Montauk, New York, in early '75, Lennon and Pang saw a Scottish-style cottage they really liked and Lennon told a real estate broker to put in an offer for it. This was too much for Ono. She was still his wife and had no intention of letting him go so easily. Her understanding with Pang didn't include buying a house together as a couple that meant a commitment.
Ono started her old formula of calling Lennon nonstop. If it worked once, she figured, it would work again. He refused to take her calls as he knew what she was after.  She had also sent him a message via McCartney. Lennon and Pang were planning to visit Paul and Linda McCartney in New Orleans that February where they were recording their Venus and Mars album, but the day before Ono finally reeled Lennon in saying she had a miraculous cure for his smoking habit. After their meeting, Lennon neither returned home nor called Pang. When Pang telephoned the next day, Ono told her that Lennon was unavailable. The married couple's separation was over, although Ono would allow him to continue seeing Pang as his mistress to give him the illusion of choice.
Privately Lennon kept quiet to maintain peace at home but publicly he was generous enough to give Pang respect telling biographer Larry Kane, "You know Larry, I may have been the happiest I've ever been… I loved this woman (Pang), I made some beautiful music and I got so fucked up with booze and shit and whatever."
Ono knew she had to cement her relationship with a child. She had suffered three miscarriages already in her attempt to have a child with Lennon. When the couple reunited, she became pregnant for the fourth time. Not being the mothering sort, she told Lennon that unless he was willing to be a househusband and take care of the baby like her previous husband had done she would abort. He agreed readily. Sean Taro Ono Lennon was born on Lennon's 35th birthday and was a heaven sent gift for him. Elton John stood in as the baby's godfather. True to his word, Lennon took five years off from the music industry to take care of his second son.
Lennon was a dedicated, hands on dad. He declared proudly, "He (Sean) didn't come out of my belly but, by God, I made his bones, because I've attended to every meal, and to how he sleeps, and to the fact that he swims like a fish." He even hired a photographer take pictures of Sean every day of his first year and himself made drawings for him, who were posthumously published as Real Love: The Drawings for Sean.
All this devotion to his second son did not help relations with his first son. In a Playboy interview shortly before his death, Lennon said honestly, "I'm not going to lie to Julian. Ninety percent of the people on this planet, especially in the West, were born out of a bottle of whiskey on a Saturday night, and there was no intent to have children. So 90 percent of us… that includes everybody… were accidents. I don't know anybody who was a planned child. All of us were Saturday-night specials. Julian is in the majority, along with me and everybody else. Sean is a planned child, and therein lies the difference. I don't love Julian any less as a child. He's still my son, whether he came from a bottle of whiskey or because they didn't have pills in those days. He's here, he belongs to me and he always will." Lennon added he was trying to re-establish a connection with then 17-year-old Julian saying "Julian and I will have a relationship in the future."
Surprise, surprise, after his death it was revealed that he had left Julian very little in his will. His entire estate after taxes was left to Ono, and Sean will inherit the £220 million fortune after her death as per Lennon's will.
Even now, the two brothers are not close, though they are cordial. Julian said that he doesn't feel resentment towards his younger half-brother, "I love Sean to death. He's a very smart kid. But I do think there are things done without his knowledge. Someone in the camp could be manipulating events," referring to Ono's manipulative influence in an interview.
It wasn't till shortly before his December 1980 murder that Lennon resumed his musical career. There was always a healthy competitiveness between Lennon and McCartney who had both dominated the Beatles with their songwriting and vocal talents.  As long as McCartney was producing what Lennon considered mediocre material, Lennon was relaxed enough to enjoy his musical hiatus, the minute McCartney released Coming Up in 1980, Lennon sat up and took notice.  "It's driving me crackers!" He remarked that he couldn't get the tune out of his head and so competitively Lennon started writing songs again.
Remember the offhand remark that Lennon had made thoughtlessly how the Beatles were "more popular than Jesus" way back in 1966? Well, there was a deranged Beatles fan from Texas named Mark David Chapman who had gotten obsessed with it. A big Beatles fan, he had idolized Lennon and himself played the guitar trying to be like Lennon. But after he became a born-again Christian, he turned against his idol. Jan Reeves, the sister of Chapman's best friend Mark, said he "seemed really angry toward John Lennon and he kept saying he could not understand why John Lennon had said it (that the Beatles were more popular than Jesus). There should be nobody more popular than the Lord Jesus Christ. He said it was blasphemy." When members of his prayer group made a joke in reference to Lennon's song Imagine chanting  "Imagine, imagine if John Lennon were dead," the idea of the assassination was born, Chapman's childhood friend Miles McManushe told interviewers after the event.
Chapman had also been influenced by reading John Lennon: One Day at a Time by Anthony Fawcett detailing Lennon's rock 'n roll lifestyle in NYC. Chapman's wife Gloria stated, "He was angry that Lennon would preach love and peace but yet have millions of dollars." She quoted him saying, ""I would listen to this music and I would get angry at him, for saying that he didn't believe in God… and that he didn't believe in the Beatles….He told us to imagine no possessions and there he was, with millions of dollars and yachts and farms and country estates, laughing at people like me who had believed the lies and bought the records and built a big part of their lives around his music. I just wanted to scream out loud, 'Who does he think he is, saying these things about God and heaven and the Beatles?'"
So three months prior to the murder, Chapman started planning to kill Lennon.  He admitted he had a whole hit list of people in mind, including David Bowie, Johnny Carson, Marlon Brando, Walter Cronkite, Elizabeth Taylor, George C. Scott and Jacqueline Kennedy Onassis, but John Lennon was the easiest to find. He was also particularly infatuated by Lennon.
Ono recalled the events of the fateful evening of December 8, 1980 with precision. The couple was thinking about going out for dinner after spending several hours in a recording studio, but decided to return to their apartment first so Lennon could see Sean before he went to bed. Right at the entrance of their Dakota apartment building, Chapman was waiting for them. He fired five times at Lennon at close range, hitting him four times in the back. Lennon died on the spot in Ono's arms. Chapman calmly sat down to read The Catcher in the Rye until the police arrived and arrested him. He kept repeating to them that the novel was his statement.
Chapman's legal team wanted to plead not guilty due to insanity in Chapman's defense. Not only had he killed Lennon who was such vocal proponent of peace and brotherly love, but he had shot him in the back, a cowardly act, and then had waited calmly to be arrested. He had to be insane. His lawyers had expert testimony that he was a paranoid schizophrenic who believed the devil made him kill Lennon. But Chapman insisted that he wanted to plead guilty because he was carrying out the will of God, and denied hearing voices prompting the act; he also said God had visited him in his jail cell and told him to confess. Justice Dennis Edwards allowed the plea change without further psychiatric assessment. Dr. Daniel Schwartz, director of forensic psychiatric services at Kings County Hospital, told the judge in court that he said Chapman actually became John Lennon in his own mind, and decided to destroy the real John Lennon because Lennon was "evil" and "a phony."
Chapman was sentenced to a prison term of 20-years-to life with psychiatric treatment during his incarceration; he has been imprisoned ever since, having been denied parole nine times since he became eligible in 2000. Each time there is a parole hearing, mandated by law to be every two years, Ono is there in person to lead the campaign against his parole.
Following the murder, a distraught Ono went into complete seclusion for an extended period.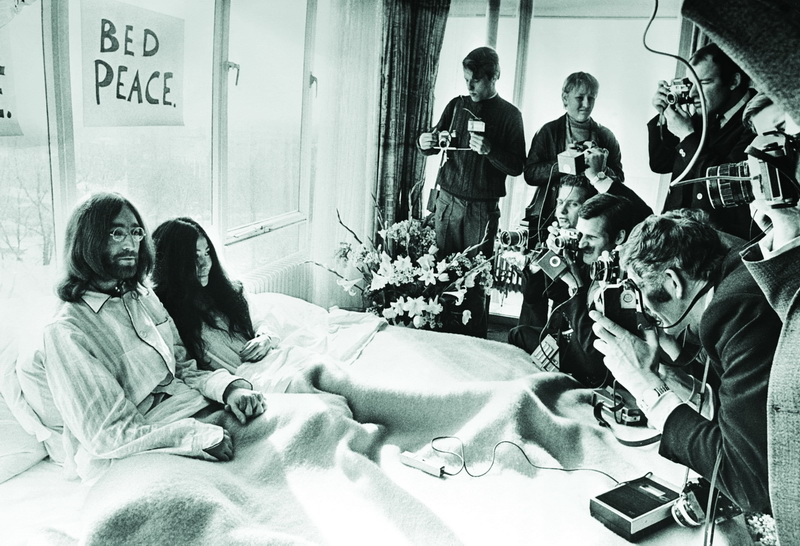 In the coming years she continued to honour Lennon's memory. She funded the construction and maintenance of the Strawberry Fields memorial in remembrance of Lennon in Manhattan's Central Park, directly across from the Dakota Apartments, where she still lives to this day. The memorial was officially opened on Lennon's 45th birth anniversary. In 1990, Ono collaborated with music consultant Jeff Pollack to honor Lennon's 50th birth anniversary with 1,000 stations in over 50 countries participating in the simultaneous broadcast of his '71 peace song Imagine. In 1997, Ono and the BMI Foundation established an annual music competition program for songwriters in honor of John Lennon's memory. In 2000, she founded the John Lennon Museum in Saitama, Japan. Ono was present as U.K. First Lady Cherie Blair's unveiling of a 7-foot statue of Lennon in 2002 to mark the renaming of Liverpool airport to Liverpool John Lennon Airport. (Incidentally, Julian and Cynthia Lennon were present at the unveiling of the John Lennon Peace Monument next to ACC Liverpool eight years later.) Ono dedicated a new memorial called the Imagine Peace Tower located on an island near the Reykjavík harbour, Iceland, in 2007 that projects a vertical beam of light high into the sky. And, in 2009, Ono created an exhibit called John Lennon: The New York City Years for the NYC Rock and Roll Hall of Fame Annex, using music, photographs, and personal items.
But toward Lennon's first born son Julian Ono remained intractable. Because he was completely left out of his own father's will in favour of his stepmother, Julian had no choice but to take the matter to court. After a legal battle that lasted for years, the matter was finally settled with Julian reportedly getting £20 million, which he denied.
Yoko One hasn't remarried.
Before his death, Lennon declared, "I still love those guys. The Beatles are over, but John, Paul, George and Ringo go on."
Imagine there's no heaven
It's easy if you try
No hell below us
Above us only sky
Imagine all the people living for today
Imagine there's no countries
It isn't hard to do
Nothing to kill or die for
And no religion too
Imagine all the people living life in peace, you
You may say I'm a dreamer
But I'm not the only one
I hope some day you'll join us
And the world will be as one
Imagine no possessions
I wonder if you can
No need for greed or hunger
A brotherhood of man
Imagine all the people sharing all the world, you
You may say I'm a dreamer
But I'm not the only one
I hope some day you'll join us
And the world will be as one