Ahmed Ali Butt may be showbiz royalty, but he's charted a career of his own that's made him a household name in his own right. From music to comedy to drama, he's done it all. This fortnight he speaks to Mehek Raza Rizvi about all this and more
How much did growing up around icons, such as your legendary grandmother, influence your decision to be in showbiz?
Creativity is as important to my family as water and air. As such, I grew up with show business all around and with studio life being a part of my upbringing. I've been blessed to be a part of a family that boasts legends like the Melody Queen Noor Jehan, to Shaukat Hussain Rizvi, one of the biggest producers and studio owners of the time. Even my own parents were creatives—my mother began singing later in life and my father was an actor. Growing up I realized it was something special, it's not something that happens in every household; I knew it was sacred. Eventually I learnt the craft, leaning on music and performing arts, and I knew it was a privilege to be part of such a history.
Have you ever felt that being typecast into comedy has its drawbacks?
I think being typecast for anything is bad. Comedy, drama, romance—being repetitive in anything is bad for your creative process and identity. It'll lose its charm. So yes, after the success of JPNA 1 and 2, I got approached repeatedly for the same ideas. I'm all for comedy, because it comes really naturally to me, but there has to be serious inspiration behind everything. There has to be flavour and room for creativity.
What was it like playing a serious role (in "Jhooti") after so long?
"Jhooti" was beautiful. When I got offered the role I jumped at the opportunity. You don't get to play a character made for you every day, especially in drama. I've always been a fan of Iqra Aziz, as she has amazing range. My character arc may have been short, but it was so out-of-the-box for me to play. For the first few episodes I had to manage my tempo a bit, because I was more accustomed to comedy. It was a thoroughly wonderful experience!
Being a public figure comes with immense responsibility towards your audience. How conscious are you of that fact while selecting scripts? 
My grandmother used to say, "Once you're on stage, you belong to the public." I think it's a tremendous responsibility and I believe what we artists perform, in our craft and in our work, it projects a certain image of the country and of the people on a surface level. I do take pride in the fact that my projects need to have a patriotic side and you know we live in a visual world—things said even five years ago can instantly catch up to you. I believe in family values and family-oriented themes. So yes, I do select scripts very consciously.
"Phatte Dinde Chakk Punjabi" marked your international debut on the big screen. Tell us about your experience.
It was something completely out of the blue. Hammad Chaudry and I had been wanting to work on a project for a while, and the right script came in the form of "Phatte Dinde Chakk Punjabi". I was given the chance to work with Gipi Garewal and Neeru Bajwa. The whole U.K. Punjabi scene is really thriving; our Sikh brothers appreciate and love our content. It's very humbling and I was amazed at their show of love and support. We had such an amazing time and it was fun to work with them as they work quickly and efficiently. The film, I believe, is funny as hell and hopefully, Pakistan will be a good market for the U.K.-Punjabi cinema content. I hope our government allows it in our cinemas.
What inspired your incredible weight-loss journey?
I used to struggle with my weight even in school, so the inspiration was always there. My main inspiration came from my son and my wife. I wanted to be a more hands-on dad. This wouldn't have been possible without Fatima. She was the ultimate support system for this whole journey. She executed my regimen and was the key that kept me in check. The journey is still going on; you need to contain the structure around you otherwise you lose sight of the goal you set out to achieve. I think I still have ten more kilos to lose, so fingers crossed I will see this through.
How do you stay motivated?
First of all, my faith and my religion. Allah has blessed me with so much positivity, despite so many ups and downs. There're always the unexpected things that can happen, but prayer always keeps me grounded. Secondly, the love and support of my family. As life goes on you realise you don't need a big circle, you don't need everyone's validation. You determine your own validation for success. Thankfully, you stop feeling the need to run after people and material gains. I surround myself with my own small circle of positivity and that's the key. Stay away from the toxicity that you don't need in life. Learn to say no. Learn to draw your own lines and define your own limits. And of course, learning from mistakes. I always keep the student mentality in mind—always learning, always grasping. My son Azaan teaches me such amazing things; I'm amazed at his purity and we at our age we forget the simplicity of life and its beauty. Fatima's spiritual journey has also always inspired me to do better.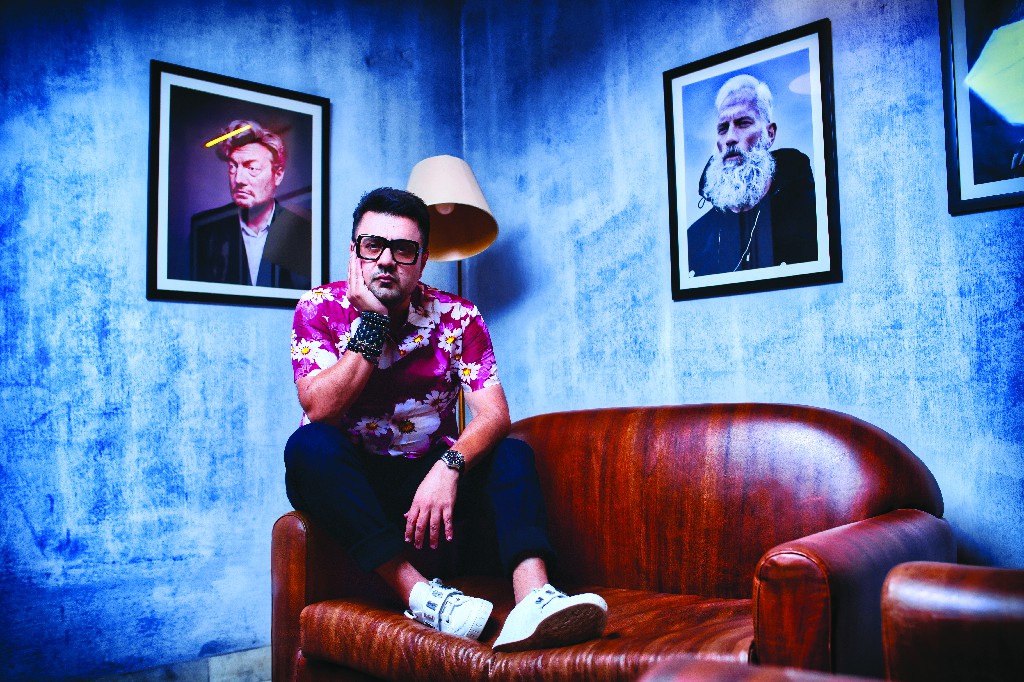 Looking back at your career, would you do anything differently? 
You can always find things that you could've done better. But if you dwell too much on that, it's unhealthy. Early on I used to feel bad about missing projects. But you learn with time that 'what will happen has already happened'. Christopher Nolan said that. What is in your fate will find you no matter what, and what isn't, won't. Simple. Failure is the best teacher regardless. Learn from your mistakes but keep moving forward and not look back too much.
Fans from your EP days still look forward to a comeback. Can we expect one?
Unfortunately, I don't think so; we're all comfortable in what we're doing right now. Musically I like to venture out anyway, as there're so many great people to work with. I'm working on a solo project too and am very excited to bring out new things really soon.
What is Ahmad Ali Butt like at home?
I think Fatima can answer this better, because she gets to see the real me. I'm a homebody who's totally in love with spending time with his family. Pre-pandemic we used to have movie nights and so I hope cinemas open soon. When I'm at home, I love cooking; in fact, I cook a lot. I'm rather the regular Joe when I'm at home and I'm overwhelmed with the blessings I've received in this life.
Concept & photos: Jay Samuel Studio
Wardrobe: IFFI
Hair & Makeup: N.Gents
Styling: Fatima Khan
Coordination: MINT PR