Saba Ahmed talks to director Amin Iqbal
Q) What memories do you have of your first directing experience?
A) Terrible ones. It seemed as if I had taken on a whole lot of enemies in the industry. I started out my career as a screenwriter and that is what I had wanted to do at the time. I have even written 14 odd serials that went on air and were huge productions. I did all kinds of screenwriting, for telefilms, documentaries, feature writing for newspapers and I did some for BBC as well. Then one day I woke up with the feeling that what I wrote did not come across the way I wanted it to. That is when I started to direct. The trouble was that when I did start directing, I was afraid that no other director would want me to write scripts for them and this threatened me and made me feel insecure from a financial point of view since writing was my bread and butter then.
Q) What have been your favorite serials so far of the ones that you have worked on?
A) Thakan featuring Saba Qamar was one serial I particularly enjoyed, it has aired on Zindagi in India and I have received tremendous feedback. Many people were impressed by the sets used, little did they know that the serial was not shot on set. Teri Rah main Rull Gai was also a big hit, the title song was fabulous and is one that is close to me. It was an innovator in terms of the shooting and production values used. Dil Fareb on GEO these days, I thoroughly enjoyed because the art direction it employs is quite different than usual. It has a fresh look using emerging, versatile actors, Omair Rana and Mira Sethi and then Alia Butt for whom this was a debut performance. We worked closely on the nuances of the acting — stress pauses and the like — and all this has resonated with audiences who have reported back that this serial definitely has a certain freshness to it. Another one, it didn't do well, Dil Muhalay Ki Haveli, but I loved the concept. The story was centered on food and how people in our society are fanatical about food. The kind of atmosphere and psychosis this fanaticism about food creates within a household is what this serial was about.
Apart from this, Agar Ho Sakay To is currently on air. There's one particular scene which I told my wife makes me want to cry and when watching it with her the other day, I actually did start crying, to which she said to me, "Not only do you give your heart to every serial you direct but to this one, you have also given your tears." It's very emotional and it resonated so much with me that I felt compelled to write the lyrics to the title song myself.
"I learnt to love very early on and I love very intensely"
Q) How do you feel differently about filming on set versus on location?
A) Almost all directors in the private sector in Pakistan have not experienced working on set. The set can almost be regarded as the sole domain of PTV. When they started making dramas, there were sets in use for films which were created specifically for films. You need timing, lighting and peace to create a certain mood. You would create a time of day. When this line of work opened up to the private sector, they had no opportunities to make sets. They were compelled to go to original locations and do one-camera shoots which led them to have to move things around. For example, if we are featuring a certain character who smokes a hookah, we would have much trouble finding a house that is reflective of this character's social status and is also designed around the lifestyle and needs of a hookah smoker.
We in the private sector, who have developed like mushrooms, have not had the experience of working with sets and neither has any relevant talent developed over the years. PTV has not maintained its standard and propagated knowledge and skill as it should or was on the path to being. Neither did they utilize their stage, their academy and their huge library of archives to develop new talent. I was particularly ashamed to hear that my son didn't know who Munoo Bhai (of Sona Chandi fame) was.
Only now are there classes of schooled graduates coming out in the various fields of sets, wardrobes, lights, art direction, sounds, etc. Even in the private sector, on location, we are beginning to personalize locations and bring in props to fit our requirements, employing the skilled expertise of today.
Q) Any people in the industry you think are particularly talented?
A) Almost everyone in any industry in Pakistan possesses a fair bit of talent and the drive to want to show the world by doing something. As opposed to other nationalities where motivation and ambition is mainly derived from getting raises or promotions, our nation still considers itself young and in need of that extra mile. I still remember holding out a cloth in front of the TV screen while watching CNN to be able to get in all the censored bits! Our country is in a constant state of flux, and we have as a nation learnt to adapt and have become stronger and more resourceful as a result. Even in our industry, technicians have learnt to become cameramen and vice versa because everyone has conditioned themselves to make do with what they have. Teams come in from India and elsewhere and are impressed to see what kind of an environment we work in when compared to the work we put out. All these attributes are worth mentioning.
I have always made it a point to work with new people, Sohail Sameer is someone whose career began with me along with Yumna Zaidi, Mira Sethi and Irfan Waheed: I've thoroughly enjoyed working with them. And the list does go on. Most newcomers from Lahore are people that I have worked with and are chosen by me mainly because our chemistries match. There will always be two to three actors making debut performances in any of my dramas.
Despite the lack of support, our TV actors are excellent and achieve high level performances without the use of any gimmicks.
A cherished moment with all his cast and crew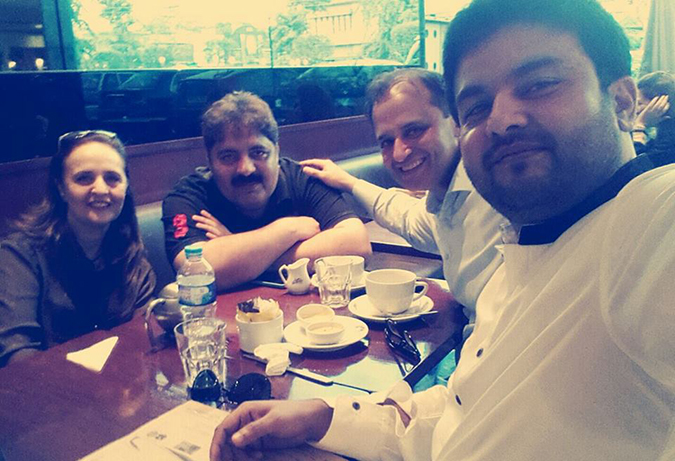 Ready to start filming for APlus
On the set of Dil Fareb with Omair Rana and Mira Sethi
My wife said to me:
"Not only do you give your heart to every serial you direct but to this one, you have also given your tears"
Q) Are scripts becoming less important?
A) Thirty years ago, we did have great scripts and legendary scriptwriters, but since then screenwriting and star screenwriters have kind of fallen off the grid. Additionally, screenwriting is a product of the society in which it is born. And there has been constant upheaval and censorship here in Pakistan. Screenwriters have not received much support, recognition or compensation through the years. Even in other fields of work, who in the past 20 odd years has been nominated for any major international award such as the Nobel Prize? Everyone seems to have the attitude: "why should I be the martyr?" or "why bother?"
Even so, we've been able to take the drama market from 1.5 crores to 9 billion rupees where today 108 channels are on air with licenses whereas the cable operator is only capable of showing 80 channels. Still, the fact that over the past 2 years, scripts have been being repeated is not solely the fault of the writers but also the channels that have a tight hold on creative output.
Q) How do you source talent in Pakistan?
A) Some friends of ours and myself have gotten together to set up a platform for recruiting talent specifically for television. The website should be up and running by the end of the week. It has the format and capacity for interested candidates to set up their profiles where casting can be done from. It will also help us to pick out more specifically cast members who are appropriate for certain roles more so than the actors that are already in the circle and are well known to us already.
It will also help us to navigate problems associated with auditioning. Every second on set is paid for and when we have newcomers come to the set to audition, it takes up some of our very valuable and expensive time. In Fast and the Furious 7 which was recently in cinemas, they have an Arab character for which they have cast an Indian. Pakistanis are much closer in looks and speech to Arabs than Indians but since the casting directors of this film did not know where to look for Pakistani talent, they found it from where they could.
On Chundrigar Rd.
while filming Bewafaii Tumhare Naam
On the set of Agar Ho Sakay To with Syed Jibran & Sunita Marshall
With Iffat Omar and Yasir Nawaz on the set of Bewafai Tumhare Naam
Q) Why aren't comedies, children's shows and other neglected genres given as much importance anymore?
A) At first, it was PTV only and as a national institution, PTV was obliged to run all types of genres. There are no channels showing the various cultures of Pakistan or featuring any classic music programs. We are being restricted to a singular language, culture and religion, even though our alternate media on the internet is mounting increasing pressure on mainstream channels to diversify the content they broadcast. If no one raises their voice and demands something different, then the channel showing the same thing over and over again that is getting them the highest ratings will continue doing so. It's important for the public to share their point of view and demand better and diversified content.
Q) What is your greatest weakness?
A) I learnt to love very early on and I love very intensely. You can call it a weakness or strength, either way, I have gained and learnt much from it.
The other is my little daughter, she is the apple of my eye.
A 13 year younger Amin Iqbal at a workshop
On the set of Anokhi with Mona Liza
Q) What is your greatest extravagance?
A) It can't really be something I spend money on since I never get time to spend money anywhere. My schedule is nonstop, almost 7 days a week, 17 hours a day and that too with transit between Lahore and Karachi. I've written once: kamaata koi hain, khaata koi and that is the case with my wife and I. This was the case with my father and his father, I guess it is just the circle of life.
Q) How is your ideal day off spent?
A) As you can see, I don't get many days off but anytime I get to speak with my mother or my wife is great for me and almost 5-7 times a day. Otherwise, anytime I get to spend with my kids is ideal. I was an only child and I have six kids. I love to play and get up to silly nothings, jumping around, throwing water, taking ice and slipping it down someone's back, yelling, whatever.